My Great-Aunt Arizona


by Houston, Gloria. Illustrated by Susan Condie Lamb. (HarperCollins, 1991 ISBN 0060226064. Order Info.) Picture Book. 32 pages. Grades 2+.
This book was reviewed by Carol Otis Hurst in Teaching K-8 Magazine.


Review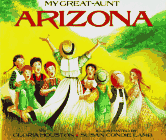 Arizona is born and bred in the back hollows of the Blue Ridge Mountains and she never leaves it except for the brief time when she goes away to learn to be a teacher. She had wanted to travel far and do great things, but family circumstances dictate otherwise. Miss Arizona grows up to teach in the same one-room schoolhouse she attended as a child. She's a reader and she's visited many far away places in her reading. For a long time she hopes that someday she'll get to visit those wondrous places but never does. However, she often tells children that someday they may go where she has never been.
This lovely picture book pays tribute to teachers in general through the life of one. For fifty seven years, Arizona hugged her students, "taught them words and numbers, and about the faraway places they would visit someday." There are echoes of Miss Rumphius here and with good reason for Gloria Houston has said that she had tried to write the story about her great-aunt as a biography and as a novel but was not pleased with the effect. When she read Miss Rumphius she realized that Arizona's story would be better as a picture book and rewrote it that way.
There is comfort in the repeated phrases of the book and the aging of Arizona shows in the naive paintings as well as in the text. (She never ceases to wear her high button shoes and apron, however.) Like the children Arizona taught, the reader will carry the images she creates, "in our minds".

Related Areas of Carol Hurst's Children's Literature Site
---
Advertisement:
---
---
Advertisement:
---
---
Advertisement:
---