Oceans


by Seymour Simon.

Nonfiction. 40 pages. Grades 2-4.
Find this book: Amazon

Review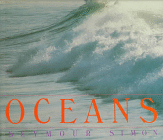 The same man who drew us out into space with those wonderful full color photographs of planets, stars and moons, accompanied by his clear, concise prose, has turned his attention on more earthly wonders. He's given us volcanoes, glaciers and storms and now he explains the ocean in terms that second graders and I (Carol) can understand and the photographs are as wonderful as ever.
A computer photograph of the world showing the ocean floor is fascinating. He covers the scope of the oceans and gives us a feel for their immensity. He also explains their effect on climate and weather. The end papers show the world's ocean currents and the inside explanation of those currents and their causes is very accessible.
(Continued Below)
---
Advertisement:
---

Activities
(Continued Below)
---
Advertisement:
---

Related Books
(Continued Below)
---
Advertisement:
---

Related Areas Within Carol Hurst's Children's Literature Web Site