Olive's Ocean


by Henkes, Kevin. (Greenwillow, 2003 ISBN 0060535431. Order Info.) novel. Grades 4+.



Review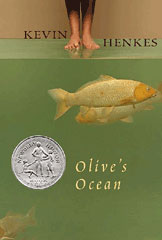 Kevin Henkes is one of those amazing writers who can give us wonderful and inventive books for the very young and then turn around and give us novels for older readers that are equally successful. Olive's Ocean is a Newbery Honor book that is accessible for readers from fourth grade up. The book is deceptively simple. It could provide topics for discussion about values, honesty, guilt, mortality, trust, family, ambition, and many many more. Only time is the ceiling there.
The book is full of contractions and challenges. Olive's ocean is neither the Atlantic nor the Pacific, but a bit of sea water in a baby food jar. And we never get to meet Olive. Martha, the twelve-year-old protagonist in this thoughtful novel, did meet Olive, but missed the chance to know the shy classmate who, like Martha, wanted to be a writer.
After Olive's death, her mother brings Martha a note from Olive's journal in which Olive has expressed her dreams: becoming a writer, seeing the ocean, and getting to know Martha. Olive says in her note that she wants to write a novel that is neither an adventure nor a mystery but an emotional book. That's exactly what Kevin Henkes has written. The note acts as a catalyst for much of what Martha will learn and deal with in the one summer of this story: her first confrontation with romance, betrayal, and death.
Martha and her family make the yearly trek from Madison, Wisconsin to the Cape Cod home of her grandmother whom Martha calls Godbee. Martha and Godbee's connection has always been a strong one. This summer Godbee proposes that they share something about themselves each day and that obligation is both a release and an obstacle for Martha as her emotions are battered about. Godbee, whose health is failing, must confront her own imminent death and confesses her fear to Martha.
Martha never does get to deliver the jar of sea water to Olive's mother as she planned, but she gets to know a lot about herself and a little bit about Olive in this tender and honest book.

Things to Talk About and Notice
There are many intriguing statements that characters in the book make. Martha's father puts down a laundry basket and says that it represents his life. The title of Jimmy's film is "Life Is Not What You Think It Is." Find other such statements and decide what you think the characters are saying.

Jimmy uses the cooking of lobsters as part of his death sequence in the film. What would you use?

Why is what Jimmy did a betrayal of Martha? How bad do you think it is? Why does it have such an effect on Martha? Who knows about that betrayal?

Martha's near drowning brings about an understanding on her part of her place in the universe. She was really in very little danger. How and why does this matter so much? 

Olive's writing, Godbee's writing and Martha's all interact in the story. Explain how this happens.

Activities
Godbee says she hates her hands. When Martha's father is angry, his hands flit about like a caged bird. When Martha and Jimmy hold hands, it feels like sparklers are going off. When Martha is close to drowning, she feels like a bird. Find and make a list of the times the author makes references to birds and to hands. Look at the finished list and see what those things tell you about the plot, about the characters or about Kevin Henkes.

There are some lovely images in the book. The sand dunes in Jimmy's film are lined up like buns in a bakery. Find some other images that you like in the story and share them.

There are moments of great honesty in the story. Read aloud one of them. Have you ever been that honest about something that matters? Find out about some of the places in the book: Martha's family lives in Madison, Wisconsin. What can you find out about that city that you think would matter to Martha? Godbee lives on Cape Cod not far from Woods Hole. What, besides the things mentioned in the book, do you think Godbee would like most about living there?

Related Books
Wave by Suzy Lee. (2008, Chronicle. ISBN 9780811859240. Order Info.) Picture Book. 34 pages. Gr PreK-1.
A young girl plays at the water's edge. With each wave she steps away or growls at it or signals it to stop or splashes in it until, while sticking her tongue out at one, the wave rises up and crashes down upon her leaving her drenched but surrounded by the seashells the wave has washed up. A quiet wordless gem of a book. Read More.

Chester's Way by Kevin Henkes. Book Review.
http://www.carolhurst.com/titles/chestersway.html

Julius the Baby of the World by Kevin Henkes. Book Review.
http://www.carolhurst.com/titles/juliusthebaby.html

Related Areas Within Carol Hurst's Children's Literature Web Site

Related Areas Elsewhere on the Internet
Following these links will take you off our web site. You will have to use your back button to return or, bookmark our site now so you can return anytime.
---
Advertisement:
---
---
Advertisement:
---
---
Advertisement:
---