Rabble Starkey


by Lois Lowry.

Novel. 208 pages. Grades 5-9.
Find this book: Amazon

Review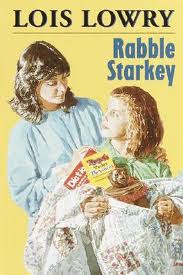 Rabble (short for Parable Ann) and her young, single mother Sweet Ho have a wonderful relationship even though times are hard. Sweet Ho works for the Bigelows and Rabble and Veronica Bigelow are best friends. Rabble's family is replete with characters and she has so many cousins that she lends some to Veronica for the classroom assignment of constructing a family tree. Veronica's little brother Gunther is often ill but is much loved by all.
When Mrs. Bigelow, who has been steadily retreating from reality, has a complete mental breakdown and is institutionalized, Rabble and her mother move into the Bigelow home and Sweet Ho's responsibilities increase. She is, however, being encouraged by Mr. Bigelow to get further education and pursue a teaching career. Rabble hopes for a more conventional and permanent family when she sees her mother and Mr. Bigelow kiss. This, however, is not to be and by the end of the book, Mrs. Bigelow is coming home and Rabble and her mother are setting out for a new home and a fresh start.
Many kinds of love are present in this thoughtful sometimes tragic and sometimes humorous book: the romantic love for Ginger that sweeps Sweet Ho off her feet when she is a young teenager; also romantic, but founded on mutual respect is the love between Sweet Ho and Mr. Bigelow; family love is obviously present in the relationship between Rabble and her mother and between Mr. Bigelow and Veronica and Gunther. The friendship between Rabble and Veronica is another kind of love and then there's the love of Norman for Veronica which might be a kind of puppy love. The characters in Rabble Starkey are memorable and the action believable in this story about love and mental illness.
Rabble Starkey gives us wonderful characterization especially in the title character Rabble, her mother Sweet Ho and the disturbed Mrs. Bigelow. Mental illness and its effect on all who must deal with it is one of the themes in this thoughtful book but what makes a family is probably even more important here. When Mrs. Bigelow returns to reclaim her family, Sweet Ho and Rabble Starkey let it go and move on, stronger for what they have been a part of.
(Continued Below)
---
Advertisement:
---
(Continued Below)
---
Advertisement:
---

Related Books
Grades 5 - 8
The Moves Make the Man by Bruce Brooks. Novel. 256 pages.
Find this book: Local Bookstore, Amazon, B&N

Jerome Foxworthy, 13, ace student, first black in an all-white school and a basketball fanatic, narrates this story of his friendship with Bix. Bix's game is baseball, but Jerome recognizes in his skill the same passion and technical accuracy that he himself has in his sport. This is an exquisite portrait of Jerome, a bright, confident loner and Bix, distant and frightened, and the fragile friendship that develops between them. Read More.

Grades 4 - 7
Afternoon of the Elves by Janet Taylor Lisle. Novel. 144 pages.
Find this book: Local Bookstore, Amazon, B&N

Don't expect a sweet little book about elves. This is a hard biting look at people who live on the fringes of society. It's the story of a very real, resourceful, imaginative and desperate girl, Sara-Kate, her confused but loyal friend, Hillary, the village in Sara-Kate's back yard and Sara-Kate's secret life. Inside Sara-Kate's house there is precarious survival at best. Sara-Kate's mother is mentally ill and helpless. Sara-Kate has been getting by with almost no food, heat or clothing. Her elf village has been her only joy for a very long time. Now Hillary must decide whether to betray Sara-Kate's trust and get help or stay true to her promise of secrecy. Read More.
(Continued Below)
---
Advertisement:
---

Related Areas Within Carol Hurst's Children's Literature Web Site

Related Areas Elsewhere on the Internet
Following these links will take you off our web site. You will have to use your back button to return or, bookmark our site now so you can return anytime.