Rosie's Walk


by Pat Hutchins. (Aladdin, 1968 ISBN 0020437501. Paperback.) Picture Book. 32 pages. Grades PreK+.
This book was reviewed by Carol Otis Hurst in Teaching K-8 Magazine.


Review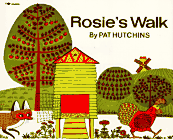 Through wonderful prepositional phrases that match the action in the pictures, we watch Rosie, the hen, as she goes for a walk around the barnyard. Neither she nor the text ever notice the fox that is intent on catching her. Unwittingly, she foils the fox at every turn and in the end he is driven off by a swarm of bees. Rosie returns undisturbed and unperturbed to her roost in the hen house.
This book makes an ideal early reading book because the large print phrases go so precisely with the pictures, giving the emergent reader ample clues to interpret the text.
It also makes a good large group activity if you use sentence strips and a pocket chart. Children can assemble the story with simple pictures for clues. They can trade pictures for print and vice versa.
Early map skills can be developed through making a crow's eye view of the barnyard with Rosie's landmarks carefully labeled. Children can move Rosie and the fox around the map as the story is read aloud.

Related Areas of Carol Hurst's Children's Literature Site
---
Advertisement:
---
---
Advertisement:
---
---
Advertisement:
---