A Seed Is Sleepy


by Dianna Hutts Aston. Illustrated by Sylvia Long.

Picture Book. 28 pages. Grades 2-8.
Find this book: Amazon

Review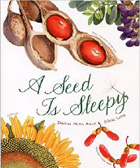 This is a gorgeous picture book from the same author/illustrator team that brought us An Egg Is Quiet (see below). We start with a beautiful opening page spread showing sunflower seeds nestled within the center of a ripe sunflower head. Beautiful illustrations show seeds next being secretive (lying dormant for a season or for years), fruitful (encased in blueberries and papayas), naked (in pine cones), in many sizes (from dust to 60 pounds), adventurous (scattered by the wind or floating in water), inventive (sticking to sneakers), generous (providing food for the new sprout), ancient, thirsty, hungry, clever (photosynthesis) and finally awake.
This is a wonderfully indulgent treatment of seeds and their differing qualities as well as the life cycle of plants. It's a great book to use for opening a unit on plants or gardening. It's also wonderful for sorting activities with it's accurate illustrations of many types of plants and seeds.
The patterned text which uses successive adjectives to describe different qualities or stages in the lives of seeds is great for language arts activities about adjectives and description. Use it to spring board an activity brainstorming similar adjectives to describe something else (food, animals, months, etc.) or to model a descriptive poem structure students can use to write a descriptive poem of their own.
This is also a great book for connecting the art and science curriculum with its beautiful paintings reminiscent of nature journals kept by many amateur and professional naturalists. Wonderful for honing observation skills for drawing or science endeavors.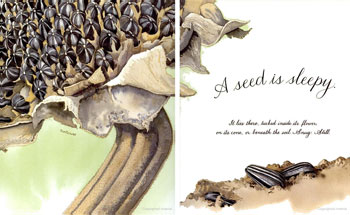 (Continued Below)
---
Advertisement:
---
(Continued Below)
---
Advertisement:
---

Related Books
An Egg Is Quiet by Dianna Hutts Aston. Illustrated by Sylvia Long. (2006, Chronicle. ISBN 0811844285. Order Info.) Nonfiction Picture Book. 26 pages. Gr PreK-5.
Luminous watercolor and ink illustrations display an impressive variety of bird, insect, reptile, crustacean, fish, amphibian and dinosaur eggs. The text, in a flowery script, gives some basic and some quirky facts but the stars here are the paintings. It's a great introduction to how beautiful and delicate science can be.

The Tiny Seed by Eric Carle. (1987, Picture Book Studio. ISBN 978-0887081552. Order Info.) Picture Book. 36 pages. Gr PreK-2.
We follow a seed from birth to flower to seed again. It's fall and the seeds are being blown along by the wind. Obstacles abound, but one seed is able to grow to maturity where it faces more perils. This classic, first published in 1970, is a great introduction to the life-cycle of flowering plants but also a beautiful philosophical look at life. Read More.

And Then It's Spring by Julie Fogliano. Illustrated by Erin E. Stead. (2012, Roaring Brook. ISBN 9781596436244.) Picture Book. 32 pages. Gr PreK-2.
Find this book: Local Bookstore, Amazon, B&N

A boy and his dog plant some seeds, and wait, and wait. It seems everything will always be brown until suddenly, "It's Spring!" The tone here is quiet, almost solemn. A beautifully crafted story illustrated by Caldecott Award winner Erin E. Stead.

The Rose in My Garden by Arnold Lobel. Illustrated by Anita Lobel. (1993, Greenwillow. ISBN 9780688122652.) Picture Book. 40 pages. Gr PreK-3.
Find this book: Local Bookstore, Amazon, B&N

Another "This is the House That Jack Built" using the combined skills of Arnold and Anita Lobel tells of a simple incident in a garden. The words will stretch and the illustrations will delight. There are wonderful descriptive words for each flower in the garden, some varieties of which will be unfamiliar to many children.

This Year's Garden by Cynthia Rylant. Illustrated by Mary Szilagyi. (1987, Aladdin. ISBN 9780689711220.) Picture Book. 32 pages. Gr K-3.
Find this book: Local Bookstore, Amazon, B&N

Adults and children survey the garden and make appropriate plans. The adults discuss what to plant this spring while the children anticipate the fun of working in the garden. Warm weather comes at last and the crop is readied. We follow the garden's year.

Pumpkin Pumpkin by Jeanne Titherington. (1986, Greenwillow. ISBN 9780688056957.) Picture Book. 24 pages. Gr PreK-3.
Find this book: Local Bookstore, Amazon, B&N

Jamie plants a pumpkin seed and we follow the life-cycle of the plant through the carving of a jack-o'-lantern and back to the planting of another seed. The soft illustrations give this book an air of tenderness.
(Continued Below)
---
Advertisement:
---

Related Areas Within Carol Hurst's Children's Literature Web Site
The Tiny Seed by Eric Carle. Featured Book Teachers Guide with review, discussion ideas, activities, related books and links.