Skellig


by David Almond.

Novel. 208 pages. Grades 4-7.
Find this book: Amazon

Review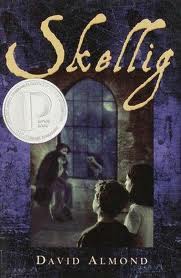 We're not sure if the fact that "Skellig" is the name of a rocky, barren island off the coast of Ireland bearing a monastery called "St. Michael's" has anything to do with this book or not. Michael is, however, the name of the main character in this book. That's only one of the mysteries of this novel.
Michael worries about his new baby sister. She is ill and his parents are deeply concerned. Michael first discovers Skellig in a broken-down garage on the property of his new home. Skellig lies amongst the dirt on the floor of the structure, eating flies. He can hardly move due to arthritis. He demands aspirin and "27 and 53". Unsure, at first, that he has actually seen Skellig, Michael finally brings his new friend Mina to find out if she can also see Skellig.
Relieved that he is not crazy, Michael gets the aspirin but is stumped on 27 and 53. Another discomforting thing is the presence of strange humps on Skellig's shoulder blades. By accident Michael discovers that those numbers stand for Skellig's favorite Chinese food which he gets for him. Skellig is singularly unhelpful but Mina decides he must be moved into a house her family is about to renovate. Although they leave him on the ground floor, when they return they find him in the attic being fed by a mother and father owl.
Throughout all this with Skellig, Michael's new sister (unnamed, as yet) becomes more and more ill. Skellig's intercession reinforces the idea that he might be an angel but then there's that owl business.
For children who like everything nice and tidy in their reading, this is not the book for them but for kids who like to expand their notion of possibility, this may be a perfect choice.
(Continued Below)
---
Advertisement:
---
(Continued Below)
---
Advertisement:
---

Related Books
Kit's Wilderness by David Almond. (2009, Delacorte. ISBN 9780385326650. Order Info.) Novel. 240 pages. Gr 5-7.
Kit has recently moved to Stoneygate where his ancestors worked, along with most of the villagers, in the mines. Evidence of the coal mines is everywhere but most compellingly, it is in a monument on which are engraved the names of those who died in the mines. Kit's name is on it as he is named for a distant uncle. Likewise the name of John Askew appears on the monument and his namesake has become a leader in a game of death played by the present day children of the village.

Keeper of the Doves by Betsy Byars. (2002, Viking. ISBN 0670035769. Order Info.) Novel. 112 pages. Gr 4-7.
This is the deceptively simple story of one turn of the century family during one summer. Accessible to kids from fourth grade up, it speaks gently but packs a punch. The story revolves around words and their power to wound as well as heal. There are six sisters in the McBee family. The indistinguishable twins, Arabella and Annabella, are grouped together at all times by a single name, The Bellas. They delight in terrifying their sister Amie, our narrator, with their stories and often cruel games. Many of their games and stories concern Mr. Tominsky, a mysterious man who lives in a chapel at the back of the estate. The tale is dominated by that man who is largely off-stage. He's the Keeper of the Doves. Read More.
(Continued Below)
---
Advertisement:
---

Related Areas Within Carol Hurst's Children's Literature Web Site
Death, Dying and Grief through Kids' Books:
Death, Dying and Grief as Classroom Subject or Theme, Grades Preschool-Ninth: An Annotated Booklist of Some of Our Favorite Children's Books, Some with Links to More Material for Teaching This Topic.