There is a Bird on Your Head


by Mo Willems.

Easy Reader. 57 pages. Grades K-2.
Find this book: Amazon

Review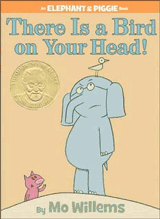 Winner of the 2008 Geisel Award this book is a gem. Mo Willems has written several delightful titles but this is my favorite.
In this installment of the Elephant and Piggie series the two are relaxing peacefully when a bird lands on Elephant's head. Elephant is undone. As he panics Piggie gives him updates: "Now there are two birds on your head." "They are in love!" "They are making a nest!"
The text is very easy to read with limited vocabulary, large print, and numerous clues in the illustrations. Elephant's reactions are very funny and Piggie's expressions of concern, amusement, and confusion are a great counterpoint. The book lends itself to dramatic reading aloud as Elephant shouts and Piggie reacts.
Kids will love the surprise ending. There is a Bird on Your Head! stands up well to repeated readings and the humor and drama make it a great choice for beginning readers to take home and read to their families.
The illustrations are simple crayon-like black outlines filled with a solid color creating cartoon characters. The expressiveness of Elephant and Piggie's features give us not only broad expressions like happiness and surprise, but also all the subtleties which expand on the basic text. There is chagrin when two birds land, innocence in Piggie's explanations, Elephant's embarrassment when the birds on his head fall in love, and tears of joy when the eggs hatch.
Great fun. Check it out.
(Continued Below)
---
Advertisement:
---
(Continued Below)
---
Advertisement:
---

Related Books
Ling and Ting: Not Exactly the Same! by Grace Lin. (2010, Little, Brown. ISBN 9780316024525. Order Info.) Easy Reader. 48 pages. Gr PreK-3.
Here's another charming Easy Reader. Ling and Ting are Chinese American twins, but they are not exactly the same. For one thing there is the jagged cut in Ling's haircut due to a sneeze while her bangs were being trimmed. Then, of course, there are the differences in their personalities and behavior. This beautifully done Easy Reader explores the similarities and differences while affirming their affection for each other. Small vignettes break the book up into accessible chunks each with a dose of gentle humor at the end. Grace Lin won a 2011 Giesel Honor Book award for this strong entry in the beginning reader genre.

Mercy Watson Thinks Like a Pig by Kate DiCamillo. Illustrated by Chris Van Dusen. (2008, Candlewick. ISBN 9780763632656. Order Info.) Easy Reader. 70 pages. Gr K-4.
For another easy reader with a pig see fifth book about the pig, Mercy Watson, in this easy reader. The text is rich with judiciously sprinkled juicy words like "unmentionable" and "eclaires" and "gracious". In this installment Mercy's neighbors--the elderly women, named Eugenia and Baby, have decided to beautify their yard by planting pansies all around, which Mercy finds delicious. Read a Full Review.
(Continued Below)
---
Advertisement:
---

Related Areas Within Carol Hurst's Children's Literature Web Site

Related Areas Elsewhere on the Internet
Following these links will take you off our web site. You will have to use your back button to return or, bookmark our site now so you can return anytime.