The Tiger Rising


by Kate DiCamillo.

Novel. 128 pages. Grades 4-7.
Find this book: Amazon

Review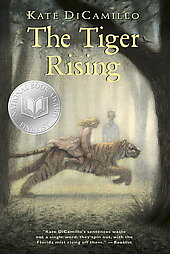 The paperback edition includes some suggestions for extension activities, but you won't have any trouble finding things to talk and think about after reading this beautiful little book. Intended for kids in grade 4 and up, it's the story of a miserable boy, Rob, and an equally miserable girl, Sistine. Rob's living with his father in a run-down motel. He grieves for his recently deceased mother, but he must do so without tears because his father has forbidden them. He's miserable at school too because of two bullies and because of an incurable rash on his legs. He copes by trying to feel nothing. Sistine is miserable because of her family's divorce and her relocation to this awful town. She copes by fighting everyone and everything.
When Rob discovers a caged tiger, he shares the secret with Sistine who is determined to free the tiger. This finalist for the National Book Award is brilliantly done. It's a tale of loss and redemption, of humans made whole by each other.
Sistine is named after the Sistine Chapel so you'll need to have art books displaying it available. Blake's poem "Tiger" is quoted and is important to the story so print out a copy for everyone.
Rob carves beautiful things out of wood and you may want to investigate sculpture and wood carving, but the images of the tiger are what linger for me. I'd find as many tiger images as possible and then give the kids big brushes, large sheets of paper, and whatever colors of paint they want to create their own tiger images.
(Continued Below)
---
Advertisement:
---
(Continued Below)
---
Advertisement:
---

Related Books
Because of Winn Dixie by Kate DiCamillo. (2009, Candlewick. ISBN 9780763644321. Order Info.) Novel. 288 pages. Gr 3-7.
Heart-warming, touching, tender are all apt adjectives for this brief novel. Winn Dixie is a stray dog that our heroine, India Opal, finds in the midst of chaos at the Winn Dixie grocery store. Not since Shiloh have we had a literary dog so full of life and character. Read More.
(Continued Below)
---
Advertisement:
---

Related Areas Within Carol Hurst's Children's Literature Web Site