To Go Singing Through the World: The Childhood of Pablo Neruda


by Deborah Kogan Ray.

Picture Book. 40 pages. Grades 4-6.
Find this book: Amazon

Review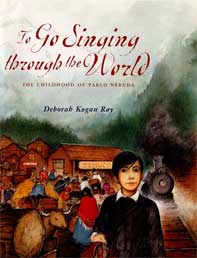 Beautiful. It's just too predictable to use the word "lyrical" to describe this biography of Pablo Neruda's early years. But there you are, I've said it.
Ray weaves short passages of Neruda's prose and poetry into her narrative. The context makes the poetry more accessible. For instance, when Ray describes the tiny outpost of Temuco, a new mill town in Chili, where Neruda grew up, it helps us understand what Neruda is talking about when the book segues into a clip of his poetry,
"From axes and rain, it grew up, that town of wood recently carved, like a new star stained with resin."
In turn Ray's writing is strengthened by the integration of Neruda's words.
Born in 1904, Neruda lost his mother as an infant but became very close to his stepmother. Tortured by shyness and embarrassment about his stutter Pablo retreats more and more into his solitude. He finds comfort and a sense of belonging in books and writing.
Pablo Neruda went on to become the most celebrated literary figure in Latin America, a political activist, diplomat and senator. He won the Nobel Prize for literature in 1971.
The book speaks to many areas of the curriculum: poetry, finding one's voice, the outsider, biographies, South America, the 20th century, writing and the power of an individual.
(Continued Below)
---
Advertisement:
---
(Continued Below)
---
Advertisement:
---
(Continued Below)
---
Advertisement:
---

Related Areas Within Carol Hurst's Children's Literature Web Site