Torchlight


by Carol Otis Hurst.

Novel. 142 pages. Grades 4-7.
Find this book: Amazon

Review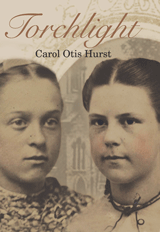 Book Description
Charlotte was a Yankee and Maggie was Irish. In 1850's Westfield their budding friendship was a problem. Charlotte listened as suppertime conversations became heated debates. Even her Aunt Lucy and her brother Zach were full of venom toward the Irish. As tensions between the two communities rose, rumors began to fly, and fists soon followed. Author Carol Otis Hurst captures this volatile time in American history through the unlikely friendship between two girls from opposing sides, revealing the ignorance and prejudice that threatened to erupt into violence and overwhelm New England communities, and indeed the whole country, on the eve of the Civil War.
We can't pretend to be objective about reviewing this book so we've included excerpts from other's reviews.
Booklist, ALA : "The parallels with today's conflicts make this great for discussing...and teachers may want to use the friendship scenes, set apart by italics, for reader's theatre."
School Library Journal : "Mixing historical fact with dramatic tension, Hurst's fast-moving and interesting novel will spark discussions about prejudice and racism, and introduce readers to the anti-Irish sentiments of this era."
You can read the full reviews at:
Amazon.com
(Continued Below)
---
Advertisement:
---
(Continued Below)
---
Advertisement:
---
(Continued Below)
---
Advertisement:
---

Related Areas Within Carol Hurst's Children's Literature Web Site