Trombone Shorty


by "Trombone Shorty" Troy Andrews. Illustrated by Bryan Collier.

Picture Book. 40 pages. Grades PreK-4.
Find this book: Amazon

Review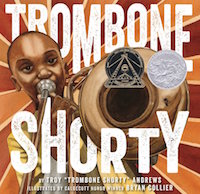 Trombone Shorty has written a wonderful autobiographical picture book illustrated by the amazing Bryan Collier. It's great for preschool through at least fourth grade.
Growing up in the '90s, in the Tremé neighborhood of New Orleans, Troy was surrounded by music. This beautifully illustrated story follows him from making his own instruments out of household objects with his friends to becoming a world-famous musician. Along the way we get a taste of low-income New Orleans and Trombone Shorty's consuming passion for music.
This won a Caldecott Honor Award for the illustrations, which are watercolor and collage and serve to immerse us in the music. They are filled with light and unexpected additions like balloons and crowns which seem to not be part of the literal scene.
It's a wonderful depiction of the Treme neighborhood of New Orleans and the love of music which resonates throughout the book is palpable.
In an afterword, Trombone Shorty tells us more about his life, and Bryan Collier explains some of the symbolism he used in the illustrations.
---
Advertisement:
---
---
Advertisement:
---
---
Advertisement:
---