Walk on Earth a Stranger


by Rae Carson.

Novel. 448 pages. Grades 6-9.
Find this book: Amazon

Review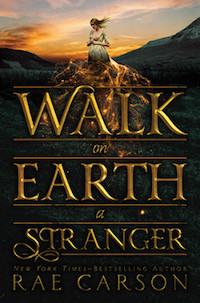 This captivating book is a wonderful piece of historical fiction with the one genre-bending exception that the main character can sense the presence of gold, which gives the book a touch of fantasy. This is the first book in the Gold Seer Trilogy.
Fifteen-year-old Lee lives with her parents in Dahlonega, Georgia in 1849. They have come there for the first major gold rush in the US, but now the gold is mostly gone, except for what Lee is able to find with her gold-divining powers. The family is strapped for money, but unable to sell most of the gold she finds because it would draw too much attention, and they fiercely guard the secret of her powers.
When tragedy strikes, Lee must flee Georgia. She heads towards the new California Gold Rush trailing her best friend, Jefferson who is biracial (Cherokee/White), and who left just before her. To truly disappear and to travel more easily, she disguises herself as a boy. She's already a tomboy, so she is able to pull off the switch.
The rest of the book follows Lee and then Lee and Jefferson as they work their way across the country by horseback, by boat and finally by wagon train. On the way, we get to see the country and the people of the time. Adventure and compelling relationships make this book hard to put down.
The historical information is vivid and never forced. The gender role issues are fascinating and a springboard for great discussions about what has and what hasn't changed about women's roles. There's also blatant and subtle racism against Jefferson and against an African-American member of the wagon train. This book was long-listed for the National Book Award.
Use this title with any unit on the the 19th Century or the Westward Movement of US History, but also with any discussion of women's roles and women's rights. This also belongs in units on survival stories or travel/road trip books. It gives you a front-seat view of various modes of transportation. It works well for students from sixth grade and up.
(Continued Below)
---
Advertisement:
---
(Continued Below)
---
Advertisement:
---

Related Books
Grades 3 - 8
Grasshopper Summer by Ann Turner. Illustrated by Erika Meltzer. Novel. 176 pages.
Find this book: Amazon

The Civil War is just ended, and Sam is appalled when his father decides to move west. In Dakota Territory, the family works together to build a sod house. When it is done, much to their surprise, everyone loves the sod house, and there is much hope. The corn crop is planted and doing well, and then come the grasshoppers. Turner's account of the awfulness of the grasshopper plague is enough to set your skin crawling, and the destruction the insects leave behind is devastating. Read More in our Featured Book Teachers Guide with discussion questions, extension activities, related books and links.

Grades 2 - 4
Dandelions by Eve Bunting. Illustrated by Greg Shed. Picture Book. 32 pages.
Find this book: Amazon

When a man moves his family from the comforts of Illinois to the uninhabited prairie, he knows there will be hardships. For this family, the children and father adapt quickly, but the pregnant mother is overwhelmed by the loneliness. Even when the sod house is built, she says it disappears when you step away from it. When the older daughter gets to go to town, she brings back a clump of dandelions to plant on the roof of their home. Read More in our Featured Book Teachers Guide with discussion questions, extension activities, related books and links.
(Continued Below)
---
Advertisement:
---

Related Areas Within Carol Hurst's Children's Literature Web Site