Wave


by Suzy Lee.

Picture Book. 34 pages. Grades PreK-1.
Find this book: Amazon

Review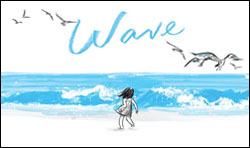 A young girl plays at the water's edge. With each wave she steps away or growls at it or signals it to stop or splashes in it until, while sticking her tongue out at one, the wave rises up and crashes down upon her leaving her drenched but surrounded by the seashells the wave has washed up.
The simple, wordless story is brought to life by the girl's expressions and the reactions of the silent Greek chorus of five seagulls who accompany her. The simple charcoal lines are reminiscent of Harold and the Purple Crayon, black on white with only the water a splash of blue watercolor paint.
You can see an example of an inside page spread on the author's website at:
http://www.suzyleebooks.com/books/wave/
This quiet wordless poem of a book will bear up well to repeated readings to younger children. Older art students can use it to study line, style and facial expressions. A gem.
(Continued Below)
---
Advertisement:
---
(Continued Below)
---
Advertisement:
---
(Continued Below)
---
Advertisement:
---

Related Areas Within Carol Hurst's Children's Literature Web Site

Related Areas Elsewhere on the Internet
Following these links will take you off our web site. You will have to use your back button to return or, bookmark our site now so you can return anytime.