Barbara Cooney's Obituary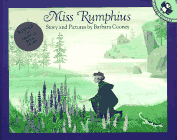 (March 13, 2000. New York, NY) Barbara Cooney, renowned children's book author and illustrator, died on Friday, March 10 after a lengthy illness at Maine Medical Center in Portland, Maine. Ms. Cooney was 83 years of age.
Barbara Cooney was born in Room 1127 of the Hotel Bossert in Brooklyn, New York in 1917, the daughter of Mae Bossert Cooney and Russell Schenck Cooney. Throughout her long and internationally recognized career of sixty years, Barbara Cooney has been at the forefront of the children's books publishing industry. Her first book was published in 1940, and her 110th book, Basket Moon, was published in September of 1999. A long-time resident of Maine, her literary works have frequently focused on the culture, history and society of her adopted state; her books Miss Rumphius, Island Boy, Captain Pottle's House, and King of Wreck Island are all set there. Miss Cooney twice won the prestigious Caldecott Medal given by the American Library Association for Best Illustrated Book of the Year, first for her retelling of Chaucer's Chanticleer and the Fox, and second, for Ox-cart Man, written by famed New England poet Donald Hall. She was honored with the American Book Award for Miss Rumphius, and over the years she has received six major awards for her complete body of work. She also was honored as the official United States Nominee for the Hans Christian Andersen Medal -- the children's book equivalent of being nominated for a Nobel Prize. Miss Rumphius was named a New York Times Best Illustrated Books of the Year in 1982.
After growing up on Long Island and spending cherished childhood summers with her family in Maine, she took every course offered in studio art and art history at Smith College. Miss Cooney's mother, herself an artist, took her daughter's painting seriously, giving her the encouragement she needed to make art a lifelong passion. After Barbara Cooney graduated from college she knew she wanted to be an artist and that she wanted to illustrate children's books. She studied briefly at the Art Students League in New York City and began showing her portfolio to publishers.
Her first book, Ake and His World (Farrar and Rinehart, 1940), by the Swedish poet Bertil Malmberg, was published a year after graduation. The same year, Farrar and Rinehart published King of Wreck Island, the first book Miss Cooney both wrote and illustrated. She continued to illustrate books written by other people as well as illustrating her own texts.
Over the years, her books have been translated into ten languages -- Finnish, Afrikaans, Japanese, Spanish, French, Swedish, Danish, German, English, and Arabic -- thereby teaching the children of the world the culture, history and society of her beloved New England.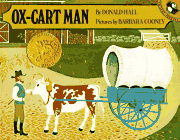 Miss Cooney's range of expression in her art ran the gamut from superb scratchboard technique (Chanticleer and the Fox) -- a technique which is unforgiving of the most minor error -- to a style often referred to as "early American primitive" in which she echoes the work of untrained New England limners who used flat paint on wood with little or no perspective (Emily and Ox-cart Man). The apparent simplicity of her art recreated the peaceful rhythms of nineteenth-century rural New England, and this style is one she made her signature style, returning to it again and again. Each of her books was laboriously and extensively researched -- from the magpie on the pollarded willow representing an evil omen in Medieval times (Chanticleer and the Fox) -- to the extreme detail of the baptismal gown which was actually worn by Eleanor Roosevelt at her baptism in Eleanor. "My goal," she said, "is to make the past come alive for children, to let them see it as it was, full of color and activity, and not as the static black-and-white photographs which history books portray it."
"Of all the books I have done," she says, "Miss Rumphius (Viking, 1982), Island Boy (Viking, 1988), and Hattie and the Wild Waves (Viking, 1990), are the closest to my heart. These three are as near as I ever will come to an autobiography."
Barbara Cooney took her adopted state of Maine to her heart and Maine returned the affection. In 1989, the Maine Library Association created the Lupine Award, named for Miss Rumphius, to recognize outstanding children's books by state residents or to honor authors whose chosen subjects were about Maine. Their opening ceremony honored Miss Rumphius and its creator.
In addition to the Lupine Award named for her most famous character, Barbara Cooney has received many other prestigious honors, including the University of Southern Mississippi Children's Collection Medallion in 1975; the Smith College Award in 1976; the Keene State College of New Hampshire Award in 1989; the Kerlan Award from the University of Minnesota in 1992; and the New England Reading Association Award in 1992. Her books have repeatedly been named as American Library Association Notable Books.
In December of 1996 Maine Governor Angus King honored Miss Cooney by declaring her a "Living Treasure of the State of Maine" and proclaimed "Barbara Cooney Day" in her honor. This recognition by her adopted state gave her enormous pleasure.

Miss Cooney has been awarded four honorary doctoral degrees -- from Fitchburg State College in 1988; University of Maine at Machias, 1994; Westbrook College in Portland, Maine in 1995; and from Bowdoin College in 1996.
In December of 1997, Miss Cooney announced a Christmas gift of $550,000 to her local library in Damariscotta, Maine. The gift was to be used, in part, to raise other monies towards a new library complex on the condition that the library remain in the downtown of the village. In announcing the gift, she expressed the hope and desire that other people would contribute funds at Christmas time to their local libraries. She later increased her gift by another donation of $300,000. Groundbreaking for the new library will be in April, 2000.
Miss Cooney is survived by her husband, Dr. Charles Talbot Porter; four children, Gretel Porter of Freeport, Maine, Barnaby Porter of Damariscotta, Maine, Charles Talbot Porter, Jr of Puerto Williams, Chile, and Phoebe Porter of Conway, Massachusetts. She is also survived by two brothers, Daniel Cooney of Darien, Connecticut, and David Cooney of Arlington Heights, Illinois. Also surviving are three grandchildren, Shetu Nanday of West Bengal, India, Samuel Goldsmith of Los Angeles, California, and Elijah W. Porter of Damariscott, Maine, and one great-grandchild, Soraya Nanday or West Bengal, India.
In lieu of flowers, her family has asked that donations be made in her memory to the Skidompha Public Library in Damariscotta, Maine. There will be no funeral service. A private memorial service will be held at a later date.
See our Featured Author section on Barbara Cooney for more.
MOST RECENT AWARDS AND RECOGNITIONS
Awards for Entire Body of Works:
Declared a "Living Treasure of the State of Maine" by Governor Angus King, 1996
Honorary Doctorate, Bowdoin College (ME), 1996
Honorary Doctorate, Westbrook College, (ME), 1995
Honorary Doctorate, University of Maine at Machias (ME), 1994
Kerlan Award (University of Minnesota), 1992
New England Reading Association Award, 1992
The David McCord Award, Framingham State College (MA), 1990
Lupine Award, Maine Library Association, 1990
The Keene State College (NH) Award, 1989
Honorary Doctorate, Fitchburg (MA) State College, 1988
Smith College (MA) Award, 1976
University of Southern Mississippi Children's Collection Medallion, 1975
Awards for Selected Titles:
ELEANOR (Viking, 1996)
School Library Journal - Best Books of 1996
Book Links - A Few Good Books 1996
NCSS - Notable Children's Trade Books in the Field of Social Studies 1996
ALA (American Library Association) Notable Books of 1996
EMILY (Doubleday, 1992)
IBBY (International Board on Books for Young People) Award 1992
ALA (American Library Association) Notable Children's Book 1992
1994 Kentucky Bluegrass Award Nominee
HATTIE AND THE WILD WAVES: A Story from Brooklyn (Viking, 1990)
Booklist Children's Editors' Choice
Parent's Choice Illustration Honor
NCSS-CBC Notable Children's Trade Book in the Field of Social Studies
The Horn Book Fanfare
Child Study Association Children's Books of the Year
ISLAND BOY (Viking, 1988)
Boston Globe-Horn Book Honor Book
NCSS-CBC Notable Children's Trade Book in the Field of Social Studies
School Library Journal Best Books of the Year
Parenting Magazine Reading Magic Award
Booklist Children's Editors' Choice
The Horn Book Fanfare
LOUHI, WITCH OF NORTH FARM (Viking, 1986)
NCSS-CBC Notable Children's Trade Book in the Field of Social Studies
SPIRIT CHILD: A Story of the Nativity (William Morrow, 1986)
ALA (American Library Association) Notable Children's Book
The Horn Book Fanfare
TORTILLITAS PARA MAMA (Henry Holt, 1981)
NCSS-CBC Notable Children's Trade Book in the Field of Social Studies
CBC-IRA 100 Favorite Paperbacks
Parent's Choice Award
OX-CART MAN (Viking, 1979)
Caldecott Medal
ALA (American Library Association) Notable Children's Books
NCSS-CBC Notable Children's Trade Book in the Field of Social Studies
The New York Times Ten Best Illustrated Books of the Year
THE YEAR OF THE PERFECT CHRISTMAS TREE (Dial Books for Young Readers, 1988)
Booklist Children's Editors' Choice
Booklist Best Books of the Decade
CHANTICLEER AND THE FOX (Crowell Jr. Books, 1958, now Harper Collins)
Caldecott Medal
ALA (American Library Association) Notable Children's Book
ALA Notable Children's Book from 1930-1970
Viking Children's Books
345 Hudson Street
New York, New York 10014
Phone: 212/414-3466 Fax: 212/414-3393
OBITUARY
PRESS RELEASE FOR IMMEDIATE RELEASE
Contact: Tim Moses, Director of Publicity
212/414-3466
---
Advertisement:
---
---
Advertisement:
---
---
Advertisement:
---