Akiak: A Tale from the Iditarod


by Robert J. Blake.

Picture Book. 32 pages. Grades 1-5.
Find this book: Local Bookstore, Amazon
, B&N

Review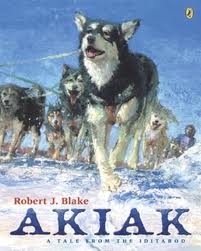 Within these 32 pages you get striking and informative illustrations, an exciting story, and hooks to math, geography, science and history. The endpaper maps show us the Iditarod trail and some of the topography. The text gives us a day by day account of a woman, Mick, and her dog team but the star of the book is the lead dog, Akiak. At least, she starts out to be the lead dog. She's run this race before and always got her team into top places, but she's never won. At ten, this will be her last chance to win.
On day four, her paw is injured and Mick replaces Akiak and makes arrangements to fly her home. Akiak, however, has other ideas and she escapes her handlers and determines to catch up with her team. At the first two stations trail volunteers try to catch her but soon everybody is rooting for her to make it. This is a wonderful story. Share it with any kids from first grade up after you've told them a bit about the Iditarod.



Related Books
Dogsong by Gary Paulsen. (2007, Aladdin. ISBN 9781416939627. Order Info.) Short Novel. 192 pages. Gr 5-9.
Russel Susskit, a 14 year old Eskimo boy, feels assailed by the modernity of his life. He takes a 1400 mile journey, alone, by dogsled, across ice, tundra, and mountains seeking his own "song" of himself&em;an identity in harmony with the old traditions "taught" to him by Oogruk.

Woodsong by Gary Paulsen. (2007, Simon and Schuster. ISBN 9781416939399. Order Info.) Memoir. 144 pages. Gr 5-9.
These are autobiographical sketches of Paulsen's experiences in the north woods. There is acceptance and respect for animal life, especially sled dogs, in all its harsh reality. A good portion of the book relates the author's experiences in running the Iditarod. These are good adventure and outdoor stories which should appeal to outdoor enthusiasts and to animal lovers.


Related Areas Within Carol Hurst's Children's Literature Web Site
Search Our Site
---
Subscribe to our Free Email Newsletter.
Sign Up!

---
Advertisements:
---
In Times Past
an eBook
by Carol Hurst and Rebecca Otis
Integrating US History with Literature in Grades 3-8.
Enliven your US History curriculum!
Teach US History using great kids books.
---
---
By Carol Otis Hurst!!

Rocks in His Head.

Pick up your copy of Carol's Award Winning Picture Book!
---
You can help fund this site at no cost to you!
If you shop at Amazon.com bookstore use
This Page
each time you enter Amazon.com.
More information
.