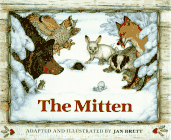 There's no use fighting it. Winter is upon us bringing with it lots of teachable moments. The subject presents us with close ties between science and literature with social studies, math, physical education, music and art nearby making it perfect for a cross-curriculum theme.
In literature and language arts we can gather as many of the books below as possible to immerse ourselves in the topic. We can write journal weather observations and note ways in which the weather effects our days. Winter is also an introspective season and perfect for writing poetry. (See Frederick listed later in this article and the poetry books listed.)
For science there are easy lead-ins to investigating what causes the seasonal cycles on earth. We can also jump from winter, with it s trademark snowflakes, to the study of water and crystals (see Walter Wick's A Drop of Water and Jacqueline Briggs Martin's Snowflake Bentley later in this article).
For social studies we can investigate how the seasons differ in various parts of the world including how the weather in these areas affects the people living there. For those living in areas without cold winters this is a perfect excuse for starting up a correspondence with another school to learn about each other's seasons.
For math we can set up our own weather measuring equipment and calculate averages, means and other statistical analysis. We can also calculate the differences between local conditions and the conditions in the places studied in social studies. For younger students we can focus on the patterns in the seasonal cycle.
For physical education we can explore winter sports and how the weather affected which sports are considered "winter." We can also integrate such activities as winter hiking with some of the science studies. Discussing health and physical fitness with an eye to the challenges of staying fit during the winter can bring a visit from a physical education teacher or cardiac rehabilitation specialist.
For music we can incorporate numerous winter related songs, write musical pieces or provide selected music to a video or slide presentation of the season.
Artwork can reflect the season and also be used in the science study of crystals and water states including snowflake formation. Winter is also traditionally a time for working on crafts including the early subsistence crafts such as spinning and weaving. Try doing some on your own and then visit a local weaver to see a larger loom at work. (See also Our Featured Subject Classroom Unit on Quilting.)
Looking through the vast array of books on the subject, some opportunities for classification leap into focus. Some of the literature, particularly the picture books for younger children, treats winter as a time of fun and pleasant activities. Others, particularly the survival stories and those that deal with getting ready for winter and those that talk about the special clothing we wear, treat winter as a challenge -- sometimes even as a threat to life. Much, but certainly not all poetry deals with the beauty of winter. In some books, particularly the folktales, winter is equated with darkness and death. A chart presenting some of those classifications and others might be a way to start recording the reading as the theme progresses. Classifying books in that way also gives us an excuse, in upper elementary and middle school classrooms, to deal with picture books for younger children.
Winter doesn't always mean ice and snow or even cold, of course, and a large map may be the best way to focus on the more subtle signs of winter in various climates around the world.
Picture Books:
Arnosky, Jim. Every Autumn Comes the Bear. (Putnam, 1993 ISBN 0399225080. Grades PreK and up. Order Online)
The illustrations in this book are superb. Through them and a very simple text, we watch a bear discover its winter den on a Vermont farm.
Activity: Contrast the colors used to illustrate this book with those the artist might have used to show the same scenes after the arrival of winter. Use those colors to paint your own winter in Vermont landscape.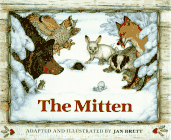 The Mitten by Jan Brett. (1989, Putnam. ISBN 039921920X.) Picture Book. 32 pages. Gr PreK-2.
Find this book: Local Bookstore, Amazon
, B&N


Jan Brett has put her own spin on the familiar folk theme of a shelter that stretches to accommodate each new occupant. Here, based on a Ukrainian tale, it's a boy, Nicki, who begs his grandmother, Baba, to knit him a pair of white mittens. A mole discovers the mitten lying on the snow and crawls inside, followed by a snowshoe rabbit, a hedgehog, an owl, a badger, a fox, a bear, and finally a mouse. Read More in our Featured Book article including classroom activities, related books and links.
Activity: This story takes place in a northern climate. Change the venue to your area. What animals might find shelter in a lost mitten?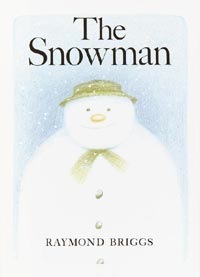 Briggs, Raymond. Snowman. (Random House, 1978 ISBN 0394839730. Grades PreK and up. Order Online)
This wordless book uses a comic strip format to contrast the world of the snowman who comes to life with that of the boy who created him.
Activity: Make a sound track for this story.
Bunting, Eve. Red Fox Running. (Clarion, 1993 ISBN 0395797233. Grades PreK and up. Order Online)
Wendell Minor's illustrations are terrific in this simple book about a red fox searching through the winter landscape for food.
Activity: Find out what animals would be possible food for the fox. Select one of them and write the story with that animal as the hunter of even smaller food in a winter landscape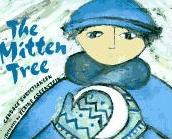 Christiansen, Candace. The Mitten Tree. (Fulcrum Kids, 1997 ISBN 1555913490. Grades 1 and up. Order Online)
Sarah, a lonely old woman, lives near the school bus stop and notices that one little boy has no mittens. One mitten leads to another and soon a kind of wordless game springs up between Sarah and the kids. Read More
Activity: Collect warm clothing for homeless people.
DePaola, Tomie. Days of the Blackbird: A Tale of Northern Italy. (Putnam, 1997 ISBN 0399229299. Grades 2 and up. Order Online)
This folktale tells of noble white bird who stayed north to sing for a kind man through the winter. Because it stayed close to fire its feathers turned black.
Activity: Find and read The Rainbow Crow by Nancy Van Laan, another tale about why a crow's feathers are black and then make a list of other ways this might have happened.
Figueredo, D. H. When This World Was New. (Lee & Low, 1999 ISBN 1880000865. Grades 1 and up. Order Online)
Enrique Sanchez illustrated this story about a child from the Caribbean experiencing his first snow in New York City.
Activity: What would you tell someone who never experienced snow about what it's like?
Fleming, Denise. Time to Sleep. (Holt, 1997 ISBN 0805037624. Grades PreK and up. Order Online)
The pattern in this book is that of a circle. A bear smells the coming of winter and passes on the knowledge. We watch it go from animal to animal until it comes back to the bear.
Activity: Compose and illustrate another circle story about winter.
Hobbs, Will. Beardream. (Atheneum, 1997 ISBN 0689319738. Grades 1 and up. Order Online)
Jill Kastner did the illustrations in this folktale about the origins of the beardance. It involves the waking of the great bear from its winter sleep.
Activity: Many Native American people valued and used the bear. Find out about other animals that were revered in native cultures.
Keats, Ezra Jack. The Snowy Day. (Viking, 1962 ISBN 0670654000. Grades PreK and up. Order Online)
In this Caldecott Award winner, an inner city child enjoys a day in the snow.
Activity: Make your own book of a day in the winter using the illustrations in this book as inspiration.
Lionni, Leo. Frederick. (Pantheon, 1967 ISBN 0394810406. Grades PreK and up. Order Online)
Here's justification for the artists and poets in society who gather up the sights and sounds while others are busy preparing for winter. During the long months, those things warm the others as Frederick recalls them.
McCully, Emily First Snow. (HarperCollins, 2003 ISBN 0066238528. Grades PreK and up. Order Online)
This is just one of a series of delightful wordless books about a mouse family. Here a family prepares for a day of fun in the snow but one little mouse gets cold feet.
Activity: Make a series of visuals based on this book and present them with a sound track.

Neitzel. The Jacket I Wear in the Snow. (Greenwillow, 1989 ISBN 0688080286. Grades PreK and up. More Info. Order Online)
A cumulative format with illustrations by Nancy Winslow Parker makes fun of the overdressed child in winter.
Activity: Conduct a winter clothing collection and make sure the clothing gets to people who need it.
Poydar, Nancy. Snip, Snip . . . Snow. (Holiday House, 1997 ISBN 0823413284. Grades PreK and up. Order Online)
Snow comes late this winter. Sophie is not pleased and when at last it's predicted, Sophie gets ready.
Activity: Put together a list of possible projects your class could take on to help disabled people cope with winter.

Shulevitz, Uri. Snow. (Farrar, 1998 ISBN 0374370923. Grades PreK and up. More Info. Order Online)
This is a delightful fantasy in which a child is the only one in a grey village to recognize the beginning of a snowstorm.
Activity: Act out this story, giving dialogue to the grownups as well as the children in the story.
Van Laan. Shingebiss: An Ojibwe Legend. (Sandpiper, 2002 ISBN 0618216162. Grades 1 and up. Order Online)
In this Chippewa folktale, a duck outwits winter on the shores of Lake Superior.
Activity: Make a list of the animals that are used as physically weak heroes in folktales who use their wits instead of brawn to defeat larger creatures.
Waber, Bernard. Bearsie Bear and the Surprise Sleepover. (Houghton, 1997 ISBN 039586450X. Grades PreK and up. Order Online)
In this silly but engaging book, animals arrive begging to come into Bearsie Bear's home for shelter from the cold.
Activity: Plan a sleepover for a winter night at school.
Yolen, Jane. Owl Moon. (Philomel, 1987 ISBN 0399214577. Grades K and up. Order Online)
John Schoenherr won the Caldecott Award for the illustrations in this beautiful book in which a young child is taken for a rite of passage hunt through the winter night to spot an owl.
Activity: Write about a thing you waited a long time to be old enough to do. Try to write about your feelings as well as your experiences.
NOVELS
Hobbs, Will. Beardance. (Aladdin, 2004 ISBN 0689870728. Grades 5 and up. Order Online)
This is a sequel to Bearstone in which a boy had an unwilling part in the death of what might have been a sole surviving male grizzly. In this book he comes upon a female and three cubs. He spends the winter with them to make sure they survive and takes on many bear qualities himself.
Activity: Research the population and chances for eventual survival of grizzlies around the world. Find out what is being done to help them and find a role you can play in that work.
McSwigan, Marie. Snow Treasure. (Scholastic, 1995 ISBN 0590425374. Grades 3 and up. Order Online)
Children outwit the Nazis in Norway when they smuggle millions of dollars right by them using sleds in the snow.
Paulsen, Gary. Winter Room. (Scholastic, 2009 ISBN 9780545085342. Grades 5 and up. More Info. Order Online)
An extended family in northern Minnesota uses winter as a time to hear the stories told by Uncle David. Those stories range from funny to tragic.
Activity: Figure out ways -- questions to get things started, ideal sites and atmosphere to establish -- in order to encourage possible storytellers in your own extended family.
POETRY
Prelutsky, Jack. It's Snowing! It's Snowing! (Perfection Learning, 2006 ISBN 9780756980573. Grades K and up. Order Online)
This small, accessible book of poems covers many of the aspects and moods of winter.
Activity: Classify these poems and find poems in other anthologies to fill out the categories.
Yolen, Jane. Once Upon Ice. (Boyds Mills, 2003 ISBN 9781590781746. Grades 3 and up. Order Online.)
Jason Stemple's color photographs illustrate this anthology of poetry about winter
Activity: Find and list things to which various elements of winter are compared. Look for specific lines or images that have meaning for you.
NONFICTION
Freedman, Russell. An Indian Winter. (Holiday House, 1992 ISBN 0823409309. Grades 3 and up. Order Online)
Taken from study of the Mandan people in North Dakota during the winter of 1833, this thoughtful book uses the paintings by Karl Bodmer as illustrations.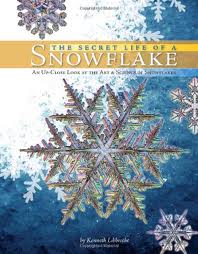 Libbrecht, Kenneth. The Secret Life of a Snowflake: An Up-Close Look at the Art and Science of Snowflakes. (Voyageur, 2010 ISBN 9780760336762. Grades 4 and up. Order Online)
Using a microscope Libbrecht, a physicist, takes photos of snowflakes. The photos are simply stunning. No unit on snow or winter is complete without this or one of his books for adults.
Martin, Jacqueline Briggs Snowflake Bentley. (Houghton, 1998 ISBN 0395861624. Grades 1 and up. Order Online.)
Mary Azarian used woodcuts to illustrate this picture book biography about a man whose passion was to photograph snowflakes.
Wick, Walter. A Drop of Water. (Scholastic, 1997 ISBN 0590221973. Grades PreK and up. Order Online)
This remarkable book uses photography to explain the properties of water. The section on snowflakes is the applicable part for this theme.

Related Areas of Carol Hurst's Children's Literature Site