The Jacket I Wear in the Snow


by Shirley Neitzel. Illustrated by Nancy Winslow Parker.

Picture Book. 32 pages. Grades PreK-2.
Find this book: Local Bookstore, Amazon
, B&N

Review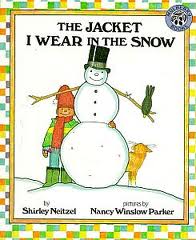 The "House that Jack Built format" has been used and over-used but, just when you think there's nothing else they can do with it, something like The Jacket I Wear in the Snow comes along. Shirley Neitzel and Nancy Winslow Parker have used the simple format and combined it with a rebus puzzle to delight the very young for whom getting dressed and undressed for the snow is a Herculean task. It's one of the best of the predictable books.
Each piece of clothing is placed on a boy who can then do everything but walk. To say that this child is overdressed is an understatement. All does not go smoothly, the clothing is "bunchy and hot," "wrinkled a lot," "stiff in the knee," "too big for me," and then there's the stuck zipper! The rebuses create colorful playfulness through the pages and draw children in to the chant.


Activities
Locate every item of clothing mentioned in the book. Use them to dress somebody.

Comparisons abound, of course, between this and other cumulative stories and you may expand the lesson a bit by getting into some like The World that Jack Built and Why Mosquitoes Buzz in People's Ears (see below).


Related Books


Related Areas Within Carol Hurst's Children's Literature Web Site
Search Our Site
---
Subscribe to our Free Email Newsletter.
Sign Up!

---
Advertisements:
---
In Times Past
an eBook
by Carol Hurst and Rebecca Otis
Integrating US History with Literature in Grades 3-8.
Enliven your US History curriculum!
Teach US History using great kids books.
---
---
By Carol Otis Hurst!!

Rocks in His Head.

Pick up your copy of Carol's Award Winning Picture Book!
---
You can help fund this site at no cost to you!
If you shop at Amazon.com bookstore use
This Page
each time you enter Amazon.com.
More information
.