Drawing from Memory


by Allen Say.

Nonfiction. 72 pages. Grades 4-9.
Find this book: Amazon

Review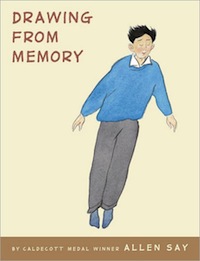 In 1937 near Tokyo, Japan, Allen Say was born to parents who didn't understand his passion for drawing. "When I was drawing, I was happy. I didn't need toys or friends or parents." His parents, especially his father, thought that artists were lazy and scruffy. They expected him to stop drawing, even as a child, and focus on preparing himself to earn a respectable living.
Allen Say, who won the Caldecott Medal in 1994 for Grandfather's Journey, gives us this short memoir in a genre-bending book that has elements of a graphic novel, a picture book and an illustrated autobiography.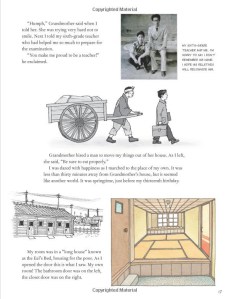 As a How-I-Became-an-Artist story it is effective in giving us a feel for his passion, for the obstacles in his way, for the mentor who guided him and for the combination of luck and hard work that began his career. The setting of 1940's Japan gives us an additional intimate view of Japanese culture, family life and the effects of World War II on one boy.
(Continued Below)
---
Advertisement:
Free Welcome To Homeschool Guide: Download Here!
---
Time4Learning is a PreK-12th grade
online homeschool curriculum
.
Eager, excited homeschoolers could be just a click away. Start with these Time4Learning freebies:
Time4Writing is a homeschool parent's best friend! Here's why...
---
(Continued Below)
---
Advertisement:
---

Related Books
Grades 2 - 9
The Art of Eric Carle by Eric Carle. Nonfiction. 128 pages.
Find this book: Local Bookstore, Amazon, B&N

This is a wonderful source book for information about Eric Carle and his work. Carle includes a delightful autobiography amply illustrated with photographs and sketches but there is much more in the book. An editor relates her experiences with Carle. There's a section about the way he creates his work and writings both by Carle and some of his colleagues. Best of all, the book is a compendium of his artwork.

Grades 1 - 4
Tree of Cranes by Allen Say. Picture Book. 32 pages.
Find this book: Local Bookstore, Amazon, B&N

This appears to be the childhood memory of the author as he recalls a time when he played too near the goldfish pond in the garden in the winter and got a little bit wet. He knew that his mother would be angry, but he didn't think she'd be so angry as to dig up the tree in the garden that had been planted to symbolize his life. She sends him to bed and ignores him, a terrible punishment for this little boy. At last she shows him that what she has done in his absence is to put together a Christmas tree based on memories she has of her life in California. The illustrations show a lot of the Japanese home--spare with beautiful lines. This is a beautiful book. Read More.

Grades 2 - 9
Grandfather's Journey by Allen Say. Picture Book. 32 pages.
Find this book: Local Bookstore, Amazon, B&N

This beautifully done biography is the story of a search for belonging and a cross-cultural experience. Say's grandfather, born and raised in Japan, came to America as a young man and traveled extensively here. Loving California best, he settled there after bringing his bride there from Japan. Although his life in California was happy, after his daughter was grown, the three of them returned to Japan, which he had missed profoundly. All his life he longed for whichever place he had left. The book deals obliquely with World War II as well.
(Continued Below)
---
Advertisement:
---

Related Areas Within Carol Hurst's Children's Literature Web Site

Related Areas Elsewhere on the Internet
Following these links will take you off our web site. You will have to use your back button to return or, bookmark our site now so you can return anytime.