Carol Hurst's Children's Literature Newsletter
Volume 2, Number 2. April 1997. Page 3.
Written by Carol Hurst. Edited by Rebecca Otis.


This issue of the Children's Literature Newsletter is sponsored by:
Carol Hurst, Consultants. Storytelling and language arts for your workshop, conference and classroom.

World War II, Nonfiction and Fiction
There is no shortage of good fiction and nonfiction for World War II.
Nonfiction
Theodore Taylor's Air Raid -- Pearl Harbor! The Story of December 7, 1941 (Harcourt Brace, 1991 ISBN 0-15-201655. Paperback ordering info.) Grades 4-8
Taylor uses a predominantly Japanese point of view for his look on the beginning of war in the Pacific. His style is straightforward, letting the details supply the drama. This action-filled account of the battles may be the book that grabs the attention of some readers who like this approach to history.
George Sullivan's The Day Pearl Harbor Was Bombed: A Photo History of World War II - Scholastic, 1991 ISBN 0-590- 43449-7. Ordering info. Grades 4-9) is a book that uses many photographs. Its coverage is much more extensive than the title applies since is also includes the Holocaust and the dropping of the end of the war.
Edward F. Dolan's America in World War II 1941 (Millbrook, 1991 ISBN 1-878841-05-X. Paperback ordering info. Grades 6-9) starts with the bombing of Pearl Harbor and the motivations behind the attack and ends with the establishment of American and Philopino troops in Bataan.
Jerry Stanley's I Am an American: A True Story of Japanese Internment (Crown, 1994 ISBN 0 517 59786 1. Hardcover ordering info including cover art. Library binding ordering info. ) Grades 4-9 This ninety page book which is not difficult reading tells of the price paid by Shiro Nomura who was a senior in high school in San Francisco before he and his family were relocated to Manzinar for the duration of the war. The text is broader than some on the subject and will provide the reader with many details on the causes and results of that confinement.
Penny Colman's Rosie the Riveter: Women Working on the Homefront in WW II (Crown, 1995 ISBN 0 517 59790 X. Hardcover ordering info. Library binding ordering info.) This book abounds with photographs and posters which help to illustrate and illuminate the time with a concentration on the war effort provided by women.
Ken Mochizuki's Baseball Saved Us (Lee & Low, 1993 ISBN 1 880 0001 6. Hardcover ordering info. Paperback ordering info with cover art. Spanish Hardcover ordering info. Spanish paperback ordering info.) is a very accessible picture book about the Japanese internment camp and the role that baseball played in diverting and sustaining the prisoners.
Eleanor Coerr's story of the tragedy of Sadako has two book forms. It is a short novel Sadako and the Thousand Paper Cranes based on the facts (Dell in 1979 ISBN 0 4404 7465 6. Hardcover ordering info. Paperback ordering info with cover art. Spanish paperback ordering info. Grades 3-6) and a picture book Sadako with illustrations by Ed Young (Putnam ISBN 0-399-21771-1. Library binding ordering info. Grades 3-8). Both books concern the effects of the bombing of Hiroshima on a surviving child later stricken with leukemia. There is also a documentary film about Sadako narrated by Liv Ullman.
Junko Morimoto's picture book, My Hiroshima (Viking, 1990 ISBN 0-670-83181-6. Hardcover ordering info. Grades 3-8) tells how she remained home from school on August 6, 1945 because of a stomach ache and experienced the dropping of the bomb on Hiroshima on that awful day. Many years later, she returned to the site to see students pursuing a peaceful existence in the same spot where she had seen such horror. The picture book is extremely powerful and unwincing.
Fiction
Robert Westall's The Kingdom by the Sea (Farrar, 1990 ISBN 0 374 44060 3. Hardcover ordering info. Paperback ordering info. Cassette ordering info. Grades 5-9) is set in England and gives us Harry, whose family is killed in the bombing of Britain. Electing to live on his own rather than be taken in by a distant relative, Harry and a stray dog travel the coast of England and narrowly survive their ordeal.

Lois Lowry's Autumn Street (Dell, 1980 ISBN 0 440 40344 8. Paperback ordering info with cover art. Hardcover ordering info. Grades 4-8) is the partially autobiographical tale of life in a small town in central Pennsylvania during the war years. It's also a story about racism and the death of an innocent child.
Michelle Magorian's Goodnight, Mr. Tom (HarperCollins, 1982 ISBN 0 06 024078 4. Library binding ordering info. Paperback ordering info with cover art. Grades 5-9) is a lengthy and challenging novel but well worth the effort. Mr. Tom has lived by himself in the tiny village in Wales since the death of his wife and child and he has no wish for any company, let alone that of a child. Yet when the evacuee from the London bombing is forced upon him, he becomes totally involved in saving this child -- not from the bombing but from the clutches of his abusive mother.
Kit Pearson's Lights Go On Again (Viking, 1993 ISBN 0 670 86919 7. Hardcover ordering info. Grades 5-9) also concerns evacuees from the bombing of London but these two children are sent to Canada for relocation. Gavin, who was only five when he left his parents, can barely remember them. Now that the war is coming to an end, he dreads leaving the country he now calls home to rejoin his parents in England. Norah, on the other hand, was older when she left England and longs to return. This is a story about the time but even more so about family and home.
Susan Cooper's Dawn of Fear (Aladdin, 1989 ISBN 0 689 71327 4. Paperback. Grades 5-9) concerns a family that elects to stay in London during the bombing. Their air raid shelter has become a second home for the children. They barely remember a time when nightly visits to the shelter and diminishing food supplies weren't part of their existence. It's a mock war between kids that escalates and is followed by more devastating effects of the real war that shakes them out of the previous acceptance of things as they are. This is not a difficult book to read but it's a compelling story.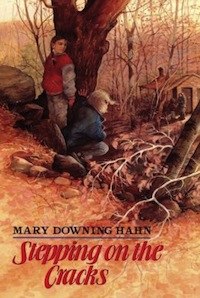 Grades 4 - 7
Stepping on the Cracks by Mary Downing Hahn. Novel. 224 pages.
Find this book: Local Bookstore, Amazon
, B&N


In 1944, while her brother is overseas fighting in World War II, eleven-year-old Margaret gets a new view on the school bully Gordy, when she finds him hiding his brother Stuart, an army deserter, and decides to help him. When Margaret's own brother is killed in the war, her feelings toward Stuart become more complicated. Read More in our Featured Book Teachers Guide with discussion questions, extension activities, related books and links.

A good sequel to this book is Following My Own Footsteps (Clarion, 1996 ISBN 0 395 76477 7. Hardcover ordering info. Grades 4-8).

Robert Cormier's Other Bells for Us to Ring (Dell, 1990 ISBN 0 440 40717 6. Paperback ordering info with cover art. Grades 5-9) is not as difficult or as sophisticated as many of Cormier's books. In it the homelife of two friends is brought into sharp contrast. Darcy's is full or love and Kathleen's home is in constant turmoil because of her father's drunken rages. When Darcy's father is drafted and sent to the warfront, it is Kathleen's faith that sustains Darcy. That very Catholic faith causes Darcy to question her own. This is a book of many layers, only one of which concerns the sacrifices of World War II.

I know that we said we'd wait to do the Holocaust in another theme, but you can't delve into a study of World War II without bringing it into focus a bit.

The picture book, Rose Blanche, by Roberto Innocenti (Creative Editions, 1986 ISBN 0 87191 994 X. Hardcover ordering info. Paperback ordering info. Grades 5-9) is not for the faint hearted. Very realistic pictures show a German child who discovers the concentration camp near her home. She brings food daily to the children imprisoned there until, near the end of the war, she is killed in a last crossfire. The effects of war on the innocent are graphically illustrated here.

Toshi Maruki's Hiroshima No Pika (Lothrop, 1982 ISBN 0 688 02197 3. Hardcover ordering info. Spanish edition ordering info. Grades 5-9) is an equally disturbing picture book although set in a different theater of war. It deals with the moments after the atomic bomb was dropped on Hiroshima.

Chester Aaron's Alex, Who Won His War (Walker, 1991 ISBN 0 8027 8098 9. Hardcover ordering info. Grades 5-9) is an exciting novel, set in Connecticut, in which a young boy who falls into the hands of Nazi saboteurs. It's an exciting story which contains information about the tensions of the civilian populace during the war years.

Sook Nyul Choi's The Year of Impossible Goodbyes (Houghton, 1991 ISBN 0 395 57419 6. Hardcover ordering info. Paperback ordering info with cover art. Grades 5-9) is a novel set in Korea during the time of Japanese occupation. Ten year old Sookan's narrative of survival during that time and the Communists' subsequent takeover in 1945 is frank and compelling. (See also A Single Shard which is set in twelfth-century Korea.

Sollace Hotze's novel Summer Endings (Clarion, 1991 ISBN 0 395 56197 3. Library binding ordering info. Grades 5-9) is about a family of Polish immigrants who wait in Chicago for news of their father, left behind in wartorn Poland. Set in 1945, this book focuses on the conclusion and aftermath of the war.

Marie McSwigan's Snow Treasure (Scholastic, 1958 ISBN 0 590 33992 3. Paperback ordering info with cover art. Grades 4-9) has been around a long time, but it remains an exciting story in which children take millions of dollars worth of gold from the Nazis in occupied Norway. The story is based on truth.

Michael Morpurgo's Waiting for Anya (Viking, 1991 ISBN 0 670 83735 0. Library binding ordering info. Paperback ordering info with cover art.) is set in occupied France and concerns the efforts of the town to hide some Jews from the Nazis.

Sheila Hamanaka's On the Wings of Peace: In Memory of Hiroshima and Nagasaki (Clarion, 1995 ISBN 0 395 72619 0. Hardcover ordering info.) is an anthology of stories, poems, personal narratives and illustrations which concern the dropping of atomic bombs on Japan.

Ellis Dillon's The Children of Bach (Simon & Schuster, 1992 ISBN 684 19440 6. Library binding ordering info.) gives us two boys who arrive home in Hungary to find that their parents have been taken away by the Nazis. They are musically well trained, however, and they maintain their sanity and sense of self by continuing their music before escaping to Italy.

Jill Paton Walsh's Fireweed (Farrar, 1988 ISBN 0 374 4316 4. Paperback ordering info.) is a survival story about a boy and a girl who meet after their families have been lost in the bombing of London.

Laura Williams' Behind the Bedroom Wall (Milkweed Editiions, 1996 ISBN 1 57131 606 X. Hardcover ordering info. Paperback ordering info.) also concerns the hiding of Jews. Korinna is a loyal German child, part of the Hitler Jungmadel, who discovers that her parents have been hiding Jews behind her bedroom wall.briel Heater of the tragedy of the Jews in Europe.

Bette Greene's The Summer of My German Soldier (Dial, 1973 ISBN 0 837 8321 3. Paperback ordering info with cover art. Grades 6-9) is a different viewpoint on the war, that of German prisoners of war in America. A young Jewish girl befriends one of the German prisoners much to the disgust of her family.

In Amy Hest's easily accessible book Love You, Soldier (Four Winds, 1991 ISBN 0 02 743635 7. Paperback ordering info. Grades 3-8), Kate and her mother are coping with the absence of her father in the war with the help of their neighbors in their New York apartment building. After her father's death in the war, Kate must learn to accept her new stepfather.

Another book by Amy Hest, The Ring and the Window Seat (Scholastic, 1990 ISBN 0 590 41350 3. Library binding ordering info. Grades 4-8) is also brief and concerns two people's separate goals during the war. The carpenter fixing Stella's window seat is saving his money to bring his daughter from the war in Europe to America. Stella is saving for a ring. She decides his is the most worthwhile cause and gives her savings to him.

Dorothy and Thomas Hoobler's Aloha Means Come Back: The Story of a World War II Girl (Silver Burdett, 1991 ISBN 0 382 24148 7. Hardcover ordering info. Grades 3 - 6) is part of the "Her Story" series. It is intended for less capable readers and lacks the dimension of some of the more challenging books but it contains good information about the attack on Pearl Harbor and the prejudice experienced by the Japanese Americans.

Two novels by Yochiko Uchida, Journey to Topaz (Creative Arts, 1985 ISBN 0 916870 85 3. Paperback ordering info.) and Journey Home (Simon & Schuster, 1982 ISBN 0 689 70755 X. Hardcover ordering info. Paperback ordering info.) , Grades 5-9, tell the story of Yuki and her family who are sent to Topaz, the relocation camp in Utah after being disposessed in California. The first book concerns their experiences there and the second covers their return to California only to find their home gone and their father unemployable.

Grab a work of fiction for yourself and start reading with and to the kids. If some kids have trouble finding a way into the subject that interests them, work together until you find one. Tape material for the kids for whom extensive reading is a trial, use video and audio tapes where appropriate. The Smithsonian has a wonderful series of cd's which contain original recordings of the music of World War II, "Accentuate the Positive" and enjoy.

Return to First Page of the Newsletter.
---
Advertisement:
---
---
Advertisement:
---
---
Advertisement:
---