The Higher Power of Lucky


by Susan Patron. Illustrated by Matt Phelan.

Novel. 134 pages. Grades 3-6.
Find this book: Local Bookstore, Amazon
, B&N

Review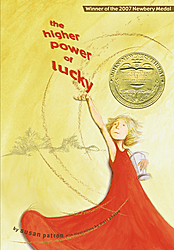 Winner of the 2007 Newbery Medal, The Higher Power of Lucky is a strong book with unforgettable characters and a gentle sense of humor bringing life to the classic plot of an abandoned child trying to find her place in the world. Ten year old Lucky's mother has died and her father has abandoned her. She is living in a trailer with her father's first wife, Brigitte, in the town of Hard Pan (population 43) on the edge of the Mohave Desert in California. She has bits of evidence that Brigitte may be planning to return to France and Lucky is convinced she will be left behind. Lucky has a job cleaning up outside the Found Object Wind Chime Museum where she eavesdrops on twelve step meetings for comfort and yearns to find her own Higher Power to help her make sense of her not-so-lucky life.
Lucky's bravery is evident as she collects insects and scares away snakes. But she is also very vulnerable and at times overwhelmed by her fear of being abandoned again. Her solution to that fear, to run away, is very believable even while the reader aches for her to see the false assumptions she is making about Brigitte.
Lucky's best friend Lincoln is quiet and obsessed with tying knots and this motif of knots is carried throughout the story.
When Lucky feels her abandonment is imminent she packs her backpack for survival and runs away into a desert sandstorm where she discovers Miles, a five year old, who has also run away. They shelter in a cave and Lucky finds her concern for this other motherless child changes how she sees her own life.




Related Areas Within Carol Hurst's Children's Literature Web Site
Search Our Site
---
Subscribe to our Free Email Newsletter.
Sign Up!

---
Advertisements:
---
In Times Past
an eBook
by Carol Hurst and Rebecca Otis
Integrating US History with Literature in Grades 3-8.
Enliven your US History curriculum!
Teach US History using great kids books.
---
---
By Carol Otis Hurst!!

Rocks in His Head.

Pick up your copy of Carol's Award Winning Picture Book!
---
You can help fund this site at no cost to you!
If you shop at Amazon.com bookstore use
This Page
each time you enter Amazon.com.
More information
.