Little Blue and Little Yellow


by Lionni, Leo. (Mulberry, 1959 ISBN 0-688-13285-5. Paperback) Picture Book. 32 pages. Grades PreK+.
This book was reviewed by Carol Otis Hurst in Teaching K-8 Magazine.


Review

Leo Lionni devised this story while on a train trip with his grandchildren. Usually he drew stories for them as he told the stories but this time he had no drawing materials. Tearing circles of color from a magazine, he improvised this story and later wrote it down for the rest of us.
Illustrated with splotches of color, the story has several layers of meaning from the simple story of friendship through the exploration of color to the feelings of racial prejudice. We are shown Little Blue as a ragged circle of blue on the white page. Later we meet his mother and father, his many friends, but especially Little Yellow who lives across the street with Mama Yellow and Papa Yellow. Using only these simple shapes, Lionni shows the children at school and at play. Then, when Little Blue and Little Yellow are separated for a bit only to find each other at last, they are so joyful that they hug each other and turn green. As a single green shape, they play and then go, first to Little Blue's house and then to Little Yellow's only to be rejected and unrecognized. They cry little blue and yellow tears until they are all tears and then, punningly, they "pull themselves together and go home" as separate shapes again.
The invitation is implicit in the story to tell your own blobs of color story. It's very effective done with colored gels on an overhead projector. The light makes the desired green where blue and yellow overlap. You can change it to Little Red and Little Yellow or Little Red and Little Blue and get into a whole lesson on color.
Place gels over flashlight lenses and let the children create color shows against a sheet or screen. Be aware, however, that mixing light will give you different colors then mixing pigments. Use paint trays to mix tempera paint although, of course, you can't unmix them the way you can do with the overhead projector and the flashlights. Move on to mixing colors on the paper using tempera and finger paint.
Back to the story, however, and its friendship message. Little Blue and Little Yellow play games together: ring around the roses and hide-and-seek. Children can draw pictures of themselves playing games with their friends. After the pictures are displayed, use them to make lists of games children play. Add to the list as children think of other games they enjoy with their friends that are not in the pictures. Make a graph in which children place their name circles after the game they like best.
End with a retelling by the children of the story of Little Blue and Little Yellow.

Related Books
Friendship
Fleischman, Sid. The Scarebird illustrated by Peter Sis. (ISBN 0-688-13105 Mulberry)
Lonesome John puts up a scarecrow to keep the birds away from his crops. In his loneliness he begins to first fully clothe the scarecrow and eventually to talk with it, even playing checkers with it. Through John's conversation with the Scarebird, we get clues as to his past life. When a young man comes up the road from town, looking for work, John, at first begrudgingly and later willingly, turns his attention from his make-believe friend to a real one.
Henkes, Kevin. Chester's Way (ISBN 0-590-44017-9 Scholastic)
Chester is a creature of habit. He always does things in very precise ways and he likes his routine. Wilson, Chester's best friend, is exactly like Chester. They are happy in their rut until Lilly appears. Lilly is nothing like Chester and Wilson. Her exuberance and unconventional behavior frighten the boys and they shun her company until she rescues them from some bullies. After that, they take another look at Lilly. Now it's a threesome and they're very happy. However, on the last page, Victor, who looks like another non-conformist, has just moved into the neighborhood.
Sadler, Marilyn. Elizabeth & Larry illustrated by Roger Bollen (ISBN 0-671-77817 X Simon)
Their portrait on the first page sets the tone for this straight-faced outlandish tale with the caption: Elizabeth and Larry were old friends. Elizabeth was sixty-two and Larry was pushing forty. Larry is an alligator in appearance but human on the inside. His life with Elizabeth is dignified, comfortable and filled with mutual respect. It's the outside world that gives them trouble but they cope as you knew they would, eventually.
Waber, Bernard. Ira Sleeps Over (ISBN 0-395-13893-0 Houghton)
Ira's sleeping over at Reggie's and the question is, "should he or should he not take his teddy bear?". He makes and remakes that decision many times, goaded by his sister and aided by his parents.
Marshall, James. George & Martha (ISBN 0-395-19972 7 Houghton)
George and Martha are two large, awkward hippos who are great friends. In spite of their ups and downs and peculiar situations, their friendship endures. This book contains five stories in which the ridiculousness of the adventure is balanced by the hippos' dignity and the affection they share. George and Martha really shine in the plot of each warm and funny story.
Bluthenthal, Diana Cain. Matilda the Moocher (ISBN 0-531-30003-x Orchard)
Our narrator has a friend named Matilda who seems to be a moocher. She borrows supplies and ice cream money every day, borrows her bike and sponges sandwiches. So great is our narrator's dismay that she becomes ill and stays home from school Guess who comes to visit. Maybe she's got some good qualities, after all. This is an engaging look at friendship.
COLOR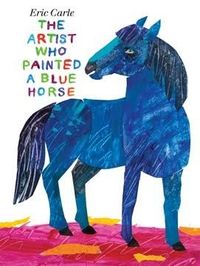 Grades PreK - 9
The Artist Who Painted a Blue Horse by Eric Carle. Picture Book. 32 pages.
Find this book: Local Bookstore, Amazon
, B&N


In his first book in four years Eric Carle honors one of the great artists who inspired his singular style. The title gives a hint as to the identity of the boy narrator of the story. However, the story itself is a simple, almost wordless, tale of a child painting--a blue horse, a red alligator, a pink rabbit, a yellow cow and more. Our narrator closes with, "I am a good artist." It is only after this that Carle includes a reproduction of "Blue Horse" by Franz Marc along with a short biography. Read More.
Jonas, Ann. Color Dance (ISBN 0-688-05990-2 Greenwillow)
Color images are in motion here as three girls, armed with long flowing scarves of red, yellow and blue, show us how the colors combine to make others -- not just your everyday orange, green and purple, but aquamarine, chartreuse, marigold, vermilion, magenta and violet. When joined by a boy bearing a black, a gray and then a white scarf, the colors fade or darken. Ms Jonas, taking the offensive, makes the statement at the beginning of the book that the red she uses is the red of the rainbow and the red used in full-color printing. It is just as real a red as fire engine red, apple red, or stoplight red.
Hoban, Tana. Colors Everywhere (ISBN 0-688-12762-2 Greenwillow)
In this book of vibrant color photographs, Hoban wordlessly asks us to find the colors in each one. The question is asked in a panel at the side of each page with Mondrian-like bands of color.
Crews, Donald. Freight Train (ISBN 0-688-11701-5 Greenwillow)
On an otherwise empty page, we see first a track and then, car by car, a freight train is built and each car is named. Then a freight train that rolls through the landscape until it disappears. The graphics in this simple picture book are compelling.
Ehlert, Lois. Color Zoo (ISBN 0-397-32259-3 HarperCollins)
This simple book gives a simple introduction to colors and familiar shapes. In addition, when each page is turned and one shape is placed upon the next, a new animal face appears. Every page can be a jumping-off-place for a discussion of shapes, colors, and animals. Everything about this book is pleasing to the eye while presenting the material in a clear and orderly manner.
Asbury, Kelly. Yolanda's Yellow School (ISBN 0-8050-4023-4 Holt)
This very simple book for the very young accents the color yellow. Everything this child sees on the way to school and at school is bright,vivid yellow. The story is almost non-existant but it's not a bad way to bring color into focus.
Van Allsburg, Chris. Bad Day at Riverbend (ISBN 0-395-67347-X Houghton)
The stark coloring book aspect of this picture book may throw you off if you are familiar with Van Allsburg's work, but he's playing his usual games with perspective and the unexpected. The sheriff in the Old West town of Riverbend gets increasingly hysterical reports of a strange greasy slime that drops out of the sky accompanied by a blinding light. Indeed we see the evidence when animals and people approach Riverbend bearing that substance. The sheriff and his men ride out to find the source. It's then that we discover we've seen the story from inside a coloring book.
Seven Blind Mice by Ed Young. (1992, Philomel. ISBN 9780399222610. Order Info.) Picture Book. 48 pages. Gr K-5.
In this startlingly illustrated version of "The Blind Man and the Elephant," seven blind mice go, one by one, to identify a large object. Each perceives one part of it and pronounces it to be something. It is only the white mouse who sees the elephant.
Onyefulu, Ifeoma Chidi. Only Likes Blue (ISBN 0-525-65243-4 Cobblehill/Dutton)
Under the guise of teaching his younger brother colors, our narrator shows us the colors and the customs of his life in Nigeria.

Related Areas of Carol Hurst's Children's Literature Site