They Called Themselves the K.K.K.: The Birth of an America Terrorist Group


by Susan Campbell Bartoletti. (Houghton, 2010. ISBN 9780618440337. Order Info.) Nonfiction. 172 pages. Grades 7-12.



Review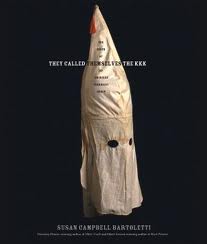 By the end of the Civil War, battles and pillaging by Union soldiers had destroyed most of the farms and plantations in Tennessee. In this context of political and economic collapse in 1866 a group of former Confederate soldiers formed the Ku Klux Klan. Filled with ritual and secrecy, the organization began to inflict fear on the newly freed slaves and to "maintain order" by taking it upon themselves to punish anyone (mostly blacks) whom they felt were not keeping to their proper place.
The current proliferation of hate groups including active Ku Klux Klan groups makes it more important than ever to have a book such as this which describes in great detail their early years. It focuses primarily on the 1860's and 1870's with a chapter summarizing the period after the first wave of the K.K.K. and concluding with present day activities.
Bartoletti uses primary sources (newspapers, documented interviews, photographs and political cartoons) to great effect here. Her research is thorough and she writes about it brilliantly bringing it to frightening life for 21st century readers.
Bartoletti also wrote Boy Who Dared, Hitler Youth, and Black Potatoes among other nonfiction titles. Contains an index, Civil Rights time line, source notes, and a bibliography. This is also available as an audio book. Highly recommended.

Related Books

Related Areas Within Carol Hurst's Children's Literature Web Site

Related Areas Elsewhere on the Internet
Following these links will take you off our web site. You will have to use your back button to return or, bookmark our site now so you can return anytime.