Wolfie and Fly


by Cary Fagan. Illustrated by Zoe Si.

Chapter Book. 96 pages. Grades 2-5.
Find this book: Amazon

Teacher's Guide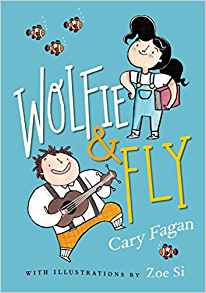 Renata Wolfman is her own person. She doesn't want fancy, girlie clothes, but rather wears the same style white T-shirt and overalls everyday. She doesn't want to play with other kids, but prefers to read about ocean life.
"'It isn't healthy to have no friends,' her mom insisted. 'I'm perfectly healthy,' Renata said, 'Friends have germs. Their noses drip. They cough all over you. I'm much healthier without them!'"
Her parents particularly want her to play with the nice boy next door, but she refuses. When she also refuses to join her parents at a cookout, she stays home, and makes a submarine out of a refrigerator box. Much to her chagrin, she is interrupted by the boy next door, Fly. He is very insistent that she let him in because he lost his brother's new baseball, and is trying to escape retribution.
Fly helps Wolfie make enhancements to the submarine, and convinces her to pretend they're steering it through the ocean. Pretending is something Wolfie says she never does, "I don't even know how. It's for kids," she says. "We are kids," is Fly's reply.
As they take their pretend trip they are amazed to look out the porthole, and see water pouring in through the windows of the house, the fake button actual makes the box move through the water and a big squid follows them. In spite of Wolfie's misgivings she has a really good time exploring the ocean with Fly.
The madcap adventure includes finding the lost baseball and being attacked by a pirate submarine. At the end of it all they find that there actually is an inch of water on the living room floor. Wolfie's parents rush in with news that a neighborhood pipe broke and flooded all the houses, but of course, that doesn't explain the baseball that Fly finds under a cushion.
This humorous book is the first in a series. Students will like Wolfie's unconventional defiance and Fly's annoying, but lovable style. The silliness will keep them turning the pages.
(Continued Below)
---
Advertisement:
---

Things to Talk About and Notice
Language Arts, Comprehension: What is happening here? At what point does fantasy begin to infiltrate reality? Which details in the text or illustrations give you hints?

Social Skills, Bullying: Both characters have been given unkind nicknames by schoolmates. They call Wolfie (real name Renata) the Lone Wolf because she's always off by herself and they call Fly (real name Livingston) Fly because, "I buzz around and annoy people". What does Fly do to take the sting out of the insults? More books and activities about bullying.

Social Skills, Inclusion: These characters are both outsiders. Talk about why they don't have friends. What actions can the class as a group take to be more inclusive? What actions can individuals take?

Social Skills, Friendship: We can think of friendship as a feeling. Friends care about each other and enjoy spending time together, but friendship is also an action. Brainstorm some things that would be considered "acts of friendship".

Social Skills, Empathy: What does Wolfie think and feel about Fly at the beginning of the book? What does she think and feel at the end? How do the author and illustrator show that?

Activities
Technology: Besides a submarine, what other kind of transportation vehicle could you make? Design one and list the materials your design would need. Is it possible to make a refrigerator box size version? How about a small model?

Research, Science, Marine Biology: Find out more about sea turtles. Where do they live? What do they eat? How many kinds are there? How big are they? Find videos of them nesting and hatching.

Research, Math, Science, Marine Biology: Find out about other marine life. Make lists, graphs and charts of the information you find. Sort animals and plants according to things like size, type (mammals, fish, mollusks, algae, seaweed, crustaceans, etc.), diet, and locations.

More Activities About Oceans: Our article with recommended books and classroom lesson plan ideas.

Science, Physics, Technology, Inventions: In chapter 5, Wolfie says, "How can a refrigerator box travel underwater?" What are some of the things that would prevent a refrigerator box from traveling underwater in real life? Setting aside the issue of propulsion and steering, (at least for now) set a small cardboard box in water and see what happens. What kind of modifications can you make so it will act more like a submarine in water?

Language Arts, Adjectives; Social Skills, Friendships: Wolfie is sure she prefers to be alone, by the end of the book she agrees to a future adventure with Fly. On the classroom board create three columns. Label the first one "On Your Own" and the second "With Friends". Together, brainstorm adjectives that describe being on your own. What's good about it? What's hard about it. Do the same for the "With Friends" column. If someone suggests a word that isn't an adjective you can still acknowledge the contribution by putting it in the third column. Is there an adjective related to the word that can go in the appropriate column?

Language Arts, Writing: Write about the experience of loosing a friend, or making a new friend, or being lonely, or about needing more time alone.

Language Arts, Vocabulary: There are some nice vocabulary words in here like mulled, kin, boosters and unforeseen. Look for more in the text and play some word games with them.

Language Arts, Writing, Figurative Language: Fly says, "he'll turn me into chopped liver." What does Fly mean? Why do people use metaphors? Look for more metaphors and similes in the book. Do they strengthen the writing? Try using them in your own writing.

Language Arts, Writing: Write Wolfie and Fly's next adventure.

Arts, Music: Fly loves to make up songs. Do you think it is fun or annoying? Try making up some silly songs of your own.
(Continued Below)
---
Advertisement:
---

Related Books
(Continued Below)
---
Advertisement:
---

Related Areas Within Carol Hurst's Children's Literature Web Site