Carol Hurst's Children's Literature Site
Newsletter, Volume 15, Number 3
If can have this periodic newsletter delivered to your email address.

Mysteries in the Classroom
Fiction, Nonfiction and Activities
for Preschool through Ninth Grade.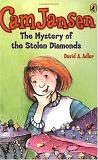 Welcome to the September issue of our newsletter. This time I took our article on using mysteries in the classroom that was written back in the nineties and which has had bits added to it piecemeal over time and updated it with more books and activities. I meant to just give it a quick polish but got so engrossed in all the wonderful mystery books for kids that I ended up rewriting the whole thing and loving every minute of it. Truth be told, I had to cut myself off at a certain point so that I could send the article out to you. The lovely thing about writing for the web site is that I can always add to the article after it's been posted online whenever I'm able to.
So, for now, here are my thoughts on mysteries:
One of the most popular genres of literature for both adult and child readers is that of mystery and detective fiction. Some of the best opportunities for exploring brilliantly written, high quality literature are mysteries. Some of the lightest and most addictive series fiction books are mysteries. Students hunting for mystery clues makes for careful reading and looking at the books analytically involves sequencing, summarization, and looking for patterns among other skills. In general mysteries cover such a broad range of settings and subject matter that they can easily be integrated across many areas of the curriculum.
There are mysteries which rely on codes or on detecting patterns in the clues which are great for focusing on math skills. There are crime-solving nonfiction titles which can lead to the science of forensics. There are mysteries set in different time periods and locations that bring in history and geography. Many mysteries include police officers or detectives which fit well with units on communities or crime and justice themes. There are great mysteries set in art museums or involving forgery. Finally all the mysteries allow us to dig into language arts topics such as characters and writing styles. Mysteries, in particular, are good vehicles for noticing and practicing plot writing techniques.
Picture Book Mysteries
Let's start with picture books that we can use with the youngest kids and then picture books of increasing complexity. Their very simplicity makes them useful for analytical work with older readers as well and for the reading aloud too often missing in the upper grades.

What Really Happened to Humpty?: From the Files of a Hard-Boiled Detective by Jeanie Franz Ransom. Illustrated by Stephen Axelsen. (2010, Charlesbridge. ISBN 9781580893916. Order Info.) Picture Book. 40 pages. Gr PreK-3.
We all know Humpty Dumpty had a great fall but along comes his brother, Joe Dumpty, a detective (complete with trench coat and Fedora), to find out what really happened. Did he fall, or was he pushed? This spoof of film noir detective stories features Mother Goose and fairy tale characters such as Goldilocks, Bo Peep and the Big Bad Wolf. The complicated tale is also loaded with word-play. This is a fun exploration of one type of detective story and a great way to play with nursery rhyme stories. For students who may not have had a lot of exposure to nursery rhymes before entering school here's an excuse to revisit them.
Tuesday by David Wiesner. (1991, Clarion. ISBN 9781435208629. Order Info.) Picture Book. 32 pages. Gr PreK-8.
This is a picture book example of puzzles and crime mysteries, although you may not have thought of it that way. Even before the title page we are aware that frogs—one frog at least—is levitating in the marsh. By the first words in the book, "Tuesday Evening, around eight," frogs on their lily pads are zooming around, looping and diving. They're off to town where they startle a late night snacker, decimate a clothesline, and invade the house of an old woman snoozing before her TV.
Here we have the flight of the frogs which is the puzzle: how and why did it happen? Are the frogs given the power of flight or are the lily pads the gifted items? There is evidence to support both contentions: when daylight comes, the lily pads drop wherever they were and the frogs hop back to the marsh indicating that the lily pads were the holders of the power of flight. However, in the last picture pigs are flying and there are no lily pads in sight indicating that the frogs perhaps used the lily pads but had the power themselves.
The detective aspect comes in at the end when the town is trying to solve the puzzle of the morning scene with the widely scattered lily pads. An eyewitness is attempting to explain what he saw out of the corner of his eye. A plainclothes detective is examining the evidence and, we are sure, everybody's got a solution to the mystery. Read More about Tuesday including a longer review, a few activities and related links.

Grandpa's Teeth by Rod Clement. (1998, HarperCollins. ISBN 9780060276713. Order Info.) Picture Book. 32 pages. Gr PreK-3.
Grandpa has lost his dentures and it's a big problem because, "Thosthe teeth were sthpecial . . . handmade by the finestht Sthwissth craftsthmen." A humorous crime investigation ensues with an appearance on the "Unsolved Crimes" TV show and wanted posters of the teeth. The entire town becomes tangled in the disaster. This book is very silly with a satisfying surprise ending.

Piggins by Jane Yolen. Illustrated by Jane Dyer. (1992, Turtleback. ISBN 9780833585325. Order Info.) Picture Book. 32 pages. Gr K-3.
The versatile Yolen has given us this delightful pastiche (like a parody but light-hearted and affectionate rather than ridiculing) of the classic English mystery complete with a butler, jewels, dinner guests and more Agatha Christie elements. The understated humor makes a gentle read for young students and the classic structure makes a good picture book example to share with older students discussing traditional mysteries.

Black and White by David Macaulay. (1990, Houghton. ISBN 9780395521519. Order Info.) Picture Book. 32 pages. Gr 1-4.
This wonderful illustration based book contains four separate stories happening simultaneously on each page. Or are they separate? Kids get really excited finding connections and they will surprise you with details you never noticed. This is not a traditional mystery or puzzle book but it belongs here with the picture book mysteries because it exercises the same open-minded, analytic collecting of clues and searching for patterns. Use it for whole class or small group discussions. Read our Featured Book Teacher Guide about Black and White including a longer review, classroom activities, related books and links.

Bad Day at Riverbend by Chris Van Allsburg. (1995, Houghton. ISBN 9780395673478. Order Info.) Picture Book. 32 pages. Gr 2-6.
Bad Day at Riverbend is illustrated differently than most of Van Allsburg's work. The technique of illustration alone is a mystery for first time viewers of the book. In fact, in this mystery we the viewers are the main ones deceived. Instead of Van Allsburg's usual almost three dimensional effect which plays with perspective, the appearance here is of a flat surfaced, two dimensional world. It's a tale of the old west and the sheriff is alarmed by reports of a peculiar greasy substance falling from the sky preceded by a bright light. We join the sheriff and his posse as they travel the trail to locate the source of that terrible greasy substance. After the kids know the secret, go back through the book to look for clues. We should have figured it out but, of course, that's what all armchair detectives say.

Mysteries of Harris Burdick by Chris Van Allsburg. (1984, Houghton. ISBN 9780395353936. Order Info.) Picture Book. 32 pages. Gr 3-9.
Supposedly, a man named Harris Burdick once went to the publisher with twelve illustrations and their captions for twelve stories he intended to write. He then disappeared. The pictures are themselves mysterious and the stories that they evoke are almost invariably spooky. This book is perfect for use as a collection of writing prompts for classes, small groups or individuals.
Recommended Mystery Series
A mystery series book is often the first book that pulls a reluctant reader into the enjoyment of reading and they will surprise themselves with their eagerness to read the next title in a series. Remember, before you throw up your hands in horror at the series books that are of poorer quality, that you have to read a lot of junk before you know what it is and that we all have an appetite for some junk. Here are some of our favorite series.
The High-Rise Private Eyes series by Cynthia Rylant. (The High-Rise Private Eyes #1: The Case of the Missing Monkey. Greenwillow Books. ISBN 006444306X. Order Info.) Chapter Books. Gr K-3.
This series by the remarkable author, Cynthia Rylant, follows Bunny Brown and raccoon Jack Jones who are detectives and best friends. Each case lays out the situation, clues and deductive reasoning used to solve it. Written in easy reader style these are very accessible and well written.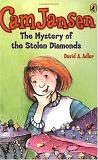 The Cam Jansen Mysteries by David A. Adler. (Cam Jansen and the Mystery of the Stolen Diamonds. First in the series. Turtleback. ISBN 1417632917. Order Info.) Chapter Books. Gr 1-3.
The clever main character, Cam, uses her photographic memory to solve mysteries. These are accessible and usually include a touch of humor. David A. Adler also has a Jeffrey Bones (Order Info) series of mysteries which is appropriate for the same age range.

The Hank the Cowdog series by John Erickson (The Original Adventures of Hank the Cowdog. Gulf Publishing Company. ISBN 0141303778. Order Info.) Chapter Books. Gr 2-5.
These are among the funniest books available for young readers. You'll want to read one aloud. After that, you really should let the kids on that wavelength read the others independently (the reading level is about third grade) but it's hard not to grab for the next one and start drawling them out. Hank, in charge of security on the Texas ranch, is the Barney Fife of dogdom—slightly paranoid, long on sincerity, short on brains. His assistant, Drover, is a coward, usually finding that an old leg wound acts up whenever danger looms, but he worships Hank and thinks he's brilliant. Loper and Sally May own the ranch and, no matter what he does or how earnestly he tries not to, Hank usually runs afoul of Sally May before the tale is told. Sally May's view of Hank is in direct opposition to that of Drover. Besides the hilarious slapstick, there are many wonderful gaps in the narration, allowing the reader's mind to fill in the details based on the results. If you're not a Hank fan, you will be after you've tried one.

The Herculeah Jones Mysteries by Betsy Byars. (Tarot Says Beware Viking, 1994 ISBN 0670855758. 151 pages. Order Info. Gr 4-6.) This is a series of light mysteries with scary moments. The delightful heroine is the only child of a policeman and a private eye. Of course she's got to be involved in any mystery she becomes aware of much to the dismay of her parents. Her loyal friend, Meat, is less aggressive than Herculeah but gets drawn into the action anyway. In Tarot Says Beware Herculeah finds the body of her friend Madame Rosa the fortune teller and, although both her mother and father forbid any further action on her part, Herculeah is soon the intended second victim of the murderer. Read our Author Study article about Betsy Byars.

The Encyclopedia Brown Series by Donald J. Sobol. (Encyclopedia Brown, Boy Detective Illustrated by Leonard Shortall. 2007, Turtleback. ISBN 9781417786220. Order Info.) Chapter Book. 88 pages. Gr 4-6.
Each chapter finds Leroy "Encyclopedia" Brown's father, the chief of police, home recounting a difficult case from work. Using the clues given Encyclopedia always comes up with the solution. First, the author stops to let the reader figure it out for themselves. We are then directed to the back of the book for the answers. The books feature codes, logic and observing contradictory details.

The Bad Beginning by Lemony Snicket. Illustrated by Brett Helquist. (1999, HarperCollins. ISBN 9780064407663. Order Info.) Chapter Book. 162 pages. Gr 4-8.
This Gothic spoof is the first book in a long series which was also made into a movie. Unlike other mystery series this one takes the entire series to solve the mystery. In the meantime there are smaller mysteries and much peril to entertain the reader. The narrator's voice is prominent here as he tells us about the plight of three orphans whose parents were killed and who are pursued by a guardian who is intent on getting the family fortune from them. The mystery concerns who killed their parents and why. The books are very funny and addictive. The audio versions (Order Info) are also very well done.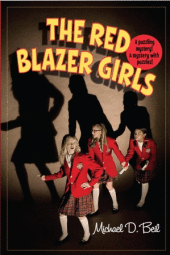 The Blazer Girls: The Ring of Rocamadour by Michael D. Beil. (2009, Knopf. ISBN 9780375948145. Order Info.) Novel. 304 pages. Gr 5-8.
Three students at St. Veronica's all girls' middle school in New York City embark on a hunt for clues after one of them sees a ghost-like woman outside the church window. In unraveling the clues the girls must use their knowledge of geometry, literature, and religion.

Chick lit mysteries include Bennett Madison's "Lulu Dark" series (Order Info), and the "Scarlett Wakefield" series by Lauren Henderson (Order Info). The "Nancy Drew" series by Carolyn Keene (Order Info) can be an interesting trip back in time for students wanting more girl detective novels.
There's also the "Nate the Great" series (Order Info), the "Fear Street" series by R. L. Stine (Order Info), the "Babysitters' Club" by Ann M Martin (Order Info) and many, many other series have at least some titles which fall into this genre.
Recommended Mystery Novels
It's time to look at some really great mystery novels. In order of the sophistication necessary for appreciation, some good choices would be: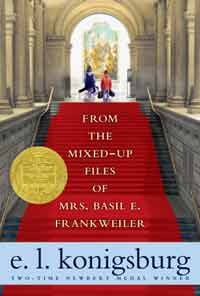 From the Mixed-up Files of Mrs. Basil E. Frankweiler by E. L. Konigsburg. (2007, Atheneum. ISBN 9781416949756. Order Info.) Novel. 176 pages. Gr 3-6.
Claudia Kincaid feels unappreciated at home and so decides to run away. Being a good planner, but poor money manager, she allows her younger brother, Jamie, to join her. They hide out in the Metropolitan Museum of Art in New York and it seems they have thought of everything. Read our Featured Book Teacher Guide with a review, classroom discussion ideas, activities, related books and links.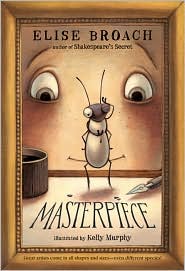 Masterpiece by Elise Broach. Illustrated by Kelly Murphy. (2008, Holt. ISBN 9780805082708. Order Info.) Novel. 304 pages. Gr 3-6.
Eleven year old James and a small beetle named Marvin become friends and join forces to prevent a crime at the Metropolitan Museum of Art. Wonderfully written, this book evokes The Borrowers by Mary Norton with the vivid details of Marvin's miniature life such as playing horse shoes with staples and toothpicks and Charlotte's Web by E. B. White with the tenderness of its cross-species friendship, as well as The Mixed-Up Files of Mrs. Basil E. Frankweiler with its Metropolitan Museum of Art based mystery. Read More about this book.
The Murder of Hound Dog Bates by Robbie Branscum. (1995, Puffin/Penguin. ISBN 9780140375930. Order Info.) Novel. 96 pages. Gr 4-8.
This may be out of print but is still available used and in libraries. This is a logical step from Hank the Cowdog (see above). There's the dog, of course, and there's also great good humor. You wouldn't think so at the beginning, for Hound Dog Bates is indeed dead. Sass, owner of that beloved dog, is convinced that one of the three aunts with whom he lives poisoned him because they've always hated Hound Dog. There are few clues and Sass's only hope is to create so much guilt that one of them will confess.

The View from the Cherry Tree by Willo Davis Roberts. (1994, Turtleback. ISBN 9780808593065. Order Info.) Novel. 181 pages. Gr 3-6.
Willo Davis Roberts has given us lots of good mysteries but one of her early ones remains a favorite. This book is accessible for readers from fourth grade up and has been around since the seventies but seems even older. There's something reminiscent of the light mystery movies of the forties and fifties here. Maybe it's that the impending wedding which is occupying all the attention of Rob's family has elements of "Father of the Bride." Rob retreats from all the turmoil to his favorite hidden seat on a large cherry tree and from there he witnesses the murder of Old Lady Calloway, the neighborhood busy-body and crab. Most good readers will solve the mystery before the characters do, but that's half the fun.

When You Reach Me by Rebecca Stead. (2009, Lamb/Random. ISBN 9780385737425. Order Info.) Novel. 199 pages. Gr 4-8.
The time-twisting puzzle of the book is its mystery. Miranda is in sixth grade and living in New York City in 1979. Her mother is studying to be a contestant on a game show to win $20,000 dollars. Miranda's friendship with a school mate takes an unexpected turn when she receives a mysterious letter that may be from the future, or is it the past? This time warp story is full of wonderful characters and a vibrant recreation of the late 70's. Winner of the 2010 Newbery Medal.

Wolf Rider by Avi. (2008, Simon Pulse. ISBN 9781416954446. Order Info.) Novel. 208 pages. Gr 7-10.
Andy is a thirteen year old innocent caught in the middle of a crime or would-be crime. A stranger named Zeke calls Andy and confesses that he has murdered Nina Klemmer. Andy calls the police who write it off as a crank call but then Andy locates Nina's phone number, and finding that she is still alive, warns her about the intended murder. Nina is frightened by Andy's call, but it is Andy she's frightened of. Soon Andy is told by the police that he must seek counseling or face jail time himself. No one believes Andy, not even his father, and soon Andy is involved in a life or death confrontation with Zeke. This is a good, taut mystery. Another good mystery by Avi is Who Stole the Wizard of Oz (Yearling, 1990. ISBN 9780394849928. Order Info). Read our Author Study article about Avi.
The Face on the Milk Carton by Caroline B. Cooney. (1990, Bantam Doubleday Dell. ISBN 0440220653. Order Info.) Novel. 184 pages. Gr 5-8.
Here the crime is kidnapping and the kidnappers are the people that Janie has loved and known as her parents. It's the face on the milk carton that Janie recognizes as her three year old self that turns her previously carefree existence upside down. Did she really give up her own parents for a dish of ice cream?

Who Killed Mr. Chippendale?: A Mystery in Poems by Mel Glenn. (1996, Lodestar. ISBN 0525675302. Order Info.) Poetry. 100 pages. Gr 5-9.
This book uses an intriguing device to tell a story for kids in about fifth grade and up. Mr. Chippendale, high school English teacher, is murdered while jogging on the track before school. In a series of short poems we see the event and its aftermath from many perspectives including that of the murderer. Although the use of poetry to tell a tale of murder is not common, the device by which the murderer is revealed is: we gather all suspects together for the denouement. The book is challenging, not because of vocabulary or sentence length, but because so much is left for the reader to infer and because the cast of characters is large.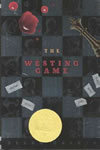 The Westing Game by Ellen Raskin. (2003, Dutton. ISBN 9780525471370. Order Info.) Novel. 192 pages. Gr 6-9.
Originally published in 1997 this classic won the Newbery Medal. The wealthy Mr. Westing is dead, murdered, according to his will. In the will he gives 16 people clues to his murder and rules for a dangerous game with his estate as a prize for the person who can figure it out. Mr. Westing's game in wrought with intricate puzzles and danger and played by a cast of eccentric competitors. Very clever, funny, suspenseful and engrossing. Highly recommended.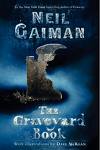 The Graveyard Book by Neil Gaiman. Illustrated by Dave McKean. (2008, HarperCollins. ISBN 9780060530921. Order Info.) Novel. 312 pages. Gr 6-10.
In The Graveyard Book Neil Gaiman, author of the New York Times bestseller Coraline gives us a playful romp through an alternative world of ghosts and ghouls while slowly unfolding the mystery of who is after Nobody. It won him the 2009 Newbery Award. Read More about The Graveyard Book.
I Know What You Did Last Summer by Lois Duncan. (1973, Simon & Schuster. ISBN 0671735896. Order Info.) Novel. 198 pages. Gr 5-8.
There's no mystery about who did the crime here. The mystery lies in who knows about it. Two couples, Ray and Julie, Barry and Helen, after a couple of drinks and a little pot, run down a child who appears out of nowhere in the night on a bicycle. They do report the accident but they don't stop. After making a pact never to reveal what happened, the four go their separate ways. Now, however, it's a year later and Julie gets a note in the mail stating, "I know what you did last summer." Soon Helen receives a picture of a little boy on a bike; Ray gets a copy of the newspaper clipping. The fact that someone knows what happened brings the four together but each meets the accuser separately.

Monster by Walter Dean Myers. Illustrated by Christopher Myers. (1999, HarperCollins. ISBN 9780060280772. Order Info.) Novel. 281 pages. Gr 6-12.
This complex novel won many awards and deserves every one. Sixteen year old Steve Harmon is on trial for murder. He was involved in the robbery, but was he guilty of murder? Moral questions are raised and Steve is portrayed sympathetically but without flinching from looking at his flaws. The novel is presented as a combination of a film script Steve is writing and his journal entries. Gripping and thought-provoking.

The Man Who Was Poe by Avi. (1989, Turtleback. ISBN 9780833569677. Order Info.) Mystery. 224 pages. Gr 9-12.
When Edmund's family disappears, the young boy is without resources to survive, let alone locate his missing relatives. A mysterious alcoholic writer offers to help him. The writer, Edgar Allen Poe, masquerades as Auguste Dupin, the detective in Poe's stories "The Purloined Letter," "The Murders in the Rue Morgue," and "The Mystery of Marie Roget."
No exploration of mysteries in the upper grades is complete without reading Poe himself. If you are looking for an anthology of his stories this one is great. In the Shadow of the Master: Classic Tales by Edgar Allan Poe (Poe, Edgar Allan and Michael Connelly, ed. Morrow, 2009. ISBN 9780061690396. 416 pages. Grades 6-12. Order Info.) This anthology includes essays by various mystery writers like Stephen King and Sue Grafton about how the reading of Poe has affected them. The experience of Poe as required reading in school comes up again and again. The "broccoli" that teenagers are required to eat. The essay writers often compare their early experiences of reading Poe with later readings when they were able to discover greater meaning. Read more about this book.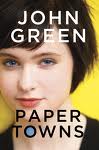 Paper Towns by John Green. (2008, Dutton. ISBN 9780525478188. Order Info.) Novel. 305 pages. Gr 9-12.
High School senior, Quentin "Q" Jackson's childhood friend has disappeared. Margo has run away before but this time Q fears what she might do to herself in her emotional state and with the help of his friends sets about trying to find her. The mystery of her whereabouts is compounded by the mystery of who Margo really is. Did Q really know her at all? Funny and poignant.

I Am the Cheese by Robert Cormier. (1981, Dell. ISBN 0440940605. Order Info.) Novel. 220 pages. Gr 5-9.
Cormier never makes things easy for us and this is one of his most mind-boggling. Adam is riding his old, almost unrideable bike toward a hospital in Vermont where, he is convinced, his father waits for him. There are flashbacks, excerpts from taped interviews between Adam and a mysterious "interviewer". It is through them that the horror of Adam's existence is gradually revealed. We learn that Adam and his mother and father have been relocated through a witness protection program—a fact that was not shared with Adam until he discovered some evidence on his own. However, his father has kept the specifics of the testimony from Adam for his own protection. Gradually, Adam discovers that the manipulation hasn't ended there and with him we find out what's happened to his parents. This is a hard, cynical and fascinating book.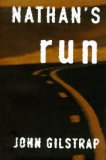 Nathan's Run by John Gilstrap. (1996, HarperCollins. ISBN 0060173858. Order Info.) Novel. 292 pages. Gr 7-9.
This may be out of print but is still available used and through libraries. We know from the beginning that twelve year old Nathan Bailey killed a guard at the juvenile detention center and escaped. The police know it too. We, however, are privy to one more fact: the guard had been trying to kill Nathan. It was self-defense. For a long time, we don't know why Nathan was the intended victim, but we are on his side as Nathan takes flight. Soon many others are swayed to Nathan's defense as he calls a radio talk show and tells his side. Although this is the author's first book, he manages to make it all believable and suspenseful. A warning: some of the language may upset some people.
Recommended Nonfiction

Crime and Detection by Brian Lane. (2005, DK Eyewitness Books. ISBN 9780756613860. Order Info.) Nonfiction. 72 pages. Gr 3-7.
In their iconic style this Eyewitness Book covers law enforcement from its history to contemporary police detectives. As in their other titles there are eye-catching photos against a clean white background illustrating a collection of information broken into browseable bullets and sidebars. A great starter for more specific research or to be set out amongst a collection of mysteries for students to stumble upon.
Forensic Science by Christopher Cooper. (2008, DK. ISBN 9780756633837. Order Info.) Nonfiction. 72 pages. Gr 3-7.
Another of the Eyewitness Books from DK this one focuses on the science used to examine the body and other evidence left at a crime scene. Again there are great eye-popping photos and bite-sized pieces of text for a leisurely browsing session.

Fingerprints: Crime-Solving Science Experiments by Kenneth G. Rainis. (2006, Enslow. ISBN 9780766019607. Order Info.) Nonfiction. 128 pages. Gr 4-12.
This book is part of the "Forensic Science Projects: Crime-Solving Science Experiments" series. It opens with a murder and then goes on to discuss how fingerprinting was used to identify the killer. The second part of the book describes how fingerprints are collected and analyzed. The experiments include taking your own fingerprint and classifying it by type. Materials needed are easy to obtain and the instructions are thorough. The author encourages the creation of case books with charts, graphs and other data analyzing tools. Great for classroom activities and science fair projects. This book is also great for units on careers. Other books in the series include: Blood and DNA Evidence (Order Info), Hair, Clothing, and Tire Track Evidence (Order Info), and Forgery (Order Info).

The Right Bite: Dentists as Detectives by Elizabeth Sirls Winchester. (2007, Children's Press. ISBN 9780531187340. Order Info.) Nonfiction. 64 pages. Gr 8-12.
The "24/7 Science behind the Scenes: Forensic Files" series is more gruesome than other forensic science series and will therefore grab more reluctant readers. There are lots of sidebars, bulleted lists, and illustrations for browser-friendly reading. The book details how killers can be identified by bite marks and how the bodies in disasters such as tsunamis and Hurricane Katrina are identified by forensic dentists. This is also a fine addition to career exploration units.

Gut-Eating Bugs: Maggots Reveal the Time of Death! by Danielle Denega. (2007, Children's Press. ISBN 9780531175255. Order Info.) Nonfiction. 64 pages. Gr 6-12.
This is another delightfully gross book in this series. Specifically this book explores how scientists use their knowledge about insects and dead human bodies to solve crimes. Other titles in the series include, Bullet Proof! Info, Guilty by a Hair! Info, and Dusted and Busted! Info

They Broke the Law—You Be the Judge: True Cases of Teen Crime by Thomas A. Jacobs. (2003, Free Spirit. ISBN 9781575421346. Order Info.) Nonfiction. 224 pages. Gr 7-12.
This intriguing book is written by a juvenile court justice. Actual cases which have come before this judge are presented. Each case includes the background of the defendant, the circumstances leading up to the crime, sentencing options available to the judge and any other factors that should be considered. The reader is then asked to decide what they would do. Judge Jacobs follows up with a description of what he decided and what happened to the juvenile. Presented with great compassion and optimism this is a great way to become immersed in the issues of crime and justice.
Some Classroom Discussions and Activities with Mysteries
When students are reading mysteries start some charts such as the ones below.

| | | | | |
| --- | --- | --- | --- | --- |
| Title | Hero | Sidekick | Villain | Victim |
| | | | | |
| | | | | |

And also:

| | | | |
| --- | --- | --- | --- |
| Crime | Motive | Opportunity | Means |
| | | | |
| | | | |

Get kids to talk about the heroes and heroines of these tales. Look for realistic vs. less than realistic characters and growth or lack of growth or change in them as a result of the actions and reactions in the books.
Read aloud first lines of mysteries to see which grabs attention best.
Suggest that students look for the authors' techniques and styles in both the series and individual creations. How do they maintain interest? Do they aim for suspense? How? If it's a mystery the reader is supposed to be able to solve, does the author play fair? Are the clues there? Are they too easily found? Does he or she use cliff hangers? Look at the opening sentence or first few paragraphs. How do they grab our interest?
Encourage students to look for hard-to-believe coincidences which tie up mysteries in a few unbelievable pages.
Together, create a flow chart of the plot line of a mystery. Look for classic parts of a mystery such as: character development scenes, the crime or other inciting incident, gathering of clues, interviewing witnesses, red herrings, bringing together of suspects, explanation of conclusion, wrapping up of loose ends.
Identify a commonly used plot structure for writing a mystery. You could use the picture book What Really Happened to Humpty? (see above) as an example to analyze. Use your plot structure to brainstorm some fill-in-the-blank information to create your own mystery.
Use the information you've gained from reading the books to decide what makes a good mystery. Sometimes, through the use of charts and activities such as those above, kids can see the formulas and a few can see that the books that stray from formula writing are more interesting. This can make for some meaningful discussions about literature.
Create a bulletin board where students can tack up oversized index cards with mystery related vocabulary words that they find in their reading. Lemony Snicket's books are full of particularly juicy words.
Make wanted posters for villains from the books.
Create a homemade video program like "Unsolved Mysteries" using crimes from books.
Use lemon juice and rounded toothpicks to write secret messages in invisible ink. Use the warmth just above a light bulb to cause the dried lemon juice message to reappear.
Look up some commonly used codes and practice using them. Then create some codes of your own. How have secret codes been used? Look into the role of the Navajo Code Talkers in sending secret messages during World War II. More information through wikipedia.
Talk to a real detective and compare how he or she works compared to the detectives in the books. Examine the role of police in your community. What might happen without them?
Read aloud from a book until the crime occurs. Discuss how you would proceed if you were called in on the case.
List the clues with page citations from one of the books.
Play the board game "Clue."
For the art and museum based books find out more about the works of art mentioned. Find out about the artists. Try out the media this artist used. Visit a local art museum and ask a guide which piece of art has the most intriguing story behind it. Investigate famous forgeries and how experts uncovered them.
How are statistics used to understand crime? Gather statistics on crime in your area. Who, in your community, is working to decrease crime? What approaches are they using? How do they use statistics to determine if their work is being effective? What do you think would help deter or prevent crime in your area? How would you measure effectiveness? Are there statistics available from other communities that have tried that approach?
What kind of physical training is required of law enforcement officers in your town? Why? Try some of the tests.
There are more mystery activities under the Teacher Guide links for individual books below.
Recommended Professional Book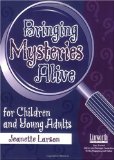 Bringing Mysteries Alive for Children and Young Adults by Jeanette Larson. (2004, Linworth Publishing. ISBN 1586830120. Order Info.) 134 pages.
For more suggestions of good mysteries and lots of guidance and activities for using them in the classroom this is a great reference.
Related Areas of Carol Hurst's Children's Literature Site
---
That's it for this issue. I didn't really intend for it to run so long but, it's such a juicy topic. Let me know your thoughts on this issue or your requests for future issues. Happy reading!
- Rebecca Otis (with snippets from the late Carol Hurst's writings)
---
Advertisement:
---
---
Advertisement:
---
---
Advertisement:
---