Carol Hurst's Children's Literature Site Newsletter
Volume 21. Issue 1.

Teacher's Guide for Last Stop on Market Street
Recent Newbery Award Winner, discussion starters, activities and related books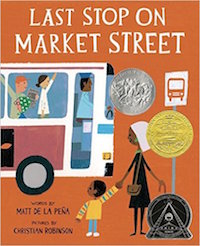 Every year, the American Library Association gives out awards for the very best books for children and teens published in the US in the past year. The most prestigious award for children's books is the Newbery Medal, which they almost always give to a novel. This year the committee did something daring and gave the award to a picture book. If you're thinking it must be an extraordinary book to cause the committee members to break with tradition, you'd be right. Last Stop on Market Street is a wonderful book and, because it's so strong, it can be used with older students as well--easily right through middle school. Here's a Teacher's Guide for it with discussion starters and classroom activities.
(Continued Below)
---
Advertisement:
---
Last Stop on Market Street


by Matt de la Pena. Illustrated by Christian Robinson.

Picture Book. 32 pages. Grades PreK-9.
Find this book: Local Bookstore, Amazon
, B&N
Teacher's Guide
An African-American child and his look-on-the-bright-side grandmother take a bus, after church, to a soup kitchen (though we don't find out their destination until the end). Along the way, the grandmother helps him appreciate the unexpected beauty in the city, especially in the people. The tone is quite light and playful while the themes explored are profound. It is so well regarded that it won the prestigious Newbery Medal, one of only two picture books ever to have won and the first by a Latino author.
As the story begins, CJ is feeling sorry for himself, "How come we gotta wait for the bus in all this wet?" Why don't they have a car? Why can't he play after church like his friends? Nana answers with child-like images to connect CJ to the wonders around him: a fire-breathing bus and trees drinking rain through straws.
The bus ride includes a conversation with a blind man and an impromptu concert by a man with a guitar. When they arrive at the "last stop", CJ asks, "How come it's always so dirty over here?" Nana replies, "Sometimes when you're surrounded by dirt, CJ, you're a better witness for what's beautiful."
They follow a disabled man and a homeless man down the street until they reach the soup kitchen where CJ and Nana do their weekly volunteer shift serving the meal.
De la Pena's text masterfully makes the city quite vivid to the reader with sights and sounds that will stay with you. Robinson's warm and colorful primitive-style illustrations of a diverse city (San Francisco?) are a great match for the simplicity of the story and for Nana's ability to find beauty in the basic humanity around them. The tone is reminiscent of Ezra Jack Keats' "Snowy Day".
Read the rest of the Teacher's Guide
(Continued Below)
---
Advertisement:
---
Related Areas of Carol Hurst's Children's Literature Site
(Continued Below)
---
Advertisement:
---
That's it for this issue.
Happy reading!
You can read back issues of this newsletter in our archives at:
http://www.carolhurst.com/newsletters/newsletters.html