Newsletter, April 2000
Welcome to the April issue of our newsletter. If you'd like to have each issue delivered to your email address you can sign-up for a subscription.
In This Issue You'll Find:
News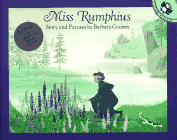 We were saddened to hear of Barbara Cooney's death. She died Friday, March 10 after a lengthy illness at Maine Medical Center in Portland, Maine. Ms Cooney was 83 years of age. Her own writing gave us a lovely summary of her accomplishments. "When I grow up, I too will go to faraway places, and when I grow old, I too will live beside the sea . . . I have to do something to make the world more beautiful. " She traveled all around the country (We met her in New Orleans). She lived in a house by the sea in Maine. And she made the world more beautiful with her books.

Find out more about this amazing author/illustrator on our featured author section on Barbara Cooney and in her Obituary from her publisher.

On the web site we've finally finished the cross listing of the 100 most recent book reviews to our by title and by grade listings. Now there are almost twice as many book reviews listed.

For those of us interested in Harry Potter books and the fight to keep them available in the schools where they may be banned you can join others at the "Muggles for Harry Potter" web site (http://www.mugglesforharrypotter.org/).

In March I (Carol) did the keynote speech for the New Jersey Reading Association's spring meeting at the Sheraton Terra in Parsippany, New Jersey. It was fun to see Lee Bennett Hopkins and Jane Yolen, however fleetingly. This was, I think, the third time I've talked to that particular organization in their various meeting places around New Jersey.

Go to Next Section of Newsletter, Featured Subject: Poetry Books.
---
Advertisement:
---
---
Advertisement:
---
---
Advertisement:
---