Newsletter, March 2001
Please visit our sponsors who make this newsletter possible:
---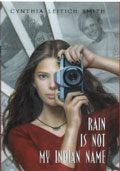 Cynthia Leitich Smith
Take a virtual tour of Rain Is Not My Indian Name by Cynthia Leitich Smith (HarperCollins and Listening Library, July 2001).

Visit:
http://www.cynthialeitichsmith.com/rainisnotmyindianname.html
---
Welcome to the March issue of our newsletter. If you'd like to have each issue delivered to your email address you can sign-up for a subscription.
In This Issue You'll Find:
News
There's a great interview of Julius Lester on the web at: http://www.publishersweekly.com/articles/20010212_94371.asp
Ucoming workshops:
I've Read the Book, Now What? Workshops for Teachers of grades 2-6 by Carol Hurst:
- use literature across the curriculum
- connect your reading program to content areas
- motivate your readers
- complement your reading program with meaningful activities
- enhance comprehension through conversation
- use a variety of genre
- storytell and read aloud as powerful extensions of literature
March 13, 2001 - New Jersey

Holiday Parsipanny
707 Route 46 East
Parsippany, NJ

April 3, 2001 - Connecticut

Ramada Inn- Capitol Hill
440 Asylum Street
Hartford, CT

May 8, 2001 - Massachusetts

Holiday Inn Springfield
711 Dwight Street
Springfield, MA
To register call Literacy Corner at 877-346-9737
Carol's other upcoming workshops:
March 30 and 31st, 2001. South Dakota Reading Conference, Huron, SD
April 7, 2001. Early Childhood Conference. New Jersey City University in Jersey City, New Jersey
April 29, 2001. Preconvention Institute. IRA, New Orleans, LA.
May 7, 2001. Colrain Central School. Colrain, Massachusetts
June 27, 2001. Literature Conference. New Ulm, Minnesota.
July 20, 2001. Literature Conference. Orange County, California.
July 25, 2001. Early Childhood Institute. Dallas, Texas.
For more information on any of these write to Carol Hurst at rebecca@carolhurst.com. For more information on Carol Hurst and her work in schools and conferences see Carol Otis Hurst Consulting.

Related Areas of Carol Hurst's Children's Literature Site
Please visit our sponsors who make this newsletter possible:
---

Mari Inc.
Mari, Inc. has everything you need for reading! We are THE source for literature teaching guides with more variety that any other company. Huge selection of children's books and teaching guides. Beautiful, full color emergent readers from $1.99, reading games, phonics materials, software, and workbooks.
---
Advertisement:
---
---
Advertisement:
---
---
Advertisement:
---