Quilts and Children's Literature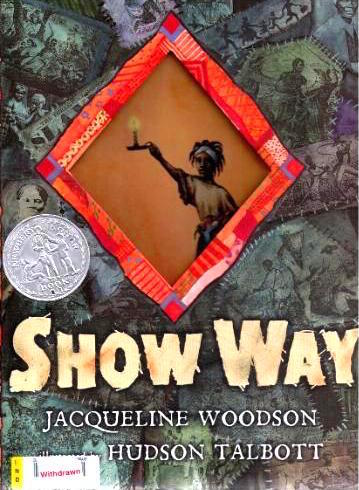 Let's start with Jacqueline Woodson's Show Way (Putnam, 2005, Grades 3-8. Local Bookstore, Amazon
, B&N
) as the inspiration for a quilt theme. From there we can go to history, art, or math and that's just the beginning.
Soonie's great-grandmother was a slave, sold away from her parents when she was just seven years old with nothing but a scrap of muslin from her mother. On her new plantation, Soonie's great-grandmother listened to the tales of freedom whispered to her in the night by Big Mama, who also taught her how to sew quilts into maps of the way to freedom. Based on the author's own family history, this beautiful picture book is illustrated with mixed media.
Next we can go to Ann Paul's alphabet book of quilting patterns and their history, Eight Hands Round (HarperCollins, 1991, Grades K-3. Local Bookstore, Amazon
, B&N
). Let the kids browse through it and through Raymond Bial's With Needle and Thread: A Book About Quilts (Houghton, 1996. Grades 3-7. Local Bookstore, Amazon
, B&N
), a wonderful photographic study of the craft.
For the math and art connection, encourage children to look at some quilt patterns as clever ways to break up a square. They can categorize patterns as those that are self-contained within a square and those that involve several squares to make one pattern. Brainstorm other ways of categorizing. With older students, do the geometry necessary to create quilt blocks and their measurements.
(Continued Below)
---
Advertisement:
---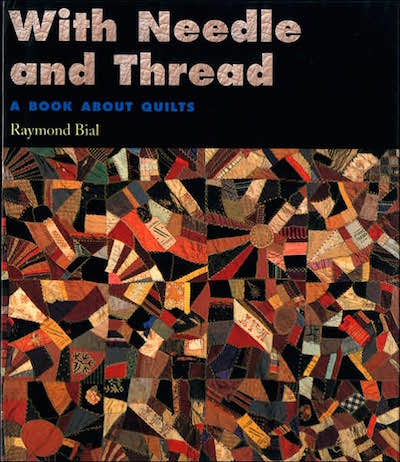 Encourage the kids to get as involved in quilting as their interests take them. Some will be content with designing paper quilts, others may want to quilt some real squares. It's not impossible to make it a community project. One school I (Carol) know of sent out word that they needed quilting help from anyone in the community willing to come to the school for an hour or two. They had so many volunteers that they decided to create a community quilt, asking the kids to design the squares and then getting adults to transform them into a beautiful work of art. They sold tickets, had a drawing for the winner, and raised a lot of money.

There are more stories in which quilting plays an important part. Each of them can lead you farther into quilting or along an interesting by-way. Sweet Clara and the Freedom Quilt by Deborah Hopkinson with illustrations by James Ransome (Knopf, 1993, Grades 2-9.Local Bookstore, Amazon
, B&N
) is one of my favorites. Clara, a slave, is taught to sew in order to work in the big house. When she hears about the Underground Railroad, which could carry her to freedom, she begins to stitch a quilt which is really a map of the area around the plantation so that, when she gets a chance, she'll know where to run.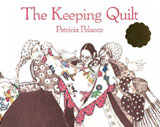 Patricia Polacco's quilt book The Keeping Quilt (Simon & Schuster, 1988, Grades K-3. Local Bookstore, Amazon
, B&N
) (Grades 2 -5) is a good choice because here it's the heritage and culture represented by the quilt that takes center stage. The quilt is an heirloom that began when Great Gramma Anna created it out of an old dress and her babushka from "backhome Russia." After its creation, it was used and treasured at all the important family occasions to remind them all of where and whom they come from. Read more in our free Teachers Guide including activities, related books and links.
(Continued Below)
---
Advertisement:
---
For comic relief with a tender twist, try Eleanor Coerr's easy reader, The Josefina Story Quilt with illustrations by Bruce Degen (HarperCollins, 1986, Grades 1-3. Local Bookstore, Amazon
, B&N
) in which we meet Josefina, the elderly hen, who is taken on a trip west under protest. In spite of many misdeeds, she proves a heroine with her literal last gasp and is commemorated in the memories quilt constructed by her owner.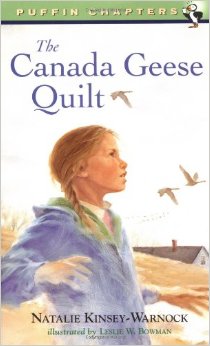 In Natalie Kinsey-Warnock's chapter book, The Canada Geese Quilt, illustrated by Leslie Bowman (Dutton, 1989, Grades 2-5. Local Bookstore, Amazon
, B&N
) Grandmother's stroke destroys the plan that she and Ariel have to make a quilt for the new baby based on Ariel's sketch of the return of the Canadian geese. In addition to her physical symptoms, Grandmother seems to have given up. Ariel attempts to complete the quilt herself which helps Ariel and her grandmother to reconnect. By the time the geese are ready to migrate again, the new baby is here, as is the quilt, and Grandmother is back to her feisty self. The focus here is on the love of nature and intergenerational love.
(Continued Below)
---
Advertisement:
---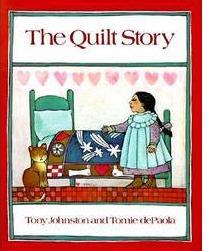 Tony Johnston and Tomie DePaola's The Quilt Story (Putnam, 1985, Grades 2-5. Local Bookstore, Amazon
, B&N
) has one quilt comforting two little girls generations apart. Created first by Abigail's mother, it helps Abigail adjust to the long trek west. Much, much later, a little girl is also moving west under very different circumstances, but is comforted by the same quilt.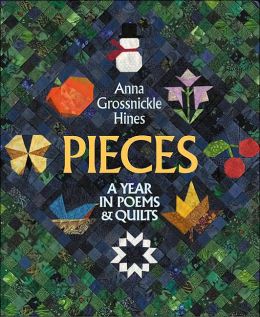 Hines, Anna Grossnickle. Pieces, A Year in Poems and Quilts. (Greenwillow, 2001, Grades K-4. Local Bookstore, Amazon
, B&N
)
Nineteen poems, arranged by season, are each illustrated with quilting, including geometric piecework and landscape scenes. Beautiful work for inspiring classroom artwork or for just feasting your eyes.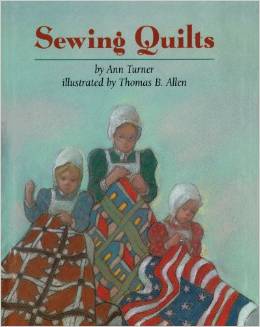 Let's wrap up with the quilt as a literary symbol. In many of these books the quilt is a symbol of other things and this symbolism is quite strong in Ann Turner and Thomas B. Allen's Sewing Quilts (Simon & Schuster, 1994, Grades 1-4. Local Bookstore, Amazon
, B&N
). Here, a frontier mother and her daughters stitch a quilt and every stitch brings forth a memory they share. Mama ties it together when she compares their days to a quilt, in which you sometimes see no pattern until it's all laid out for you.

Related Areas of this Site: