The Arrival


by Shaun Tan.

Novel Wordless. 128 pages. Grades 5-12.
Find this book: Amazon

Review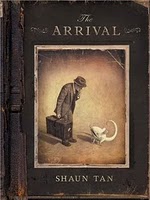 This, at 128 pages, could best be called a wordless short novel. The sepia drawings have Van Allsburg style shading with its ability to create a slightly exaggerated 3D look on faces. Dozens of these faces stare out from the end papers clearly chosen to represent a wide range of cultures. The old-photo look places them sometime in the, perhaps not too distant, past.
As the story opens the main character is packing to leave his wife and young daughter. As they walk through their city to the train station we get the first indication that this is not going to be a literal telling. There are gigantic serpentine shapes weaving among the buildings. Dragons' tails?
This, however, is nothing compared to the surreal drawings which Tan uses to portray the country the immigrant arrives in. The confusing drawings do a brilliant job of allowing us to feel the newcomer's confusion and disorientation.
There are realistic renderings of the new immigrant experience such as when he first arrives and tries desperately to communicate in a page spread which consists of a series of upper body snapshots of the new immigrant. There are also fantastical drawings representing how a foreign land might appear to someone newly arrived.
Any classroom unit on immigration could benefit from careful readings of these illustrations. Try puzzling out what kinds of obstacles the illustrations depict. Shaun Tan has broken some new ground with this book.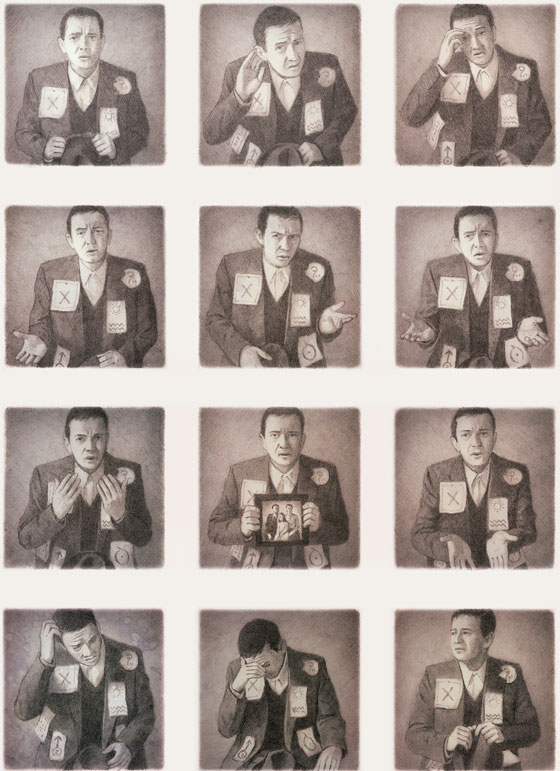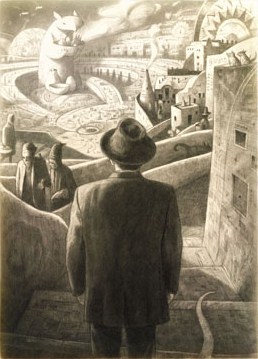 (Continued Below)
---
Advertisement:
---

Things to Talk About and Notice
Notice how we see the book through the eyes of the man. Find illustrations in the book where the man is in front of us, but with his back to us so that we see what he sees. This is a wonderful example, through illustration, of the classic first person narrator and can be used to help students recognize first person narration in texts.
(Continued Below)
---
Advertisement:
---

Related Books
(Continued Below)
---
Advertisement:
---

Related Areas Within Carol Hurst's Children's Literature Web Site