Babymouse 7: Skater Girl


by Jennifer L. Holm and Matthew Holm.

Graphic Novel. 96 pages. Grades 2-5.
Find this book: Amazon

Review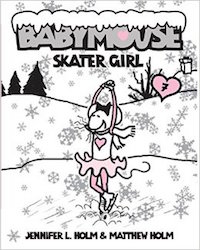 This is the seventh book in the Babymouse graphic novel series and is good for second grade and up. Babymouse wants to be a figure skater and win a gold medal. A coach sees her skating at the local pond and offers to give her lessons. She must get up at 4:00 AM to practice before school and then practice again after school--and no more cupcakes--she must be light on her feet. Babymouse is exhausted and has nightmarish fantasies about her struggle for the gold medal.
Training to be an Olympic skater turns out to be an extraordinary amount of work, and the rival skater who puts in all the necessary work is portrayed as pretty nasty. When Babymouse decides to quit, it seems like the right move to the reader, but Babymouse wonders if her mom is disappointed in her. Her mom says, "Sometimes you have to quit to find out what makes you happy."
This can be a good introduction to comic book and graphic novel conventions such as the order of the cells and how narrator comments and dialogue are distinguished.
The story, like the other Babymouse books, jumps from reality to Babymouse's imaginary scenarios to the narrators comments and back to reality. It can sometimes take a while to piece together. Most of the text is fairly easy to read, but following the action is not always straightforward. Figuring out what is happening and getting the joke can be very rewarding for young students.
(Continued Below)
---
Advertisement:
---

Things to Talk About and Notice
This book can be great preparation for traditional novels with asides, daydreams, flashbacks and other convolutions. Take one of the parts of the book where it jumps from reality to Babymouse's imagination to commentary and back. Read it together, and unravel the clues that let you know a jump has taken place. Why do the authors do this?

Help the students notice how some of the narrator comments are responded to by Babymouse herself, though none of the other characters show any sign of being able to hear the narrator.

Notice how the artist often uses more pink on the page to show when Babymouse's mind has gone off on another fantasy and comes back to mostly black and white when she returns to reality.

This book offers some interesting issues for discussion. One example is when Babymouse first asks her mother if she can train with the new coach. Her mother asks if she is up to all the hard work, reminding her of when she gave up on scouting, ballet, and babysitting because they were too hard. Babymouse insists this is different. How do people decide what kind of "hard work" they will put into their various interests?

What does it mean to stick with something and work hard and not give up? When is it okay to quit? How do you decide? What factors do you consider? Why do Olympic athletes commit so much in order to attain that level of ability? What do they lose? What do they gain?
(Continued Below)
---
Advertisement:
---
(Continued Below)
---
Advertisement:
---

Related Areas Within Carol Hurst's Children's Literature Web Site