Everybody Needs a Rock


by Byrd Baylor. Illustrated by Peter Parnall.

Picture Book. 32 pages. Grades 1-4.
Find this book: Amazon

Review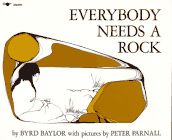 With her spare, poetic prose, the author gives us ten rules for picking our own special rocks, leading us through smell, taste, feel and sight. Her locale is southwestern United States and Peter Parnall's illustrations match it well. His lines trail off into the vast spaces and his figures, especially the rocks, seem to grow out of that space.
Baylor's ten rules, stated with a deadpan humor and delight in the beauty inherent in those rocks, lead the reader to look more carefully at them, using all their senses to make those observations.
This is an indispensable book for classroom units on rocks and minerals, of course. It's also a great example text for writing projects about other natural objects based on Baylor's writing structure or for any unit studying the senses. This book also stands beautifully on its own as a lovely read aloud.
(Continued Below)
---
Advertisement:
---

Activities
Rocks and Minerals, Classifying, Sets: Start a classroom rock and mineral collection. Each morning, have someone sort the rocks into at least three groups and explain what the sets have in common

Writing: If there are ten rules for choosing the perfect rock, there can be ten rules for choosing other things like shells, leaves, friends, paintings, and the like. Make up ten rules for choosing something worth having.
(Continued Below)
---
Advertisement:
---

Related Books
(Continued Below)
---
Advertisement:
---

Related Areas Within Carol Hurst's Children's Literature Web Site