Heartlight


by T. A. Barron.

Novel. 272 pages. Grades 3-7.
Find this book: Amazon

Teacher's Guide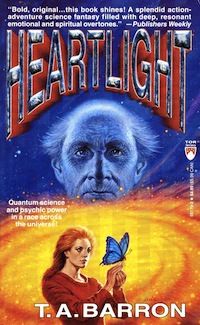 Comments:
While this captivating fantasy's theme of the role of death is a somber one, the writing is not. That's partly because of the attendant theme of love conquering all. The book has elements of physics, metaphysics, adventure, science fiction and fantasy, broadening its appeal to many audiences. Even the author recognizes similarities in plot to Madeleine L'Engle's Wrinkle in Time which many students will have read previously.
Plot:
Heartlight is the first book in the Adventures of Kate trilogy. Kate's grandfather has been working in his laboratory to uncover an unknown element in the heart of stars, called "Pure Concentrated Light". He has succeeded in making a small amount of this magical substance which has the power to liberate your "Heartlight" so that you can travel to anyplace in space. Soon his laboratory is plagued by a destructive presence and then the sun begins to lose power. Grandfather becomes "heartlight" and travels to a distant star which he believes may hold the answer. Kate, using a magical butterfly, joins him and they begin a voyage into a world where Darkness and the Pattern are battling it out. They learn about the desire to live forever in contrast to the rightness of the pattern where the death of one thing means the birth of something else.
(Continued Below)
---
Advertisement:
---

Things to Talk About and Notice
What do you think the author's feeling about death is? Does that coincide with your own beliefs?

What did you think of grandfather's fate in the book? Would you have written it that way? How did the author help you accept it?

How do you understand the Sages' statement: "There are two kinds of death for a star, and they are as different as hope is different from despair."

"If you trust in the Pattern, you trust in yourself. and if you trust in yourself, your voice holds all the power of truth." is another quote from the book. Does it have any meaning for you?

Activities
Make a venn diagram comparing this book with A Wrinkle in Time.

Compare this book's philosophy about death with that in The Giver.

Read or reread the sections of Tuck Everlasting, Charlotte's Web and Everywhere (see below) which talk about life and death.

What if everyone did live even twenty years longer than the expected years today? thirty years? one hundred? Find current statistics and recalculate them with the hypothetical longer life. What would it do to the quality of life? What accommodation would societies have to make?

Investigate the philosophy about death in religions other than your own.
(Continued Below)
---
Advertisement:
---

Related Books
(Continued Below)
---
Advertisement:
---

Related Areas Within Carol Hurst's Children's Literature Web Site