Using Literature in the Middle School Curriculum
What the critics say:
" ... accessible ... a lot of solid information ... extremely helpful to interdisciplinary teachers or teacher teams because the focus books are cross-referenced for disciplines such as science, history, art, music, physical education, and mathematics ... valuable reference tool for grades six through eight." Rest of review.
-- VOYA October, 1999.
"This is a thoughtful, quality publication that has multiple uses for libraries and classrooms." Rest of review. -- Knowledge Quest November/December 1999.
"I have been looking through your book, Using Literature in the Middle School Classroom, and I cannot tell you how impressive and how helpful this resource is. I teach 6-8th grade Language Arts for gifted students. The layout in themes and focus books is perfect since I have to create my own curriculum. I spend so much time looking for books for differentiated instruction I often feel overwhelmed. As I begin to write a curriculum for this course, I will use the as a basis for designing units. I am sharing this information with my department and encouraging them to purchase a copy for each teacher.. Thank you for spending so much time and effort on this.
Kathy Preston, Jones Middle School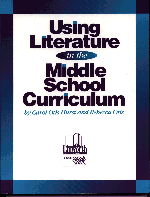 by Carol Hurst and Rebecca Otis (Linworth, 1999. ISBN 0938865730. Order Info. 231 pg, $36.95.) is a book my daughter Rebecca and I have been working on for five years. It's an attempt to wed theory and practice in the use of trade books as curriculum mainstays with kids from fifth grade through ninth. Because trade books at this level tend to be longer and more intricate than those written for a younger audience, teachers seldom have time to weed through the junk to find the treasures. They rely instead on a few stalwart titles and argue over who gets to use them at which grade levels. Hundreds of other sometimes better titles go unnoticed because no one's got time to find and read them. Using Literature in the Middle School Curriculum helps you find the treasures and suggests ways to use them against the backdrop of good teaching techniques and strategies.
The first part of the book details some of those techniques and suggests ways to implement them. Part Two takes eighteen themes from across the curriculum and gives books, summaries and suggested activities for bringing literature into those areas. Part Two helps you figure out ways to use cross-discipline approaches to learning. In Part Three we cite specific passages within trade books which are examples of symbolism, flashbacks, foreshadowing and other author techniques. Part Four consists of in-depth explorations of twenty-nine focus books. These trade books are so strong and so well-written that they are candidates for the purchase of multiple copies in the classroom or maybe even class-wide reading. We summarize the focus books, analyze them a bit, give some suggestions for discussion and activities to take it deeper and end with a list of related fiction and nonfiction to support each title.
Order online at Amazon.com.
Sample Chapters:

Related Areas of Carol Hurst's Children's Literature Site
---
Advertisement:
---
---
Advertisement:
---
---
Advertisement:
---