Knowledge Quest Review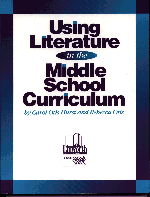 This review of our book, Using Literature in the Middle School Curriculum, appeared in the November/December 1999 issue of Knowledge Quest.
"Using Literature in the Middle School Curriculum is part of the Professional Growth Series, which covers curriculum support, issues for the educator, reading motivation and literature, and technology. The authors of this volume are a mother-daughter team who consult and write on literature, publish a quarterly newsletter, and run "Carol Hurst's Literature Site" <www.carolhurst.com>. The book is divided into four sections: Section I examines classroom techniques for reading and discussing literature; Section II groups books by eighteen themes and topics, outlining approaches and activities and providing annotated booklists; Section III is concerned with literary techniques and devices; and Section IV takes twenty-nine of the best works for middle school students and discusses ways to create a rich curriculum around the study of each of them. The ideas and activities are wide-ranging, using picture books and nonfiction as well as chapter books. This is a thoughtful, quality publication that has multiple uses for libraries and classrooms."
Hurst, Carol Otis and Rebecca Otis. Using Literature in the Middle School Curriculum (Linsworth, 1999. 231 p. $36.95 Paperback)
You can order this book by calling Linworth at 1-800-786-5017 or by following this link to Amazon.com Bookstore.
More information on this title.
Sample Chapters:

Related Areas of Carol Hurst's Children's Literature Site
---
Advertisement:
---
---
Advertisement:
---
---
Advertisement:
---