The Mitten Tree


by Candace Christiansen. Illustrated by Elaine Greenstein.

Picture Book. 32 pages. Grades PreK-4.
Find this book: Amazon

Review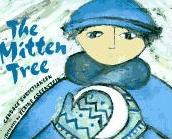 Sarah, an old lady, lives by herself. She misses her grown children, so, she watches the children who wait for the school bus near the big evergreen tree. Although Sarah smiles at them as she walks by, they ignore her. When she notices a little boy, dressed in blue, who can't enjoy the snow play because he has no mittens, she finds some blue yarn and knits a pair of mittens, which she hangs on the tree at the bus stop. Nobody sees her do it but the little boy in blue arrives first at the bus stop that morning, and seems to know the mittens are for him.
A little girl in red with mismatched mittens is the next beneficiary and soon both the children and the old woman are involved in the game. No one sees her place the mittens. No one notices her watching as the recipient of each pair retrieves the bounty. Then on the last day before winter vacation, Sarah uses up all her yarn and brings a whole basket of mittens of many colors and patterns and hangs them all over the tree. The next day a basket full of beautiful wool yarn is sitting on Sarah's porch. It's all done without a word of communication passing between the children and Sarah but, as the book says, "To this day, Sarah knits mittens for all the children in her town. Every time her basket is empty, a new full one appears. Sarah doesn't know who the yarn is from. The children still don't know who the mittens are from. But someone must..." Watch the illustrations for clues.
(Continued Below)
---
Advertisement:
---
(Continued Below)
---
Advertisement:
---

Related Books
The Mitten by Jan Brett. (1989, Putnam. ISBN 039921920X.) Picture Book. 32 pages. Gr PreK-2.
Find this book: Local Bookstore, Amazon, B&N

Jan Brett has put her own spin on the familiar folk theme of a shelter that stretches to accommodate each new occupant. Here, based on a Ukrainian tale, it's a boy, Nicki, who begs his grandmother, Baba, to knit him a pair of white mittens. A mole discovers the mitten lying on the snow and crawls inside, followed by a snowshoe rabbit, a hedgehog, an owl, a badger, a fox, a bear, and finally a mouse. Read More in our Featured Book article including classroom activities, related books and links.
(Continued Below)
---
Advertisement:
---

Related Areas Within Carol Hurst's Children's Literature Web Site