My Place in Space


by Robin and Sally Hirst. Illustrated by Roland Harvey and Joe Levine.

Picture Book. 32 pages. Grades PreK-2.
Find this book: Amazon

Teacher's Guide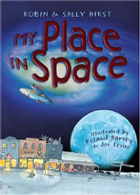 This book is currently (2013) out of print but still widely available used and through libraries.
Most of this article is an excerpt from Picture Book Math by Carol Otis Hurst and Rebecca Otis which is now available in its second edition, as an eBook.
Henry and Rosie tell the city bus driver that they want him to take them home. When he teasingly says that maybe they don't know their home address, Henry rises to the occasion and tells him precisely and extensively what his address is: 12 Main Street, Gumbridge, Australia, Southern Hemisphere, Earth, solar system, solar neighborhood, Orion Arm, Milky Way Galaxy, local group of galaxies, Virgo Supercluster, the universe. The end result is a clear picture of our own place in space.
(Continued Below)
---
Advertisement:
---

Activities
Math Activities

Grades 1-3
Measurement and Time
Chart the time it takes light to travel the various distances mentioned in the book.

K-Grade 3
Data Gathering, Analyzing, & Measurement
Graph distances to the various places in the book using the speed of light as your unit. How will you approach the problem of the vast differences in the figures? Will you need two graphs?

K-Gr 2
Data Gathering and Analyzing
Graph the size of some of the places mentioned in the book.

Grades 1-3
Numeration & Measurement
List the number and the unit of measure for each place described in the book. Take time to reflect on the numbers, what they mean, and how they are written.

Grades 1-3
Spatial Sense
What would you include as your address on Earth, assuming your address in the universe is the same as Henry's? What could you add? Is there a room within an apartment or house, for instance? Where in the city or town is your street? Where is your house on that street? In what part of the county or state is your town or city?

Grade 2-3
Measurement & Computation
Traveling at sixty miles per hour, how long would it take to get from where you are to the center of Australia? To the center of the southern hemisphere? To the center of the earth? To the center of the solar system? To the center of the galaxy?

Grades 1-3
Attributes & Classification
Get facts about and photographs of different galaxies. Categorize the galaxies according to as many attributes as possible.

Grades 1-3
Attributes & Classification
Classify a selection of stars or planets by various attributes. What classifications do astronomers use?

Grades 1-3
Measurement & Computation
Discuss light years and other units of measure. Create some other possible measurements for distances: the speed of sound, the speed of people, cars, birds, cheetahs. Calculate some distances based on those measurements
(Continued Below)
---
Advertisement:
---

Related Books
(Continued Below)
---
Advertisement:
---

Related Areas Within Carol Hurst's Children's Literature Web Site