Owl At Home


by Arnold Lobel.

Easy Reader. 64 pages. Grades PreK-3.
Find this book: Amazon

Review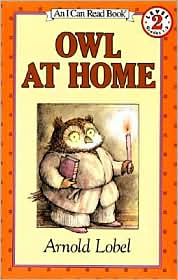 Owl is more than confused; he's crazy, but his innocence is delightful. When the wind rattles the door, he lets it in to destroy his house. When he is upstairs, he wonders if he's downstairs and tries to be both. When he discovers strange bumps at the foot of his bed, he becomes furious, never realizing that they are his feet. The book is a so-called easy to read and has short, choppy sentences which we used to think made reading easier, but Lobel's talent for storytelling is so great, it overcomes the artificial boundaries he puts on it.
This book is a useful source for reading skills activities. In the story about the bumps at the foot of the bed, for instance, the author never explicitly states that the bumps are his feet. That is left for the reader to infer. Placing the sentences from the story on sentence strips and showing them, one at a time, to a group of children who have trouble making inferences can help them approach the concept together.
(Continued Below)
---
Advertisement:
---

Activities
Making Inferences, Sequence, Parts of a Book
Use the Table of Contents to locate the chapter called "Strange Bumps." Put the sentences from the story on sentence strips. When you have the sentences in order, have one person show the strips one at a time. When you figure out what's going on in the chapter, jump up and shout "Hurray!"

Astronomy - Moon, Gathering Data, Making Inferences, Finding details
Owl thinks the moon is following him. What makes him think so? What evidence does he have? Why does this happen? What evidence do you have?

Poetry, Comparing Literature
Find and read the poem by A. A. Milne called "Halfway Down." Compare it to the chapter in Owl at Home called "Upstairs and Downstairs."
(Continued Below)
---
Advertisement:
---

Related Books
Kitten's First Full Moon by Kevin Henkes. (2004, Greenwillow. ISBN 9780060588281. Order Info.) Picture Book. 40 pages. Gr PreK-2.
The plot is simple. A kitten decides that the full moon is a saucer of milk just waiting for his use and tries every means possible to get it. The charcoal illustrations are shades of gray against a creamy white. Unlike the strokes in his mouse books, these are broad, decorating the page with curving lines. This book is also available in Spanish and Japanese. Read More.

Amelia Bedelia's Family Album by Peggy Parish. Illustrated by Lynn Sweat. (2003, Greenwillow. ISBN 9780060511166. Order Info.) Picture Book. 48 pages. Gr K-3.
This is as full of word play as any of the Amelia Bedelia books but, with the theme of occupations for her relatives, the jokes seem even stronger than usual. As on many family trees, there are a few lemons on Amelia Bedelia's. Her Cousin Chester is a printer. They never could teach him how to write. Read More.

Good-Night, Owl! by Pat Hutchins. (1990, Aladdin. ISBN 9780689713712. Order Info.) Picture Book. 32 pages. Gr PreK-2.
Owl is disturbed during the day by his animal neighbors but when night falls he gets his revenge. The animals are drawn quite expressively and the funny ending does not disappoint.
(Continued Below)
---
Advertisement:
---

Related Areas Within Carol Hurst's Children's Literature Web Site
Arnold Lobel, Featured Author
Author study with bio, discussion of his books and related links.

First Books for Emergent Readers:
Featured Article with discussion of topic, discussion of some great books for beginning readers and related links.

All Book Reviews:
More picture books recommended for preschool, kindergarten, first grade, second grade or third grade students. All our book reviews organized by grade level, author, and title.