Pigs in Hiding


by Arlene Dubanevich.

Picture Book. 32 pages. Grades PreK-2.
Find this book: Amazon

Review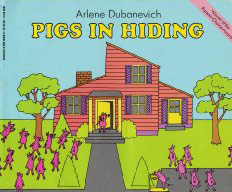 Hundreds of pigs hide while one seeks in a two story house. Fortunately, the hiders don't do it very well and we see them throughout the inside and even outside the house. Eventually, half-convinced that they have all gone home, the seeker tries one last desperate measure. After placing a tray of food on the table, the seeker hides. Soon the hiders come from everywhere and the seeker surprises them all.
Anyone who has ever played hide-and-seek can identify with the seeker pig when, failing to find the others, he wonders if they have gone home, laughing at him. His solution to bring them out of hiding by putting out food and hiding himself is perfect: the victim becomes the trickster.
This is a delightful book for groups of readers to examine together. The illustrations with the barely hidden multitude of pigs are great fun. We delight in finding them half stuffed into pillows on the bed, hanging from chandeliers and on the roof of the small house. Most readers talk constantly with others as they enjoy the humor of this one.
(Continued Below)
---
Advertisement:
---
(Continued Below)
---
Advertisement:
---

Related Books
Grades K - 4
Mercy Watson Thinks Like a Pig by Kate DiCamillo. Illustrated by Chris Van Dusen. Easy Reader. 70 pages.
Find this book: Local Bookstore, Amazon, B&N

The fifth book about the pig, Mercy Watson, this is an easy reader. The text is rich with judiciously sprinkled juicy words like "unmentionable" and "eclaires" and "gracious". In this installment Mercy's neighbors--the elderly women, named Eugenia and Baby, have decided to beautify their yard by planting pansies all around, which Mercy finds delicious. Read More.
---
Advertisement:
---