The Snake Scientist


by Sy Montgomery. Illustrated by Nic Bishop.

Nonfiction. 48 pages. Grades 4-8.
Find this book: Amazon

Review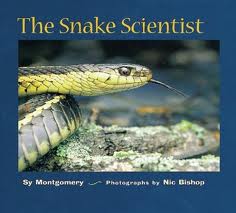 This was the first of the amazing "Scientists in the Field" series of nonfiction books. In this volume writer Sy Montgomery and photographer Nic Bishop follow herpetologist Bob Mason to Manitoba, Canada to study the red-sided garter snake. We watch, step by step, as he conducts his experiments. The photographs are beautiful and the writing that accompanies them gives us background on snakes in general as well as the specific information of this species' mating, migration, and hibernation habits.
The opening page of text beneath a photo of the den of snakes they are studying is an unforgettable image and a great example for students of vibrant nonfiction writing:
"You hear them before you see them. On a quiet day, as you approach one of the dens at the Narcisse Wildlife Management Area in Manitoba, Canada, you can hear a rustling like wind in dry leaves.
It's the sound of thousands of slithering snakes.
When you look over the fence into the shallow limestone pit, at first it seems as if the ground is moving. But it's not the ground--it's 18,000 red-sided garter snakes!"
Now that's a great way to grab a reader's attention.
This book contains a bibliography, an index, and other helpful back matter.
(Continued Below)
---
Advertisement:
---
(Continued Below)
---
Advertisement:
---

Related Books
(Continued Below)
---
Advertisement:
---

Related Areas Within Carol Hurst's Children's Literature Web Site