They Called Themselves the K.K.K.: The Birth of an America Terrorist Group


by Susan Campbell Bartoletti.

Nonfiction. 172 pages. Grades 7-12.
Find this book: Amazon

Review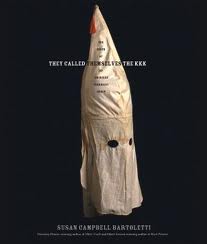 By the end of the Civil War, battles and pillaging by Union soldiers had destroyed most of the farms and plantations in Tennessee. In this context of political and economic collapse in 1866 a group of former Confederate soldiers formed the Ku Klux Klan. Filled with ritual and secrecy, the organization began to inflict fear on the newly freed slaves and to "maintain order" by taking it upon themselves to punish anyone (mostly blacks) whom they felt were not keeping to their proper place.
The current proliferation of hate groups including active Ku Klux Klan groups makes it more important than ever to have a book such as this which describes in great detail their early years. It focuses primarily on the 1860's and 1870's with a chapter summarizing the period after the first wave of the K.K.K. and concluding with present day activities.
Bartoletti uses primary sources (newspapers, documented interviews, photographs and political cartoons) to great effect here. Her research is thorough and she writes about it brilliantly bringing it to frightening life for 21st century readers.
Bartoletti also wrote Boy Who Dared, Hitler Youth, and Black Potatoes among other nonfiction titles. Contains an index, Civil Rights time line, source notes, and a bibliography. This is also available as an audio book. Highly recommended.
(Continued Below)
---
Advertisement:
---
(Continued Below)
---
Advertisement:
---

Related Books
Grades 3 - 9
It's Our World Too: Young People Who Are Making a Difference: How They Do It--How You Can, Too! by Phillip Hoose. Nonfiction. 176 pages.
Find this book: Local Bookstore, Amazon, B&N

So much of the news of young people in our society is sad that it was fun to read It's Our World Too. I thought by the cover that these were all young adults but the chapter that moved me most was about a class of first and second graders in Sweden who bought a rain forest. The writing is personal, emotional and so skillful that the young people cited here seem real and not too good to be true. Their projects were/are worthwhile, possible to emulate, and inspiring. This is a book to hand to students and teachers who are reading about the environment, the homeless, the handicapped and the disenfranchised and are feeling overwhelmed and hopeless about any and all of these problems. Read More.

One Crazy Summer by Rita Williams-Garcia. (2010, Amistad/HarperCollins. ISBN 9780060760885. Order Info.) Novel. 218 pages. Gr 4-9.
It's 1968 in Oakland, California and eleven year old Delphine and her two younger sisters are spending a month with their mother who deserted them years ago. It's the height of the Black Power movement and the girls spend their days at the Black Panther's People's Center while their unstable mother writes poetry. This Newbery Honor Book is a fascinating look into the time period as well as an engrossing tale of one girl's struggle to understand her mother and to find her own authentic way of relating to her.

Let it Shine: Three Favorite Spirituals by Ashley Bryan. (2007, Atheneum. ISBN 9780689847325. Order Info.) Picture Book. 38 pages. Gr PreK-5.
Vibrant cut construction paper collages illustrate this inspirational picture book/song book. The words of "This Little Light of Mine," "When the Saints Go Marching In" and "He's Got the Whole World in His Hands" accompany the full double spread illustrations. At the end of the book the author has included the music and an afterward about slavery and the origin of the spirituals. Read More.

The Land by Mildred D. Taylor. (2001, Penguin Putnam/ Phyllis Fogelman. ISBN 0803719507. Order Info.) Novel. 375 pages. Gr 4-8.
The main character in this book, Paul Edward, is the Grandfather of Cassie Logan from Mildred D. Taylor's Newbery Award winning Roll of Thunder Hear My Cry making this a prequel. Slavery ended when he was still very young but he, his sister, and his mother have stayed on the plantation. Paul's mother is the cook and housekeeper. Paul was born from the partnership of a slave and the white master of the plantation in Mississippi. Paul's father acknowledges his black children and they are part of his family although they can't sit at the dinner table with them when they have white guests and they live with their mother away from the Big House. Read More.

One More River to Cross: An African American Photograph Album by Walter Dean Myers. (1999, Browndeer. ISBN 9781435245037. Order Info.) Nonfiction. 166 pages. Gr 3-9.
This book is a photographic hymn to the power and joy of a justifiably proud people. Black and white photographs are paired with lyric prose to show a pictorial history of African Americans from slavery days to the present. Some of the photograhs are heart-rending but the accent here is on family and heritage and hope.

Sounder by William H. Armstrong. (1995, HarperCollins. ISBN 9780064400206. Order Info.) Novel. 116 pages. Gr 5-9.
Set in the south in the late 1800's, Sounder is based on a true story of a family of Black sharecroppers and their beloved hunting hound, Sounder. The family depends on Sounder for hunting game until one year when there is not enough game in the woods to sustain them. The father steals a pig for meat and is sent to jail and then to hard labor. During his arrest Sounder attempts to follow the wagon and sustains a crippling bullet wound. The oldest son who is still a child narrates this story of love and faith, cruelty and death.

Little Blue and Little Yellow by Leo Lionni. (1959, Mulberry. ISBN 0-688-13285-5. Order Info.) Picture Book. 32 pages. Gr PreK-4.
On a surface level, the book about friendship is easily understood by preschoolers. On a slightly deeper level, the story is about color and how primary colors can be combined to make secondary ones. Digging deeper, it may be viewed as an allegory for racism and, as such, is one to intrigue older readers and viewers. Read More.

Miles to Go for Freedom: Segregation and Civil Rights in the Jim Crow Years by Linda Barrett Osborne. (2012, Abrams. ISBN 9781419700200. Order Info.) Nonfiction. 128 pages. Gr 6-12.
(Continued Below)
---
Advertisement:
---

Related Areas Within Carol Hurst's Children's Literature Web Site

Related Areas Elsewhere on the Internet
Following these links will take you off our web site. You will have to use your back button to return or, bookmark our site now so you can return anytime.