The Unfinished Life of Addison Stone: A Novel


by Adele Griffin.

Novel. 256 pages. Grades 9-12.
Find this book: Amazon

Review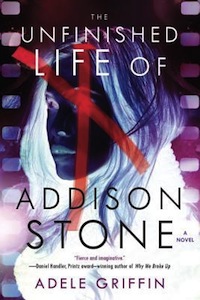 Adele Griffin writes this novel as if it's a real person whom she is documenting. Extensive photos and the purported artwork of the main character further sweep us into the illusion that we are reading fact instead of a novel. Our actual author takes on the persona of a writer who once taught Addison and is now writing about her and interviewing people who knew the gifted young artist.
Seventeen-year-old Addison is dead. Deeply committed to her art and possessed of an innate wildness she became famous in New York City creating portraits and performance art. Was her death an accident? Suicide? Murder?
We hear from dozens of people who knew her—some bewildered and some insightful. There are many contradictions in the compelling story and they make for a great discussion into the breadth of perspectives people can have.
The contrast between the meta-fiction format which makes Addison exceedingly real to us, and the conflicting perceptions of her by the people interviewed, which make her ultimately unknowable, is strikingly executed leaving us all the more moved by the novel.
(Continued Below)
---
Advertisement:
---
(Continued Below)
---
Advertisement:
---

Related Books
Grades 4 - 9
Drawing from Memory by Allen Say. Nonfiction. 72 pages.
Find this book: Local Bookstore, Amazon, B&N

In 1937 near Tokyo, Japan, Allen Say was born to parents who didn't understand his passion for drawing. "When I was drawing, I was happy. I didn't need toys or friends or parents." His parents, especially his father, thought that artists were lazy and scruffy. They expected him to stop drawing, even as a child, and focus on preparing himself to earn a respectable living. Read More.
(Continued Below)
---
Advertisement:
---

Related Areas Within Carol Hurst's Children's Literature Web Site