Winter Bees & Other Poems of the Cold


by Joyce Sidman. Illustrated by Rick Allen.

Poetry. 32 pages. Grades 1-4.
Find this book: Amazon

Review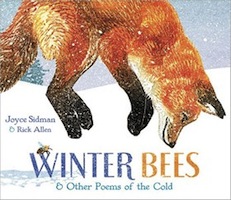 The cover alone is worth the price of admission. A beautifully textured fox is midair on a pounce over some unseen prey. Although the illustration is far from photorealistic it still seems like you could touch the soft fur. The warmth of the fox and its vitality surrounded by the whites of winter beautifully convey the warm/cold coexistence of life in the winter, which is the subject of this book of poems about how various animals have adapted to winter.
First the tundra swans feel the coming cold and head south. Snakes head underground to hibernate. Voles tunnel beneath the snow. Wolves and ravens hunt. Finally snow fleas herald the end of winter and skunk cabbage breaks the ground as spring returns.
The poems are wonderful and varied. Each poem is accompanied, on the facing page, with facts about the poem's subject. On both pages of each spread are the remarkable illustrations done, in part, with hand inked linoleum blocks. This poet/illustrator team has, once again, created a treasure.
(Continued Below)
---
Advertisement:
---
(Continued Below)
---
Advertisement:
---

Related Books
Grades PreK - 2
Every Autumn Comes the Bear by Jim Arnosky. Picture Book. 32 pages.
Find this book: Local Bookstore, Amazon, B&N

This illustrations in this book are superb and the text is very simple. Just before winter, a bear appears on a Vermont farm in search of a place to sleep during the cold months ahead. Eventually, it discovers a natural den among some hilltop boulders. This is a realistic depiction of a bear and the woodland environment.
(Continued Below)
---
Advertisement:
---

Related Areas Within Carol Hurst's Children's Literature Web Site