Biographies and Memoirs

Grades 2 - 9
Snowflake Bentley by Jacqueline Briggs Martin. Illustrated by Mary Azarian. Picture Book, Nonfiction. 32 pages.
Find this book: Local Bookstore, Amazon
, B&N


Wilson Bentley was fascinated by snowflakes. Born in Vermont in 1865, his parents supported his interest, spending their savings to buy him a camera and microscope. His thousands of photographs are still used in studies today. Martin tells the tale simply with sidebars adding further information about the science behind Bentley's studies. Read More in our Featured Book Teachers Guide with discussion questions, extension activities, related books and links.

Grades 5 - 9
Brown Girl Dreaming by Jacqueline Woodson. Memoir. 336 pages.
Find this book: Local Bookstore, Amazon
, B&N


Brown Girl Dreaming just won the National Book Award and it's quite a gem. It's a book length memoir in verse of the author growing up in the sixties and seventies as well as some of her family history. Living in both South Carolina and then Brooklyn, New York we get to see the life of an African American family in the North and the South. Set against the backdrop of the Civil Rights Movement there is a lot of history here. Read More.
Bruchac, Joseph. Crazy Horse's Vision Illustrator: Nelson, S. D.
Lee & Low, 2000 ISBN 1880000946. Order Info
Rating: 4 Stars
Grades: 2 - 6
The stylized illustrations help to tell the story of the years of the great chief's childhood up until he got his name which was Crazy Horse in English or Tashunka Witco in Lakota.


Byars, Betsy. Moon and I. (1992, Messner. ISBN 0-671-74165-9.) Nonfiction. 112 pages. Gr 4-9.
With a light and humorous touch, Ms. Byars tells of the way she writes her books. Throughout the account, she also tells of her relationship with a snake, Moon, which she found near her cabin. Her need to learn more about snakes in general and Moon in particular became an obsession that, for a brief time, dominated her existence. That obsession, the reasons for it, and the ways in which she conducted her research are so interesting and helpful that you want to read the brief book aloud at the outset of a research project. Read more.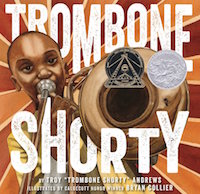 Grades PreK - 4
Trombone Shorty by "Trombone Shorty" Troy Andrews. Illustrated by Bryan Collier. Picture Book. 40 pages.
Find this book: Amazon


Growing up in the '90s in the Tremé neighborhood of New Orleans, Troy was surrounded by music. This beautifully illustrated story follows him from making his own instruments out of household objects with his friends to becoming a world-famous musician. Along the way we get a taste of low-income New Orleans and Trombone Shorty's consuming passion for music. Great for preschool through at least fourth grade. Read More.
Carle, Eric. The Art of Eric Carle
Philomel,1996 ISBN 039922937X. Order Info
Rating: 4 Stars
Grades: 1 - 9
This is a wonderful source book for information about the picture book author and his work. Author Info.
Carlson, Laurie. Boss of the Plains: The Hat that Won the West Illustrator: Meade, Holly
DK Publishing, 1998 ISBN 0613284275. Order Info
Rating: 3 Stars
Grades: K - 2
John Batterson Stetson didn't find much gold in the rush to California but the hatmaker from New Jersey did invent the wide-brimmed hat that was to become a symbol of the west.
(Continued Below)
---
Advertisement:
---
Time4Learning is a PreK-12th grade
online homeschool curriculum
.
Eager, excited homeschoolers could be just a click away. Start with these Time4Learning freebies:
Time4Writing is a homeschool parent's best friend! Here's why...
---

Christensen, Bonnie. Django: World's Greatest Jazz Guitarist
Roaring Brook, 2009 ISBN 9781596434226. Order Info
Rating: 4 stars
Grades: 3-6
Jean "Django" Reinhardt, a Gypsy, was born in Belgium in 1910. He taught himself to play the guitar and began playing on the streets of Paris early in life. When a badly burnt left hand threatens to end his career he develops a way to play guitar in spite of the deformity. Striking illustrations carry this book about the Roma people, jazz, and overcoming adversity.
Cleary, Beverly. A Girl from Yamhill: A Memoir
Bantam, 1989 ISBN 0380727404. Order Info
Rating: 3 Stars
Grades: 5 - 9
This is Beverly Cleary's own story from birth to her departure for college. Her first few years were spent on a farm isolated even from the small town of Yamhill.. Her mother's overbearing and strict nature further isolated Beverly. Eventually her parents quit farming and moved the family to Portland where her father worked as a night watchman and Beverly entered public school which, at first, was a disaster, much to her mother's embarassment. Later Beverly made friends and succeeded academically.
Cleary, Beverly. My Own Two Feet
Morrow, 1995 ISBN 0380727463. Order Info
Rating: 3 Stars
Grades: 5 - 9
This book takes up where A Girl from Yamhill left off with Beverly's departure for college. Leaving home didin't mean the end of problems with her mother and, as in the first volume, Cleary makes no attempt to slide over that relationship. At college, she lived with her aunt, and the incidents of her college life and romances are remembered clearly. The book offers a good perspective on growing up in the 1930s.
Cooney, Barbara. Eleanor
Viking, 1999 ISBN 0670861596. Order Info
Rating: 3 Stars
Grades: 3 - 9
This is an insightful rendition of the painful childhood years of Eleanor Roosevelt whose emancipation came during her boarding school years in London. Author Info.
Dahl, Roald Boy: Tales of Childhood
Puffin, 2001 ISBN 0141303050. Order Info
Rating: 3 Stars
Grades: 5 - 9
In many ways, this is a bitter account of the bullies and authority figures who were a large part of Dahl's childhood. Amongst the bitterness, however, is hilarity as we witness the rebellious young boy's dealing with his oppressors.
Dash, Joan. The Longitude Prize Illustrator: Petricic, Dusan
Francis Foster Books, 2000 ISBN 0374346364. Order Info
Rating: 3 Stars
Grades: 5 - 9
In a handsome book with wonderfully light illustrations, Dash tells the complex story of an invention by an equally complex man, clockmaker John Harrison, who invented the device to measure longitude.
Demi. The Dalai Lama
Holt, 1998 ISBN 080505443X. Order Info
Rating: 3 Stars
Grades: 2 - 8
This beautifully illustrated picture book contains some of the Buddhist beliefs and the Dalai's efforts toward peace.
Frank, Anne Anne Frank: The Diary of a Young Girl
Prentice Hall, 1992 ISBN 0553296981. Order Info
Rating: 4 Stars
Grades: 6 - 9
The diary has been the basis of both a play and a movie. It is important for the account it gives us of the persecution of the Jews, but even more important for the intimate portrait of the hopeful young girl.
Freedman, Russell. Eleanor Roosevelt: A Life of Discovery
Clarion, 1993 ISBN 0899198627. Order Info
Rating: 4 Stars
Grades: 5 - 9
Freedman's biography of one of the most influential and controversial first ladies of America creates the full-bodied picture of the activist who served as her husband's legs and often his conscience.
Freedman, Russell. Franklin Delano Roosevelt
Clarion, 1990 ISBN 0395629780. Order Info
Rating: 4 Stars
Grades: 5 - 9
Freedman makes the life of the charismatic leader vivid and engaging for all readers, using photographs liberally.
(Continued Below)
---
Advertisement:
---
Freedman, Russell. Lincoln: A Photobiography
Clarion, 1989 ISBN 0899193803. Order Info
Rating: 4 Stars
Grades: 4 - 9
Freedman received the Newbery Award for this masterful biography of Lincoln in which the complicated nature of the witty storyteller and astute politician at times overwhelmed by melancholy is revealed.
Fritz, Jean. And Then What Happened, Paul Revere? Illustrator: Tomes, Margaret
Putnam, 1996 ISBN 0698113519. Order Info
Rating: 3 Stars
Grades: 2 - 6
This was the first of Jean Fritz's short biographies of Revolutionary War heroes. She fills in the portrait of Paul Revere and his times in a light but factual manner. Author Info.
Fritz, Jean. Bully for You, Teddy Roosevelt
Putnam, 1997 ISBN 039921769X. Order Info
Rating: 3 Stars
Grades: 4 - 8
In one of her longer biographies, Fritz tells the story of the frail child who became a zestful, enthusiastic and charismatic leader. Author Info.
Fritz, Jean. Can't You Make Them Behave, King George? Illustrator: dePaola, Tomie
Putnam, 1996 ISBN 0698114027. Order Info
Rating: 4 Stars
Grades: 2 - 8
Fritz's portrait of King George III is fascinating as we see the American Revolution from the British, or at least the King's, point of view. Author Info.
Fritz, Jean. The Great Little Madison
Putnam, 1998 ISBN 0399217681. Order Info
Rating: 3 Stars
Grades: 5 -9
In this book we begin to understand the personality as well as the effect on United States history of this little man. Author Info.
Fritz, Jean. Leonardo's Horse Illustrator: Talbott, Hudson
Putnam, 2001 ISBN 0399235760. Order Info
Rating: 3 Stars
Grades: 3 - 9
First conceived by Leonardo da Vinci, the huge statue of a horse was to stand in front of a Duke's palace in Italy. This is the biography of a statue that was started by da Vinci and finished centuries later. Author Info.

Fritz, Jean. Traitor: The Case of Benedict Arnold
Puffin, 1981 ISBN 0140329404. Order Info
Rating: 4 Stars
Grades: 4 - 9
As always, with Jean Fritz's work, the book is carefully researched and she invents and assumes nothing. Here's his heroism in earlier times, his greed and, at last, his incredible treachery. Author Info.
Fritz, Jean. What's the Big Idea, Ben Franklin? Illustrator: Tomes, Margot
Scott Foresman, 1996 ISBN 0698113721. Order Info
Rating: 3 Stars
Grades: 2 - 6
Fritz's light shines brightly on the engaging and eccentric inventor who became so influential in the American political and scientific world. Author Info.
(Continued Below)
---
Advertisement:
---
Fritz, Jean. Why Don't You Get a Horse, Sam Adams? Illustrated by Hyman, Trina Schart
Putnam, 1999 ISBN 0808544853. Order Info
Rating: 3 Stars
Grades: 2 - 8
This is the eccentric man who became a leader of the Revolution and strode about Boston because he refused to ride a horse. Author Info.
Fritz, Jean. Will You Sign Here, John Hancock? Illustrator: Hyman, Trina Schart
Paper Star, 1997 ISBN 069811440X. Order Info
Rating: 4 Stars
Grades: 2 - 6
The wealthy, rather foppish man who became one of the mainstays and financiers of the American Revolution is given a light coverage in this brief bicentennial biography. Author Info.
Hopkins, Lee Bennett. Been to Yesterdays: Poem of a Life
Boyds Mills, 1995 ISBN 1563974673. Order Info
Rating: 4 Stars
Grades: 5 - 9
Twenty-nine separate poems combine to tell a story of the disintegration of the author's family.
Houston, Jeanne Wakatsuki. Farewell to Manzanar
Houghton Mifflin, 2002 ISBN 0618216200. Order Info
Rating: 4 Stars
Grades: 4 - 9
One of the first families to be relocated to a Japanese Internment Camp in the California mountains was the Wakatsuki family which was forced to abandon a thriving fishing business in Long Beach and take only what they could carry.

Hurst, Carol Otis. Illustrated by James Stevenson. Rocks in His Head. (2001, Greenwillow. ISBN 0060294043.) Picture Book. 32 pages. Gr PreK-3.
Some people collect stamps. Other people collect coins. Carol Otis Hurst's father collected rocks. Nobody ever thought his obsession would amount to anything. They said, "You've got rocks in your head" and "There's no money in rocks." But year after year he kept on collecting, trading, displaying, and labeling his rocks. The Depression forced the family to sell their gas station and their house, but his interest in rocks never wavered. And in the end the science museum he had visited so often realized that a person with rocks in his head was just what was needed. Read more.
Lowry, Lois. Looking Back: A Book of Memories
Houghton, 2000 ISBN 0385326998. Order Info
Rating: 4 Stars
Grades: 4 - 7
Liberally illustrated with family photos, this is a series of memories inspired by those photos. Author Info.
Marrin, Albert. Virginia's General
Beautiful Feet Books, 2003 ISBN 1893103145. Order Info
Rating: 4 Stars
Grades: 5 - 9
Marrin shows Lee through many quotes from other generals and his soldiers as the brave and extraordinary soldier that he was.

McClafferty, Carla Killough. Something Out of Nothing: Marie Curie and Radium
Farrar Straus Girous, 2006 ISBN 9780374380366. Order Info
Rating: 5 stars
Grades: 5-10.
Interspersed with photos this engrossing narrative goes into great detail about Marie Curieís life and work. Thereís lots of material here for topics such as famous women, science, ethics, economics and radiation. Includes source notes, bibliography and recommended web sites.
Mowat, Farley. Never Cry Wolf: Amazing True Story of Life Among Arctic Wolves
Back Bay Books, 2001 ISBN 0316881791. Order Info
Rating: 3 Stars
Grades: 5 - 9
Assigned fifty years ago by the Canadian Wildlife Service to find out why wolves were killing arctic caribou, Farley Mowat spent a summer studying wolf behavior. This account tells almost as much about him as it does about the wolves he studied for a summer.
Nelson, Marilyn. Carver: A Life in Poems
Front Street, 2001 ISBN 1886910537. Order Info
Rating: 3 Stars
Grades: 5 - 9
In fifty-nine stand-alone poems, Nelson covers the life and some of the deeds of George Washington Carver.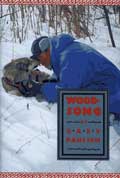 Paulsen, Gary. Woodsong. (1990, Bradbury. ISBN 0-02-770221-9.) Novel. 144 pages. Gr 3-9.
These are autobiographical sketches of Paulsen's experiences in the north woods. There is acceptance and respect for animal life, especially sled dogs, in all its harsh reality. A good portion of the book relates the author's experiences in running the Iditarod. These are good adventure and outdoor stories which should appeal to outdoor enthusiasts and to animal lovers. Read more.
Raschka, Chris. Charlie Parker Played Be Bop
Orchard, 1992 ISBN 0531070956. Order Info
Rating: 3 Stars
Grades: 2 - 9
A rhythmic text in varied formats and playful language recalls the rhythm and cadences of jazz musician, Charlie Parker.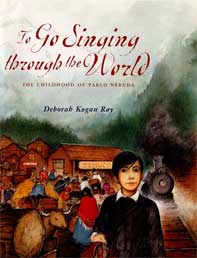 Ray, Deborah Kogan. To Go Singing Through the World: The Childhood of Pablo Neruda. (2006, Farrar, Straus and Giroux. ISBN 0374376271.)Picture Book. 40 pages. Gr 4-6.
Born in 1904 Neruda lost his mother as an infant but became very close to his stepmother. Tortured by shyness and embarrassment about his stutter Pablo retreats more and more into his solitude. He finds comfort and a sense of belonging in books and writing. Pablo Neruda went on to become the most celebrated literary figure in Latin America, a political activist, diplomat and senator. He won the Nobel Prize for literature in 1971. Read more.
Rockwell, Anne. Only Passing Through: The Story of Sojourner Truth Illustrator: Christie, R. Gregory
Knopf, 2000 ISBN 0679891862. Order Info
Rating: 3 Stars
Grades: 3 - 9
Remarkable text and stylized illustrations cover her early years up to her travels as an advocate for civil rights with an author's note telling us more about her life and work. The illustrations are remarkable. Read More.
Rylant, Cynthia. When I Was Young in the Mountains Illustrator: Goode, Diane
Dutton 1993 ISBN 0140548750. Order Info
Rating: 4 Stars
Grades: PreK - 3
This is so beautifully done and so popular as a picture book that we frequently forget it's an autobiography. More Info.
Say, Allen. Grandfather's Journey
Houghton, 1993 IBN 0395570352. Order Info
Rating: 4 Stars
Grades: PreK - 3
In this beautifully done picture book biography is the story of the author's grandfather's search for the place where he felt completely at home.
Schroeder, Alan. Minty: A Story of Young Harriet Tubman Illustrator: Pinkney, Jerry
Puffin 2000, ISBN 014056196X. Order Info
Rating: 3 Stars
Grades: 2 - 6
Beautifully illustrated, this book tells of the young rebellious slave, Minty, who grew up to become Harriet Tubman.
Sis, Peter. Starry Messenger
Farrar, 1996 ISBN 0374371911. Order Info
Rating: 3 Stars
Grades: 3 - 9
This biography of Galileo is a startlingly beautiful book in which words and illustrations twist about the pages giving new vantage points as the reader must turn the book to see them all. More About Peter Sis.
Spinelli, Jerry. Knots in My Yo-Yo String: The Autobiography of a Kid
Knopf, 1998 ISBN 0679987916. Order Info
Rating: 3 Stars
Grades: 4 - 7
Spinelli writes of his childhood with the humor and sensitivity you'd expect from the author of Maniac Magee.
Stanley, Diane. Cleopatra
Morrow, 1994 ISBN 0688104134. Order Info
Rating: 3 Stars
Grades: 3 - 9
This is an excellent picture book biography of Cleopatra. There are maps and a lot of information about that time period as well as that about ancient Egypt.
Stotts, Stuart. Books in a Box: Lutie Stearns and the Traveling Libraries of Wisconsin (Big Valley Press, 2005 ISBN 0976537206. Order Info.
This is a quiet, fictionalized biography about the work of Lutie Stearns. Around the turn of the century she traveled throughout Wisconsin providing boxed sets of books which circulated from town to town. Funded by state taxes these were the first free libraries for many communities. This is a good nonfiction companion to novels and picture books set in the time period.
Tanaka, Shelley. Illustrated by David Craig. Amelia Earhart: The Legend of the Lost Aviator. (2008, Abram. ISBN 9780810970953. Order Info.) Nonfiction. 48 pages. Gr 4-7.
This book covers her childhood and her flying career and her fight for women to be able to do anything a man can do. It is well written, full of great information even as it flows along quickly. The text is illustrated with period photographs and a few original illustrations. Source notes, a bibliography, recommended websites and an index are included. Read more.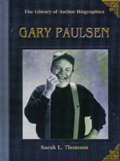 Thomson, Sarah L. Gary Paulsen.
Rosen, 2003 ISBN 0823937739. Order Info
Rating: 4 Stars
Grades: 4 - 7
Part of the "Library of Author Biographies" series. Gary Paulsen writes his books based on experiences in his own life and his biography is full of fascinating adventures as well as lots of information on his writing career.
Warren, Andrea. Orphan Train Rider: One Boy's True Story
Houghton Mifflin, 1998 ISBN 0395913624. Order Info
Rating: 3 Stars
Grades: 4 - 9
Liberally illustrated this story of one boy is placed within the context of the Orphan Train movement as a social experiment. It therefore becomes more than the story of one boy and his new life.

Related Areas of Carol Hurst's Children's Literature Site
Biographies. Featured Subject with activities and related links.