Far North


by Will Hobbs.

Novel. 304 pages. Grades 5-9.
Find this book: Amazon

Teacher's Guide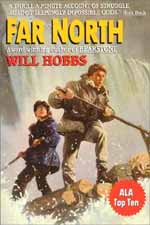 This is an excellent survival novel. It will remind some of Paulsen's Hatchet but it does more than tell of mere physical survival. There's a pleading for respect for the Old Ways of the Dene people and for the animals. The myth of the raven plays a big role here as well.
Gabe and his Dene roommate, Raymond, together with Raymond's great-uncle Johnny Raven crash in the remote area of the Nahanni River in the Northwest Territories in November.
Johnny Raven transmits as much as he can of the myth and the skill of his people to the boys before he dies and the boys make their own way out. This is good, action-filled reading.
The first chapter ends with a clear bit of foreshadowing and the description of Gabe's encounter with the grizzly elsewhere in the book is a good, short piece to read aloud.
(Continued Below)
---
Advertisement:
Free Welcome To Homeschool Guide: Download Here!
---
Time4Learning is a PreK-12th grade
online homeschool curriculum
.
Eager, excited homeschoolers could be just a click away. Start with these Time4Learning freebies:
Time4Writing is a homeschool parent's best friend! Here's why...
---

Things to Talk About and Notice
How does the author keep the suspense going in this book?

Johnny Raven dies of the cold. What could have prevented this?

How did the characters in this story change over the course of the book? Were there any changes that surprised you?

Activities
Locate the Nahanni River on a map of the Northwest Territories. Can you locate Deadmen Valley?

Johnny Raven is a Dene Elder. Find out about the Dene people and the old and contemporary ways in which they live.

Find and tell some raven tales from Native American cultures. Investigate raven art in the same cultures.

Visit Will Hobbs' website. What experiences has the author had that make it possible for him to write this book?

Start a bulletin board with newspaper and magazine articles about real life animals and people who survived various situations to be added to as the theme progresses.

Read a variety of survival books and make a chart about the books with the following columns :
Title
Survival Site
Main Character
His/Her Skills Before Problem
What He/She Acquired During Survival Tasks
What the Author Had to Know


Decide which of the books were the most believable and why.
Did such a survival ever happen? Find documentation for a similar survival story from real life.
How did each of the characters keep track of time? Why did they bother?
How did each of the characters cope with loneliness? Was an animal involved?
Compare the emotional growth of each survivor.
Alter one event in a book and see how it would affect the outcome.
Could the character in one story be put into another setting or situation and still survive?
Which of the characters would be most apt to like living with you?
Decide which environment from the books you would be most likely to survive in. Which would be the hardest?

Investigate the latest natural disaster to affect people in your area. How did people survive? For how long?

Develop survival posters for natural phenomena.
(Continued Below)
---
Advertisement:
---

Related Books
(Continued Below)
---
Advertisement:
---

Related Areas Within Carol Hurst's Children's Literature Web Site

Related Areas Elsewhere on the Internet
Following these links will take you off our web site. You will have to use your back button to return or, bookmark our site now so you can return anytime.