The Midwife's Apprentice


by Karen Cushman.

Novel. 144 pages. Grades 5-9.
Find this book: Local Bookstore, Amazon
, B&N

Review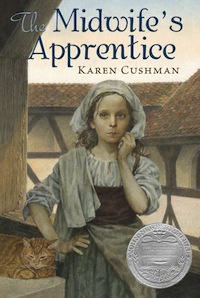 Cushman has a talent for writing small pithy novels as she did with Catherine Called Birdy. Again in this Newbery Award winner she propels us, within a few pages, into the life of a girl living in the middle ages, makes us like and understand her, shows us a lot about the times and a little bit about ourselves. In The Midwife's Apprentice Cushman presents life at the bottom of the feudal ladder in Medieval times.
Birdy was the daughter of a minor baron and, through her, we had glimpses of the life of the higher classes of the 13th century. Alyce is an insignificant, nameless child living in poverty and sleeping in a dung heap when we first meet her. We know her first as Brat. She is usually ignored and sometimes taunted by the other people in the village. Her progress from a Brat working for scraps of food to Alyce, the Midwife's apprentice, is painful and thought-provoking. By the end of these well-wrought pages, we know Alyce and accept her small steps toward a better life.



Related Books


Related Areas Within Carol Hurst's Children's Literature Web Site
Search Our Site
---
Subscribe to our Free Email Newsletter.
Sign Up!

---
Advertisements:
---
In Times Past
an eBook
by Carol Hurst and Rebecca Otis
Integrating US History with Literature in Grades 3-8.
Enliven your US History curriculum!
Teach US History using great kids books.
---
---
By Carol Otis Hurst!!

Rocks in His Head.

Pick up your copy of Carol's Award Winning Picture Book!
---
You can help fund this site at no cost to you!
If you shop at Amazon.com bookstore use
This Page
each time you enter Amazon.com.
More information
.