The Night Watchmen


by Helen Cresswell.

Novel. 122 pages. Grades 3 -5.
Find this book: Local Bookstore, Amazon
, B&N

Review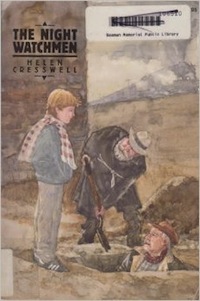 This title is currently (2013) out of print. It is still available used and through libraries.
Josh and Caleb, two wonderful tramps, have discovered a way to keep from being hassled by police in a new town. They dig a hole in a street, put up a sign that says, "Danger, Men Working", put a tent up next to it and settle in sure that no one ever questions people working on a hole in a street. They are, they tell Henry, the young boy who is intrigued by them and becomes their friend, Do-as-you-pleasers. They live well within their transient life style. Caleb is a gourmet cook and whips up delectable meals; they take time to look about them and notice things. Josh is working on a book about everything he's done and seen and knows it will never be finished because there's too much left to tell. When they get to a town, Josh writes letters of introduction to all the important people there telling him he would like to include them in his book and is welcomed with open arms. He's getting the ticking of a town, he tells them. Their life would be pleasant indeed except for Them, the people so jealous of the life of Do-as-you-pleasers that their eyes have turned brilliant green. When discovered by Them, Josh and Caleb must summon up the Night Train and go back There. This is a funny, exciting book. The English setting gives yo a chance to explore language differences and the tramps often speak in proverbs: "Give an inch and you'll lose a mile", "Don't drop into the glooms", "Caleb's got a nasty bark but his bite's not worth mentioning"



Related Books


Related Areas Within Carol Hurst's Children's Literature Web Site
Search Our Site
---
Subscribe to our Free Email Newsletter.
Sign Up!

---
Advertisements:
---
In Times Past
an eBook
by Carol Hurst and Rebecca Otis
Integrating US History with Literature in Grades 3-8.
Enliven your US History curriculum!
Teach US History using great kids books.
---
---
By Carol Otis Hurst!!

Rocks in His Head.

Pick up your copy of Carol's Award Winning Picture Book!
---
You can help fund this site at no cost to you!
If you shop at Amazon.com bookstore use
This Page
each time you enter Amazon.com.
More information
.