Silent Days, Silent Dreams


by Allen Say.

Picture Book Biography. 64 pages. Grades 3-7.
Find this book: Amazon

Teacher's Guide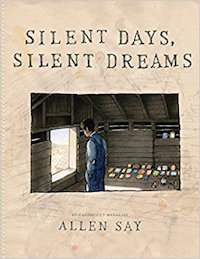 This picture book is a fictionalized biography of James Castle, the self-taught, deaf, and likely-autistic artist. The author fills in a lot of the unknowns of the artist's childhood by imagining how it might have been. The illustrations are in the style of the artist, and I, Rebecca, found them deeply moving and evocative of the isolation that Castle must have felt.
In 1899, James Castle was born deaf in rural Idaho. He never learned to speak, read, write, read lips, or use sign language. He was likely autistic. He also was a self-taught artist who worked in obscurity for most of his life before he was discovered.
This is a book of remarkable depth and emotion. We can feel the over stimulation that Castle may have felt as a child, which, along with his hearing impairment, led to severe isolation.
Most importantly, we get a sense of the compulsiveness that drove Castle's art. The text and illustrations immerse the reader in the desperate need Castle had to create and especially to draw. Many of the illustrations are roughly replicas of his work; they fill the pages in the same way drawing seems to have filled Castle's world.
This book is a natural fit, of course, for units about art, creativity, and passion. It also has a place in any classroom exploration of diversity and disabilities. I'd also include it when talking about passion and occupations. It's a good fit when discussing bullying and inclusion because the story is capable of stirring real empathy for the breadth of human experience.
(Continued Below)
---
Advertisement:
---

Things to Talk About and Notice
Language Arts, Reading Comprehension: Stop at various points to discuss what you think is happening.

Social Skills,Empathy: What do you think Castle is feeling at various points? How do you feel reading about it? How might you feel in those situations? Have you ever been in a situation where you felt something similar?

Problem Solving: The book says that Castle could neither write or use sign language. Why do you think that is? How would that effect his ability to communicate? How else might someone who is deaf communicate?

Observations and Art: Look at the illustrations. How do you think they were made?

Observations, Art, and Inferences: Notice how Say chooses different styles for different parts of the book. Why? Can you describe the different styles?

Observations and Art Appreciation: Look up Castle's art online. What do you notice? What do you like about it? What don't you like about it? How does it make you feel? How does it compare with art that is more photo-like?

Language Arts and Arts: Castle could not speak, write or do sign language. So there is nothing in his own words about what he thought or felt. We usually think of language when we think of communication. But can the arts also communicate? Fine art? Music? Dance? What might Castle's art be telling us about what he thought or felt?

Creativity and Resourcefulness: If you didn't have any money for art supplies, what free materials could you use to make art?

Social Studies, Controversies and Communities: Many people who are hearing impaired are part of a strong community. Some people don't consider deafness a disability and don't think it is good to get treatments such as cochlear implants to restore hearing. They believe they are better off staying the way they are and that changing their bodies in order to hear devalues the importance of their differences and their community. What do you think?

Activities
Art Appreciation and Observation: Make a slideshow of Castle's art or create a bulletin board with printouts of some of his art work.

Art: Create some art in styles similar to Castle's style, but of different subjects.

Language Arts, Writing and Art: Illustrate your own story and try using various media and art styles to illustrate different sections.

Art, Media: Castle used a mixture of spit and charcoal for many of his drawings because he did not have art supplies. If you are homeschooling you can try this method yourself. If you are in a school you're probably best off not having a classroom full of spitting kids.

Research, Science, Chemistry, and Art: Research how other art media are made. Look into colored pencils, crayons, markers and paints. Look into the chemistry of different pigments and dyes.

Science, Hearing and Social Skills, Empathy: Bring in someone who is hearing impaired to talk with your class about their experience.

Research, Science, Human Body and Health: Find out how the human ear works. Draw sketches or make models of the inner ear. How does the human ear compare with the ears of other animals?

Social Skills, Empathy and Problem Solving: Make a list of some of the everyday things you have done since you got up this morning. Circle the ones that would have been difficult or impossible to do if you were hearing impaired. Share them in small groups and brainstorm possible solutions to the obstacles.

Research, Empathy and Technology: Find out some of the things people who are hearing impaired use to solve those problems. What kind of technologies are available?

Science, Human Body, Health, and Research: What are some of the causes of hearing impairments?

Math: Research how many people are hearing impaired in your country. How many total people are there? What percentage is that of the total population? How many people are in your town/city? How many would you predict are hearing impaired? Do the same calculations for estimates of the number of people who are on the autism spectrum.

Science, Health and Social Skills, Empathy: Have someone on the autism spectrum talk with the class about their experiences.

Science and The Human Body: Find out more about autism spectrum disorder. What are some of the symptoms? What is the range of functioning? What things can people do to support people on the spectrum? If you have ASD is there anything you wish people knew about your experience? How much bulling do you think goes on for kids and adults with this disorder?

For more art activities and books see our Literature-Based Classroom Unit on Art, Crafts and Artists.
(Continued Below)
---
Advertisement:
---

Related Books
(Continued Below)
---
Advertisement:
---

Related Areas Within Carol Hurst's Children's Literature Web Site