Terrible Storm


Hurst, Carol Otis. Illustrated by S.D. Schindler. (Greenwillow, 2007. ISBN 0060090022. Order Info.) Picture Book. 32 pages. Grades PreK-3.



Review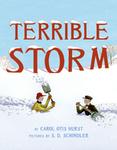 Terrible Storm is a picture book rendition of a story Carol's grandfathers used to tell of being trapped during the blizzard of 1888. The sociable one was stranded alone in a barn for three days and the shy one in a crowded inn.
We can't pretend to be objective about reviewing this book so we've included excerpts from other's reviews.
From Booklist, * Starred Review
"The well-wrought pictures show the snow flying progressively harder across several spreads until the men finally find shelter in the worst place possible given each man's personality--Walt in a lonely barn, and Fred with a houseful of neighbors....Humor is everywhere, but the funniest pictures show the men shoveling out of the snow, passing one another through the drifts. This lively, clever story, based on a real storm, neatly captures both the oddities of nature and how differing natures view the same event."
From School Library Journal
"Schindler's ink-and-watercolor art captures the rolling, leafless, brown-and-gray landscape of Massachusetts in March, and then buries it in dense white snow. The art is infused with period details, from delivering milk in a horse-drawn cart to dinners lit by candlelight. Hurst's call-and-response narrative approach, consisting solely of the old men's terse dialogue, works well with the page layout and captures the rhythms of a story told, back and forth, many times over. A first choice for large collections, and a good supplemental purchase for all others."
From Publisher's Weekly, * Starred Review
"Schindler's meticulously inked drawings take readers back to a bygone era and visually echo Hurst's clipped Yankee cadences. But the artist's real stroke of genius comes in the parallel panel illustrations. He splits the spreads horizontally, allowing readers to follow the two heroes' comic plights simultaneously. Even very young children will be tickled by the irony of it all." Read their full review.
From Kirkus Reviews
"Sociable Walt found refuge in a barn, stuck for three days with only a horse, chickens and cats. Shy Fred got trapped for three days in the White Horse Inn full of people....Great for sharing and storytelling."
From The Bulletin of the Center for Children's Books
"The fact-based narrative puts most of the story in the two grandpas' own laconic dialogue, and there's an easy back-and-forth that's an exact evocation of the way two old friends smoothly take a veteran story through its paces. Schindler...vividly conveys the physical challenges of such a blizzard, remaining visually honest without thwarting audience yearnings for what seems like a greatly adventurous snow day."
From Horn Book
"The book's bifurcated telling demands careful attention, but once the pattern is established it's very funny."
Awards and Honors:

Junior Library Guild selection
Elizabeth Burr/Worzalla Award, 2008
Best Children's Books of the Year, 2008; Bank Street College of Education
Choices, 2008 ; Cooperative Children's Book Center
You can order this book through Amazon.com

Related Areas Within Carol Hurst's Children's Literature Web Site