The Watsons Go to Birmingham - 1963


by Curtis, Christopher Paul. (Delacorte, 1995 ISBN 0385321759. Hardcover. Paperback. Cassette.) Novel. 210 pages. Grades 4+.
This book was reviewed by Carol Otis Hurst in Teaching K-8 Magazine.



Review
This is a very special book. It starts with humor and ends with tragedy. The Watsons: Mother, Father, older son Byron, next son Kenny and daughter Joetta live in Flint, Michigan. Most of the first part of the book is devoted to the high-jinks, many of them hilarious, of Byron who walks on the edge of delinquency. Often it's the tears and protests of the little sister that keeps Byron from being severely punished. Although his parents are loving and have great senses of humor, they are finally pushed into doing something drastic about Byron. The decision is made to drive to Birmingham, where Mrs. Watsons' mother lives and leave Byron with her for the summer, maybe even for the next school year. The trip to Birmingham brings the children to their first experience with segregation. After a warm welcome at their Grandmother Sands' house, it is Kenny, not Byron, who gets in trouble. He nearly drowns and it is Byron who saves him. The real climax comes when the church Sunday school that Joetta is attending is bombed. Fortunately, she escaped injury but it is some time before the family realizes this. The horror of it all is too much for Kenny, however. The family, including Byron, come back to Michigan and, again, it is Byron who saves the day by helping Kenny accept the unfairness of the tragedy.

Related Books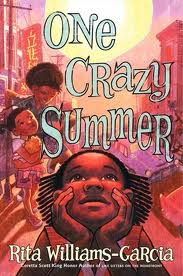 One Crazy Summer by Rita Williams-Garcia. (2010, Amistad/HarperCollins. ISBN 9780060760885. Order Info.) Novel. 218 pages. Gr 4-9.
It's the summer of 1968 in Oakland, California in the San Francisco Bay area. Eleven year old Delphine and her two younger sisters spend a month with their mother who had deserted them years ago in Brooklyn. It's the height of the Black Power movement and the girls spend their days at the Black Panther's People's Center while their unstable mother writes poetry. This Newbery Honor Book is a fascinating look into the time period as well as an engrossing tale of one girl's struggle to understand her mother and to find her own authentic way of related to her.
Miles to Go for Freedom: Segregation and Civil Rights in the Jim Crow Years by Linda Barrett Osborne. (2012, Abrams. ISBN 9781419700200. Order Info.) Nonfiction. 128 pages. Gr 6-12.

Related Areas of Carol Hurst's Children's Literature Site